915 MHz vs 433 MHz | Understanding the Key Differences and Applications
Our everyday lives have benefited greatly from wireless communication, which allows devices to communicate and exchange data without the use of physical cords. 915 MHz and 433 MHz are two well-liked frequency ranges for wireless communication. Remote controllers and IoT (Internet of Things) devices frequently use those frequency levels for numerous purposes.
The distinctions between 915 MHz and 433 MHz, as well as their benefits and drawbacks, are mentioned in this article, as well as the side of the best uses for every frequency range.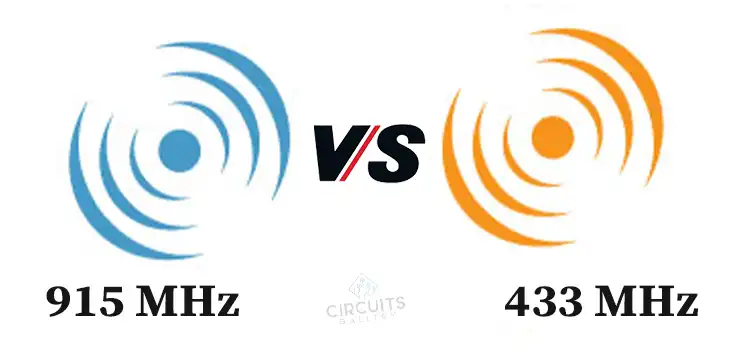 Frequency Bands
Let's first examine what 915 MHz and 433 MHz in terms of wireless communication truly mean before moving on to the comparison:
| | |
| --- | --- |
| 915 MHz | 433 MHz |
| This frequency range, which runs from 902 MHz to 928 MHz, is classified as UHF (Ultra High Frequency).It is extensively utilized for ISM applications (industrial, scientific, and medical), as well as for some amateur radio uses.Recognized for having a longer range than 433 MHz, which qualifies it for applications needing wider coverage. | This frequency range, which normally ranges from 433.05 MHz to 434.79 MHz, falls under the category of VHF (Very High Frequency).Low-power applications, short-range communication systems, and remote-controlling devices frequently employ the 433 MHz frequency.Compared to 915 MHz, it has a smaller range, but it could be more power-efficient. |
Range and Coverage
The ability to reach a wide area is one of the main distinctions between these two frequency bands:
| | |
| --- | --- |
| 915 MHz | 433 MHz |
| Because of its higher frequency and ability to more efficiently penetrate barriers, it has a longer range, making it suited for applications that call for communication over longer distances. | Has a less expansive range than 915 MHz. In enclosed or congested areas, its decreased frequency may result in improved barrier penetration. |
Power Consumption
Power consumption is a crucial consideration when deciding between 915 MHz and 433 MHz:
| | |
| --- | --- |
| 915 MHz | 433 MHz |
| Typically uses more energy than 433 MHz. Appropriate for uses where power saving is not the main priority. | Well-known for consuming less power, which makes it perfect for battery-powered gadgets. It is frequently used in IoT devices like temperature sensors, wireless doorbells, and other things where a long battery life is essential. |
Interference and Regulations
Regulation constraints apply to both the 915 MHz and 433 MHz frequency bands, and interference can be a problem:
| | |
| --- | --- |
| 915 MHz | 433 MHz |
| Radio-frequency identification (RFID) and Wi-Fi are two applications that use this frequency range. It can be more vulnerable to interference from other devices using the same frequency band as a result. | 433 MHz devices frequently feature simpler modulation schemes, which can make them less sensitive to interference, while they are still subject to interference. |
Applications
Let's examine some typical uses for each frequency band right now:
| | |
| --- | --- |
| 915 MHz Applications | 433 MHz Applications |
| Industrial IOT (IIOT): Used for monitoring and control in industrial sensor networks.Smart Agriculture: Allows for the remote monitoring of animals, weather information, and soil conditions.Medical equipment: To monitor patients, several medical telemetry equipment use the 915 MHz frequency.Remote controls: For a more extended range, some high-tech remote controls for home automation employ 915 MHz. | Home Automation: 433 MHz is frequently used by smart plugs, wireless doorbells, and remote-controlled lights.Weather Stations: Sensors that gather and send weather information to a centralized display device.Wireless motion detectors and alarm systems are security systems.Numerous automobile remote key fobs lock and unlock vehicles using the 433 MHz channel. |
FAQs – Frequently Asked Questions
What is the main difference between 915 MHz and 433 MHz?
Their operating range and power requirements are the primary differences. While 433 MHz has a shorter range but uses less power, 915 MHz has a longer range but uses more power.
When should I choose 915 MHz over 433 MHz?
When you require a longer communication range, particularly for outdoor or industrial applications, choose 915 MHz.
When should I choose 433 MHz over 915 MHz?
When power economy is essential, such as in battery-operated devices or inside environments with barriers, choose 433 MHz.
To Conclude
Depending on the particular needs of your wireless communication project, the 915 MHz and 433 MHz frequency bands each have unique benefits and uses. While 433 MHz may be favored for reduced power consumption in restricted places, 915 MHz is better for longer range and less power usage. Making wise decisions requires having a solid understanding of the bands' advantages and disadvantages.
Subscribe

to our newsletter

& plug into

the world of circuits