An oscilloscope is a device that can measure frequencies in either GHz or MHz, depending on your needs. It is a device used by amateur or ham radio operators to measure electric signals from their radios. Many ham radio operators use oscilloscopes to visualize voltage changes over time.
The voltage supply or voltage output of electronic circuits is not always constant. So, you often require voltage regulated power supply. Oscilloscopes help you to identify and correct voltage problems. The oscilloscope contains a small screen on which ham radio operators may observe how signals interact on the graph, with time on the horizontal axis and voltage on the vertical.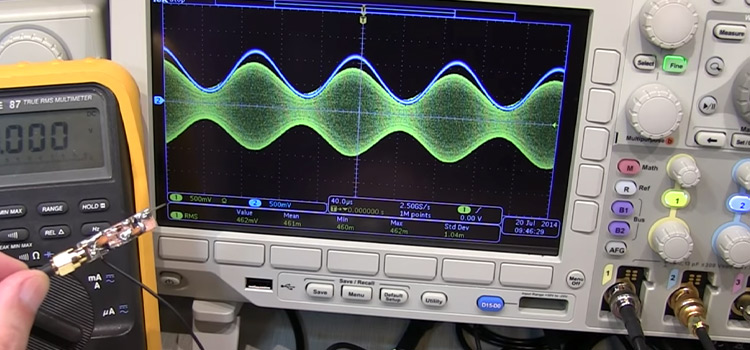 Connect Oscilloscope to Ham Radio
If your ham radio were a dish, an oscilloscope would be the eyes that direct your preparation and the tongue that tastes it. You can use your oscilloscope to calculate clock frequencies, signal rise and fall times, propagation delay, and other parameters by observing the relationship between voltage and time on the graph.
Amateur radio (ham radio) is a popular pastime and service that brings together people, electronics, and communication. Without the Internet or cell phones, people use ham radio to communicate across town, around the world, or even into space. It's entertaining, social, and informative, and it may be a lifeline in times of need.
How Do You Connect an Oscilloscope to a Ham Radio
Perform the following steps to connect an oscilloscope to ham radio and make a nice station monitor.
Step-1: Use an RF adapter and connect it to position no. 2 at the back of your tuner as the following figure.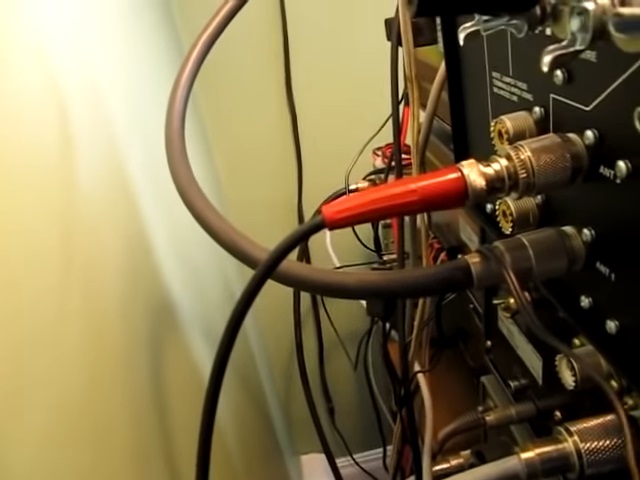 Step-2: Fix the switch of your antenna tuner to position no. 4 as in the following figure while visualizing your signal on the oscilloscope. That'd give you enough stray RF coupling.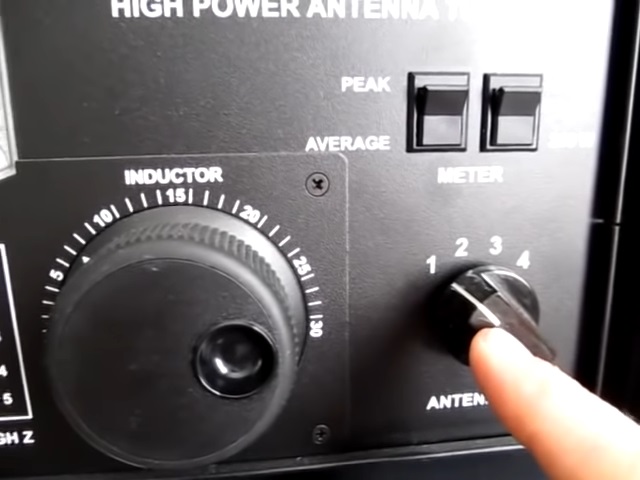 Step-3: Ensure that the wiring connector from the coaxial cable isn't connected to the same switch that your antenna tuner is fixed at. That would transmit the signal directly in front of the scope and your scope will get damaged. Because most of the scopes do not have the power handling capability.
Step-3: Secure a connection between your oscilloscope and your ham radio.
Step-4: Ensure that the input to the oscilloscope is terminated to 50Ω. 
What Is an Oscilloscope Used for in Ham Radio
Ham radio operators rely heavily on oscilloscopes. It allows them to determine whether they are broadcasting on the correct frequency and whether they are in contact with another's signal. The oscilloscope displays the amplitude, frequency, and phase of the electrical signal of the ham radio.
Top Oscilloscopes for Ham Radio
The following list will provide a list of the top oscilloscopes for ham radio along with the reasons for you to choose them:
The Siglent SDS1202X-E: This is a 4-channel digital storage oscilloscope with a simple, user-friendly interface. It has a high sampling rate, a huge storage capacity, and a wide bandwidth. This oscilloscope is ideal for a variety of applications, including ham radio and communications electronics.
The Rigol DS1054Z: It's the most advanced digital oscilloscope on the market. It has a bandwidth of 100 MHz, 16 analog channels, and 4 digital channels. The Rigol DS1054Z analog and the digital mixed-signal oscilloscope is a strong tool at a low cost.
Siglent Technologies SDS1104X-E: This powerful 4-channel digital oscilloscope is used to analyze analog signals' logic and data buses, as well as their frequency response. The Siglent SDS1104X-E has a bandwidth of 200 MHz, a sampling rate of 1 GSa/s, and an FFT size of 1Mpts.
The Rigol DS1202Z-E: This one is a two-channel digital oscilloscope suitable for a variety of applications, including ham radio. The Rigol DS1202Z-E features a deep memory depth of up to 24 Mpts and a greater waveform recording rate of up to 30,000 wfms/s.
How Do You Connect an Oscilloscope to a Transmitter
The process of connecting your oscilloscopes to any transmitter is quite the same as connecting it to your ham radio transmitter. The steps illustrated below will help you to connect a transmitter to an oscilloscope:
Step-1: First, in place of the microphone, connect an audio oscillator to the input of the voice amplifier equipment.
Step-2: Take the output of the modulator's final stage. 
Step-3: Next, synchronize the scope's sweep oscillator with the audio frequency. The diagram is shown in the following figure:

Step-4: You can determine the quality of your modulating equipment by comparing the original waveform of the oscillator to the output of the final stage. If distortion is evident, it can be traced back to the specific stage that is creating this situation.
Oscilloscopes for CB Radio
CB radio also requires an oscilloscope to measure the frequency of your signal. Thus you can check if there is any distortion of your signal and correct it.
Citizens band radio, often known as CB Radio, is a short-range radio voice communications system that is primarily used by private individuals in automobiles, residences, offices, and other locations where wireless telephone coverage is unavailable.
Conclusion
Radiofrequency testing is required for radio and telecommunications equipment to ensure that they are not interfering with other radio frequency spectrum users. Wi-Fi, Zigbee, PMR radio, RFID, NFC, GPS, cellular technologies, and other technologies are all covered by a radio frequency test.