Protocols provide rules and functionalities that define how a message is transmitted, ensuring consistency and proper standard across a network. Also, it defines and represents the implementation and access rules of the system.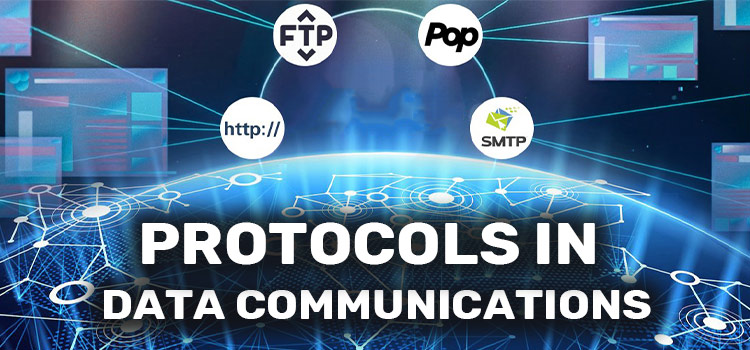 What Is the Purpose of Protocols in Data Communications
Protocols in data transmission can be defined as a set of rules to ensure a standard function, consistency, accuracy, and reliability, encoding an idea onto a medium by one person and having it understood by others.
It can be defined by comparing it with written language, a protocol consisting of an alphabet, grammar, and style. Protocols allow transferring of data between two or more parties that are in sync. Without which there can be no meaningful transmission of data.
Encoding the required data onto the media at the sending end and decoding the data at the receiving end depends on the transmission media, and the required functionality, which can also be addressed as the protocols. It provides rules and regulations that define how a message is transmitted across a network.
Protocol Standards
Protocols have higher or lower standards depending on the security and access of the system. The standards depicted by the protocols specify implementation requirements such as electronic and bandwidth details.
For example, higher-level protocols like HTTP allow you to access a conforming website, server, or FTP, letting you upload or download files, or access the shared content.
If you're a supplier or a seller of an e-commerce website, you must communicate using the specific protocol to frame properly. Multiple programs that are communicating from different ends, even on the same computer, use a protocol. Higher up the stack are protocols that define the routing information to its appropriate destination.
File Formats as Protocols
File formats are also used as protocols, if you want to play an MP3 or play a video, the bits and file name had better look as they should look, or the file would become inaccessible. Some of the common data types like .GIF, .JPG, .TXT are protocols, which are representative of the top of the stack.
To Conclude
One of the main purposes of the protocol in data transmission is to allow the encoding of an idea in such a way that it is understood by the receiving end. Without proper protocols, for decoding to retract the original signal the whole transmission and other processes become futile.