Depending on the situation and application, analog signals can be either AC (alternating current) or DC (direct current).
Since they are continuous and flexible, analog signals have long been difficult to classify as AC (alternating current) or DC (direct current). Analog signals can have both AC and DC components, unlike digital signals, which are made up of discrete numbers. While DC continuously flows in a single direction, AC oscillates between positive and negative values.
Professionals in electronics and signal processing must understand the characteristics of analog signals to harness the various manifestations of electricity in our environment. Let's dig in for more.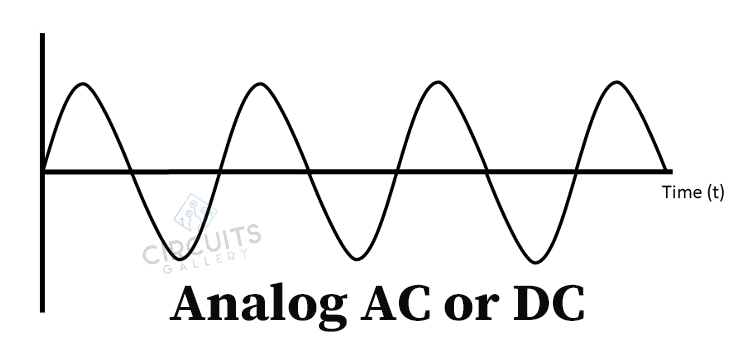 Understanding the Concept of AC, DC, and Their Characteristics
Direct current (DC) and alternating current (AC) are two primary forms of electrical signals with different properties. Understanding these ideas is essential to understanding the behavior and uses of analog signals. Let's examine the fundamental qualities and distinctions of the notions of AC and DC.
AC – Alternating Current
Alternating current also referred to as AC, has the ability to move direction sometimes. In an AC system, electric charge oscillates back and forth between positive and negative values. This oscillation produces a wave-like pattern, which is frequently represented by a sine wave. 
AC is often used for power transmission and distribution due to its effective long-distance transportation properties. Frequency, which is stated as the number of full cycles AC completes each second, is expressed in hertz (Hz).
DC – Direct Current
Direct current, also referred to as DC, moves easily and continuously in a single direction. Like AC, a DC system's electric charge flow keeps its polarity over time without changing its direction. When discussing DC, batteries are frequently referred to because the electron flow is constant.
It is commonly employed in electronics to power integrated circuits and supply steady voltage levels.
Distinguishing Factors
Their flow characteristics are the key distinction between AC and DC. While DC maintains a steady flow in one direction, AC continuously varies. Due to its reduced energy loss, AC is a good choice for long-distance power transmission. On the other hand, electronic equipment and applications that call for a steady, unidirectional flow of current are recommended to use DC.
Analog Signals | AC and DC in Different Scenarios
Power Transmission and Distribution
Analog signals are mostly AC in the context of power grids and electrical networks. Transformers can quickly step up or step-down AC, which enables effective long-distance transmission. As a result, AC is utilized to distribute power to residences, businesses, and industries.
Electronic Devices and Circuits
Analog signals are largely DC in electronic devices including batteries, sensors, transistors, and integrated circuits. DC offers the steady and predictable voltage or current that electronics need to operate. It ensures dependable operation and a constant power supply.
Audio and video signals
Depending on the particular application, analog audio, and video signals might be either AC or DC. While DC signals are used to power amplifiers and other components in audio systems, AC signals are used to convey sound waves. Similar to audio systems, video systems use AC signals to carry audio information while DC impulses power the cameras and displays.
Telecommunications
Depending on the specific transmission technique, analog signals used in telecommunications might be either AC or DC. For instance, whereas digital data communication normally uses DC signals for information encoding and decoding, traditional telephone lines use AC to send voice messages.
Instrumentation and Measurements
Depending on the particular needs, analog signals used in instrumentation and measurement systems can either be AC or DC. While DC signals are used to measure direct quantities like voltage, current, or resistance, AC signals can be used to measure alternating values.
FAQs – Frequently Asked Questions and Answers
What determines whether an analog signal is AC or DC?
The intended usage, the nature of the electronic system, and the precise needs of the application all influence whether an analog signal is AC or DC.
Can analog signals switch between AC and DC?
Electronic devices including rectifiers, inverters, and filters can be used to process and convert analog signals between AC and DC.
Conclusion
Depending on the context, analog signals can either be AC or DC. While DC is frequently found in electronic gadgets, AC is used for power transmission. Knowing the differences enables us to comprehend how they are used in electrical and technological systems.