What Gauge Wire for Grounding Rod [Everything You Need to Know]
Electrical systems depend on grounding rods because they offer a secure route for extra electrical energy to dissipate into the earth. It's crucial to select the correct gauge of wire to connect the grounding rod to your electrical system to guarantee the performance of this crucial safety precaution.
Depending on the size of the electrical service cable, the National Electrical Code (NEC) requires that the minimum gauge wire for a grounding rod is either #6 or #8 gauge. In this article, we'll analyze the variables that affect wire gauge selection and offer helpful advice to assist you in making an informed choice for your particular application.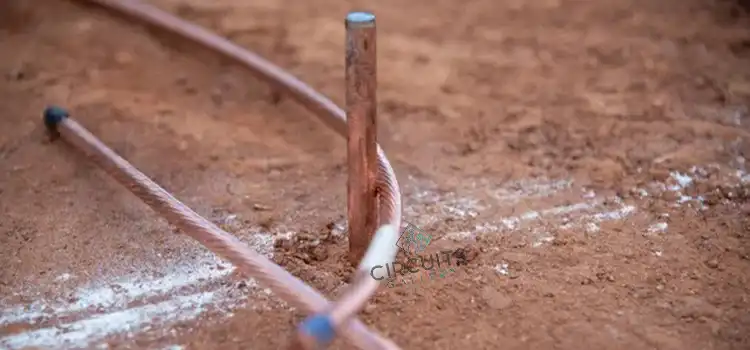 Considerations of Gauge Wire for Grounding Rod
For your grounding rod to have the least amount of resistance to ground, it is crucial to utilize the proper gauge of wire. This will assist in preventing damage to your electrical system from a short circuit or lightning strike. The National Electrical Code (NEC) standards for grounding wire gauges are outlined in the table that is provided below.
| | |
| --- | --- |
| Electrical Service Size | Minimum Ground Wire Gauge |
| 100 amps or less | 6 gauge |
| 125 amps | 6 gauge |
| 150 amps | 6 gauge |
| 200 amps | 4 gauge |
| 400 amps | 2 gauge |
| 600 amps | 0 gauge |
The grounding wire length and some important specifications determine what gauge wire is best for a grounding rod. Following are some general factors that affect the selection.
Electrical Service Size
The amount of current that the grounding wire must be able to carry is determined by the size of the electrical service. The grounding wire needs to be larger the larger the electrical service.
Grounding Wire Length
The greater the gauge wire must be, the longer the grounding wire. This is due to the wire's increasing resistance as it gets longer. A copper wire of 10 or 8 gauge is usually adequate for domestic purposes. A 6 or even 4-gauge copper wire can be better suitable in commercial or industrial environments where heavier electrical loads are frequent.
Soil Type
The resistance of the grounding system is influenced by the kind of soil. Clay-based soil is more resistant than sandy soil. This means that in sandy soil, a smaller gauge wire can be utilized.
Depth of Grounding Rod
The resistance of the grounding system is also influenced by the depth of the grounding rod. The resistance decreases with the depth of the grounding rod. This means that if the grounding rod is buried deeper, a smaller gauge wire can be used.
Lightning Protection
A thicker gauge wire will be needed if the grounding system is also used for lightning protection. Because lightning strikes can generate extremely strong currents, this is.
Mathematical Aspects
The resistance of a grounding wire can be calculated using the formula below:
R = ρL/A
Where:
The wire's resistance, R, is measured in ohms.
ρ is the wire material's resistance measured in ohm-meters.
L is the wire's length in meters.
A represents the wire's cross-sectional area in square meters.
The NEC stipulates that the grounding wire's resistance must not exceed 25 ohms. Given that its resistance is less than 25 ohms, the 6-gauge wire would be suitable in this situation.
The resistance would be greater if the grounding rod were embedded in clay soil, though. To keep the resistance below 25 ohms in this situation, a bigger gauge wire would be needed.
Additional Concerns
Here are some extra suggestions for selecting a grounding wire. You can make sure that your grounding system is properly grounded and safeguarded by adhering to these recommendations.
Invest in solid copper wire. Stranded wire does not ground as well as solid wire.
There shouldn't be any bends or kinks in the wire.
The cable needs to be long enough to connect the electrical service panel to the grounding rod.
At least 8 inches of soil should be buried beneath the wire.
People Also Asked
What Are the Distinctions Between Copper and Aluminum Grounding Rod Wire?
Aluminum is less conductive than copper, hence copper is the material of choice for grounding applications. Although it frequently requires a wider gauge to make up for its lower conductivity, metal can also be employed.
Can I Ground Using an Existing Wire, or Do I Need to Install a Separate Grounding Wire?
Installing a dedicated grounding line is typically advised to guarantee proper conductivity and adherence to electrical rules.
Can I Add Additional Grounding Rods for Safety?
Yes, adding more grounding rods can improve the grounding system's efficiency, particularly in places with significant soil resistance.
Conclusion
Maintaining a safe and reliable electrical system requires placing a high priority on choosing the right wire gauge. You may create a dependable grounding system that offers a stable conduit for electrical energy to dissipate safely into the earth by following these recommendations and when in doubt, getting professional help.
Subscribe

to our newsletter

& plug into

the world of circuits