The words "fader" and "gain" are frequently used in audio engineering and signal processing applications. The main difference between fader and gain is that fader controls the output level of the audio signal, while gain controls the input level of the audio signal. 
Let's have a detailed look at what puts them apart.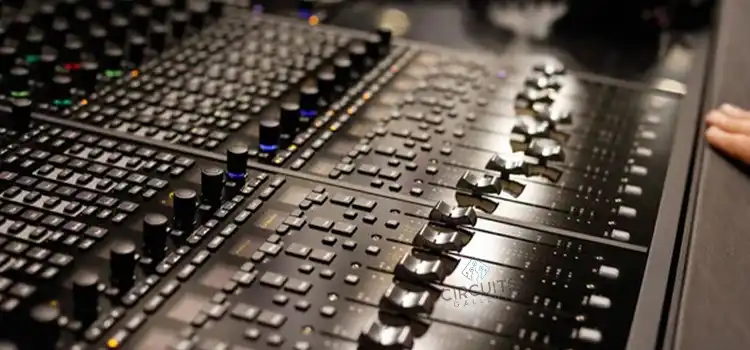 Fader | What it Mixes
Fader serves as a control component present on audio mixers, software interfaces, and comparable devices. It regulates the volume of a particular audio signal.
Generally operating along a linear or logarithmic scale, the fader raises or lowers the audio signal's amplitude. Faders are extensively utilized in audio mixing to harmonize the levels of distinct audio sources or tracks within a mix.
Gain | The dB Level
Gain refers to the initial amplification applied to an audio signal to optimize its strength of the signal prior to mixing and processing. Essentially, gain signifies the extent to which an incoming signal's amplitude is increased.
It is generally measured frequently in decibels (dB). Gain manages the general signal level, which can be manipulated through audio devices using knobs or buttons.
Differences between Fader and Gain
The primary differences between Fader and Gain are as follows:
1. Function 
Fader: Adjusts the volume level of the signal. Faders are used to control the listening volume of the signal. They raise or lower loudness and balance levels between audio tracks.
Gain: Controls signal amplitude/loudness. Gain adjusts the input strength of the source audio before it is mixed. It makes the signal louder or quieter at the source.
2. Operating Range 
Fader:  Wide range (e.g., 0 to 10). Faders operate over an extensive range, often from 0 to 10. This wide control area allows for making both subtle and dramatic volume changes. 
Gain: Narrower range (around -20 to +20 dB). Gain functions over a narrower decibel range, typically around -20 to +20 dB. This provides precise control over fine-tuning signal amplitude. 
3. Location 
Fader: Found on mixing consoles, control surfaces, and DAWs. For easy access, faders are located on obvious external surfaces like mixing boards and DAW control interfaces.
Gain: Often on preamps or input channels. Gain controls less visibility, situated early in the signal chain on preamps or channel inserts to optimize levels.
4. Impact 
Fader: Alters output volume, no effect on signal integrity. Adjusting the fader simply makes the signal louder or quieter. It does not degrade or distort the signal.
Gain: Can introduce noise/distortion at extremes. Pushing the gain too high can overamplify the signal, introducing noise and distortion artifacts.
5. Usage
Fader: Sets track levels and overall balance during mixing. The fader's role is to adjust relative volume levels and blend elements during mixdown.
Gain: Optimizes signal strength at the beginning. Gain is used early on to clean up and set the ideal input signal strength for mixing.
6. Mix Stage 
Fader: Late-stage for final mix adjustments. Faders come late in the mixing process to put the finishing touches on the blend and balance.
Gain: Early-stage optimization of signal input. Gain provides the crucial first step of tuning the source audio before subsequent mixing.
7. Noise 
Fader: Adjusting fader levels does not introduce new noise. The fader simply controls the listening volume and does not affect noise levels in the recorded signal.
Gain: Incorrect gain structure can amplify noise. If the gain is too high, it can amplify inherent noise and hiss already present in the signal. Proper gain staging is important to optimize the signal-to-noise ratio before mixing begins.
8. Precision and Dynamics
Fader: It offers fine control over individual track volumes, allowing detailed shaping of the mix's sonic nuances.
Gain: It provides meticulous control over initial signal strength, establishing the dynamic range for subsequent processing.
Frequently Asked Questions (FAQs)
1. Can Fader Be Used Just Like a Gain Control?
Answer: Yes, Fader can be adjusted at the beginning of the signal chain to control initial levels like a gain knob. However, faders are not really optimized for this use case. The taper and coarse control of a gain knob work better for dialing precise gain amounts.
2. Which Should Be Automated, Gain or Faders?
Answer: Automating faders is generally better. As gain sets the foundational signal levels, dynamically adjusting it can introduce unwanted noise or distortion to the audio signal. Keep gain static and automate the faders for smoother volume changes.
3. Which Indicates Volume Levels Fader or Gain?
Answer: Faders often have dB scales showing volume levels. Gain may just have min/max limits marked.
To conclude
Understanding the differences between faders and gain leads to better-sounding, more professional audio production.
Getting the gain set properly early in the chain provides the optimal signal for subsequent mixing decisions like fader levels. This two-stage process of gain first, then faders, establishes a solid foundation for audio quality and mix balances.