Meggers test low and medium voltage by charging them for up to two minutes at 600 to 2,000 volts. A maximum of 300 volts per mil of insulation is applied by hi-pot testers, which use substantially higher voltages of up to 15,000 volts. Hi-pot tests take 15 minutes to complete, with readings collected every minute.
The megger is built so that the needle floats freely until the generator is turned on. When the generator is turned off, the needle may fall to any point on its scale. To ensure the safety and quality of an electronic gadget, a hi-pot test is required. It ensures that no breakdown or perforation occurs at high voltage.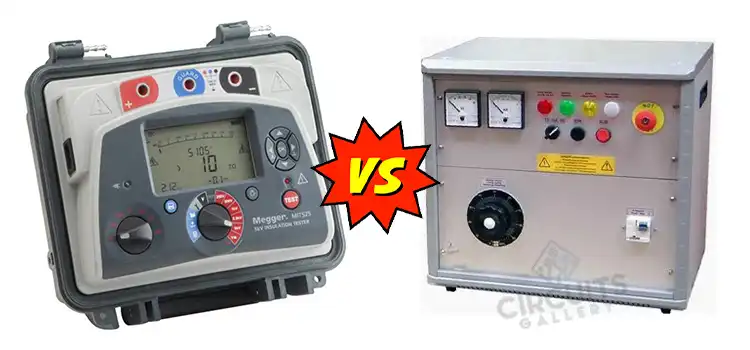 The Major Distinction Between High Pot Test and Megger
To ensure the safety and quality of an electronic gadget, a Hi-pot test is required. It ensures that no breakdown or perforation occurs at high voltage and that insulation distances on the line and in the air are respected. The megger is used to assess a large amount of insulating resistance.
The basic differences between a megger and a hi-pot are given below:
Measurements
Megohmmeters are used to test insulation resistance and are powered by an integrated DC generator or battery of a medium voltage range. The hi-pot test is a nondestructive test. It verifies the electrical insulation's sufficiency for the usually occurring over voltage transient.
Hence, hi-pot is a high-voltage test that is performed on all devices for a set period of time to ensure that the insulation is not compromised.
Techniques
A common megohmmeter allows the user to choose between numerous voltage levels. The maximum dc test level for cables or equipment with rated voltages up to 500V is normally twice the rated voltage. The maximum level is closer to the rated voltage above a 500V rating (e.g. 5000V for a 4100V system).
A hi-pot test is typically performed on the main wiring of electrical equipment. One of the tester's leads is connected to the safety ground (earth ground). The other lead is connected to the neutral and line power leads. To make these connections, the hi-pot tester frequently includes an ac receptacle.
Test Voltage
Voltage for testing of a megger by crank rotation in case of hand operated type, an electronic tester is powered by a battery of 500 volts. Direct current is suitable for testing equipment with a voltage range of up to 440 volts. High voltage electrical systems are tested with voltages ranging from 1000 V to 5000 V.
The basic test voltage for the Hi-pot test, according to IEC 60950, is 2X (Operating Voltage) + 1000 V. Any product's insulation can be subjected to routine day-to-day transient over-voltages. Hence, 1000 V is used in the basic formula.
Leakage Current
Hi-pot test failure occurs when the leakage current exceeds a defined limit or grows rapidly and uncontrollably, or when arcing is observed. Leakage current limitations are typically in the 0.5 to 20 mA range.
Megger is an efficient instrument for identifying and measuring the earth leakage current in a circuit. It has six ranges 6 mA, 60 mA, and 600 mA.
Uses
The hi-pot test measures the insulation's dielectric strength to the ground. It is used to test whether or not the ground wall can withstand an overvoltage condition. An overvoltage is defined as a voltage greater than the device under test's peak operating (line to line) voltage (DUT).
The megger is used to assess a large amount of insulating resistance. This high resistance could be between the windings of a transformer or motor, or it could be between the conductor in a cable and the conduit or sheath that encloses the cable.
What Is the Difference Between Insulation Test and Hipot Test?
When testing the insulation of cables, wiring, and electrical equipment, there are two standard techniques. Insulation resistance is measured using a megohmmeter. The other checks for insulation breakdown using a hipot tester. Both methods assess the current flow that results from applying a high voltage, either ac or dc, to the device under test (DUT).
Insulation resistance is often measured in the field to determine the quality of the insulation. Hipot testing is often a factory safety examination to confirm the product design and production procedure. Depending on this variation, a megohmmeter or a hipot tester is the proper insulation testing tool.
Insulation Test
Modern megohmmeters (also known as megohm meters) detect the dc current by applying a dc voltage to a DUT (nano amps or microamps). The matching resistance value is then displayed on the meter's analog or digital display after applying Ohms Law. This device is frequently referred to as a megger.
Techniques
The assessment of insulation conditions can be aided by two methods. The first stage is to gradually apply more voltage. The IR value of damaged insulation will decrease as the test voltage rises. The dwell time at each step needs to be managed for precise results.
Some megohmmeters have a feature that automatically steps up the voltage at predetermined intervals to make this test simple. Comparing IR data with the findings of earlier tests is another method of assessment. The insulation is not harmed by the megohmmeter because of the very low test current it employs.
The necessity for preventive maintenance will be revealed by periodic IR testing that will reveal insulation degradation over time. Measuring conditions must be identical for dwell time and voltage for an accurate comparison. Care should be made to do the experiments under identical temperature and humidity conditions because moisture impacts the IR results.
Parameters
Dielectric absorption ratio (DAR) and polarization index are two measures that can be obtained from measurements of insulating resistance (PI). Modern digital multimeters contain capabilities specifically designed to measure and show these characteristics.
The difference between the IR at 60 and 30 seconds is known as DAR. When the resistance value is less than 1, it means the DUT is failing because the resistance is diminishing with time.
On motors and generators, the polarization index is used to evaluate the cleanliness and impurity content of the windings. PI is calculated by dividing the IR at 10 minutes by the IR at 1 minute. Minimum PI values are specified by some equipment standards. In general, a ratio larger than 1.5 is sufficient.
Hipot Test
Electrical insulation's capacity to withstand typically occurring over-voltage transients is evaluated using a hipot test which is the short form of high potential. High voltage is applied by the hipot tester to the DUT's insulating barrier to ensure there is no breakdown.
The test is a straightforward pass/fail procedure carried out as a type test on a representative sample unit or as a standard production test. The maximum permitted leakage is typically between 0.1 and 5 mA, as determined by the test standard. For quality control, the actual leakage value for each DUT may be recorded.
Techniques
The majority let to use either ac or dc voltage. While the dc level should be equal to the ac voltage peak, the test setup and procedures are the same for ac and dc. The test duration is typically 1 minute, but in certain circumstances like testing for high volume production, a shorter test duration may be allowed at a higher voltage.
A hipot test is often run on the electrical equipment's mains wire. The tester's one lead is attached to the safety ground. The line and neutral power leads are linked to the other lead. For making the connections, the hipot tester frequently features an integrated ac receptacle.
An ac hipot tester may reveal a fault caused by current flowing to earth through the Y capacitors if the circuit being tested contains a power line filter. Dc test voltage can also be used. To guarantee that the test fails if the DUT is not connected it additionally has a low limit. Nearly all hipot tests need ac power, unlike meggers which are typically battery-powered.
Why Would You Perform a Hipot Test?
To ensure the quality and safety of an electrical item, a Hipot test is required. It makes sure that insulation distances on the line and in the air are respected while operating at high voltage and that there isn't any breakage or perforation.
Tests can be carried out between pieces of a part that are mutually isolated or between electrified parts and electrical ground. In each scenario, an electrical current will flow between two sites during testing. Hipot testers can measure voltages ranging from 5k to 400k volts, depending on the tester's size.
Frequently Asked Questions
What is a good insulation resistance test result?
Insulation resistance should be approximately 1 megaohm for every 1,000 volts of operating voltage, with a minimum value of one megohm. For example, a motor rated at 2,400 volts should have a minimum insulation resistance of 2.4 megohms.
Is Hipot Testing Destructive?
When excessively high test voltages are applied, the hipot test can be harmful. If a test voltage of more than 2500 Vac is supplied between the primary and secondary circuits, the device could fail catastrophically.
Conclusion
It comes down to what you are testing, the amount of voltage and current you need to test, and a little bit of personal choice when deciding between a high-pot and a megohmmeter. A megohmmeter is your tool if you're looking for a measurement to monitor equipment lifespan trends. However, a hi-pot test will help you act more quickly.