Typically, ceiling fans draw around 0.25 to 1 amp. Although, the amperage varies depending upon the model, speed settings, and such.
You can determine the amperage simply by calculating yourself or by contacting the manufacturer. In most cases, the amperage falls within a narrow range.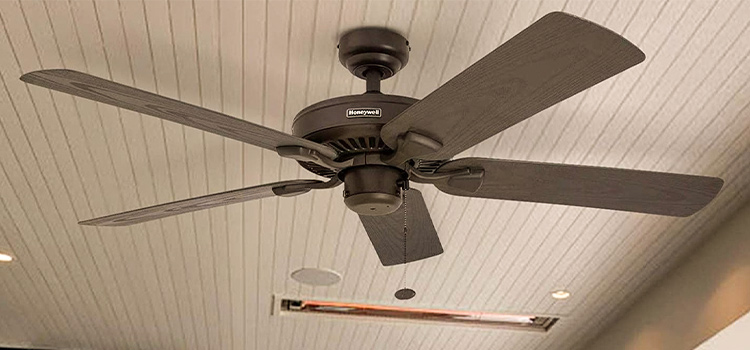 How Many Amps Does a Ceiling Fan Draw
Determining the amperage of a ceiling fan is not as simple as it sounds. Several factors such as the type of fan, its settings, speed, and so on need to be considered. This section will give you a general idea of how many amps different types of ceiling fans draw.
Normal Ceiling Fan
Although the amps drawn by a ceiling fan are not much compared to an air conditioner, it is still a lot. A normal ceiling fan typically draws somewhere in between 0.5 amp to 1 amp. However, this number depends on the power and speed settings of the ceiling fan.
A recently built fan would draw 0.4 amp given that it is on low settings. This same fan would draw only about 0.6 amp in high settings.
52-inch Ceiling Fan
This type of ceiling fan has the lowest amperage. In low settings, a 52-inch ceiling fan will only draw about 0.17 amp. Whereas, in high settings, the number is around 0.65 amp.
Large Ceiling Fan
A large ceiling fan operates in the typical range of amperage. The recently constructed ones require around 0.5 amp to 1 amp on average.
Hunter Ceiling Fan
This type of ceiling fan has the most amperage. Depending on the type of build that such fans have, the amp usage varies. For instance, a hunter ceiling fan with a light kit will use about 2 amps while a hunter ceiling fan without a light kit will use around 3 amps.
Calculating the Amperage
One can easily calculate how many amps a ceiling fan is drawing by using a simple formula. All you need to know is the power of the fan in watts and voltage. However, typical ceiling fans use an electric motor that works in AC supply and generates a magnetic field. In such cases, we will need to consider the power factor as well.
Assuming an AC ceiling fan motor has a power of 50W and uses 120 volts with a power factor of 0.6, the amps it will draw can be calculated using the following formula.
Power (Watts) = Power Factor x Voltage X Amps.
In this example, the amps drawn by the 50W fan will be 0.69.
Conclusion
Determining the amperages of the ceiling fans in the household is important to get a general idea of the required amperage and power. Not to mention, the amp usage can be decreased by simple modification in speed settings and such. Therefore, knowing the amperage beforehand can come in handy.