Reverse polarity voltage and over-voltage are the two main factors that can make a capacitor explode. Compared to other types of capacitors, electrolytic capacitors are more likely to explode. In the following piece, we shall explore the primary factors contributing to the explode of capacitors.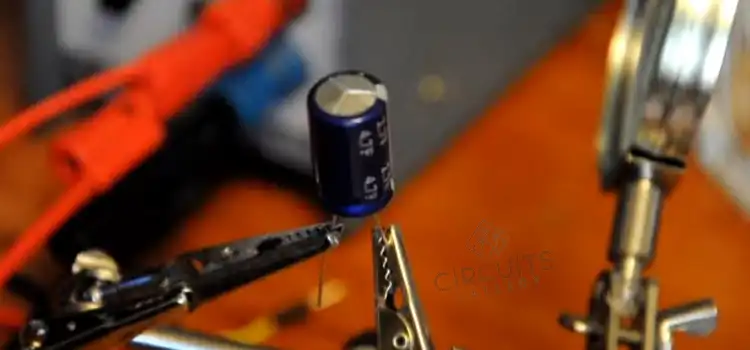 The Reasons Behind Capacitor Explosion
Comparing its predecessors, the electrolytic capacitor is the kind that is most likely to result in a spectacle when it explodes. Other capacitors will burn, crack, pop, or smoke instead of exploding. The oxide layer deteriorates when an electrolytic capacitor fails.
The electrolyte is subjected to heavy current flow as a result. Significant current levels will produce significant heat levels. This intense heat will turn the water into gas, which will build up pressure inside the capacitor and eventually cause it to blow up. The various factors that can cause capacitor explosion are given below.
1. Dielectric breakdown
Two conductive plates are separated by a dielectric substance in capacitors. The breakdown voltage is the voltage that the dielectric material is made to withstand. The dielectric material disintegrates as the voltage across the capacitor rises above this limit, allowing a sizable current to flow through the capacitor. This energy burst can result in an explosion.
2. Overheating
when capacitors produce heat when in use, excessive heat can harm them and cause catastrophic failure. High outside temperatures, an excessive current flow, or inadequate cooling might cause the capacitor to overheat and finally explode.
3. Internal Short Circuit
The capacitor may experience a short circuit for causes including physical harm or manufacturing flaws. A low-resistance route is formed between the capacitor plates when a short circuit happens, allowing a significant amount of current to pass through the shorted area. Rapid energy release, severe heat production, and finally an explosion may ensue from this.
4. Reversed Polarity
When you wire a capacitor incorrectly means by connecting the positive terminal to the negative and the negative terminal to the positive, you are reversing its polarity.
It shouldn't be too much of an issue if you happen to wire it incorrectly and apply voltage for a very brief period. An electrolytic capacitor will, however, blow up when exposed to reverse polarity for longer periods.
5. Gas release
The capacitors that include electrolytes or other volatile materials, their internal electrolyte can evaporate or undergo chemical reactions in situations that are too extreme, including high temperatures or an excessive amount of voltage.
The capacitor casing could burst and explode as a result of the rise in pressure brought on by the gas release.
6. Storage
The storage capacity of electrolytic capacitors is poor. The longer they are held, the worse their interior chemistry becomes, and their voltage rating rapidly decreases.
A capacitor that displays a given voltage but no longer possesses that voltage could blow up as a result. As a result, it will explode if you apply the voltage as it is indicated as it will be higher than the actual voltage.
Frequently Asked Questions And Answers – FAQs
Are capacitor explosions frequent?
No, capacitor explosions are comparatively uncommon. To reduce the danger of failure, capacitors are constructed with safety measures that adhere to standards. The likelihood of a capacitor bursting is significantly decreased by following appropriate usage instructions and operating circumstances.
How can I recognize a capacitor that might be faulty?
The visual examination of a capacitor for physical damage, such as bulging or leaking, is one method of spotting a possible defective capacitor. Capacitor problems can also be found by measuring capacitance and inspecting for excessive resistance or short circuits.
When in doubt, it is best to seek the advice of a knowledgeable specialist for additional analysis.
Can persons or property be harmed by capacitor explosions?
Yes, capacitor explosions have the potential to endanger lives and damage property. An explosion can cause physical injury and equipment damage due to the release of energy and debris. When working with capacitors, it's crucial to adhere to safety procedures and take the proper precautions.
Conclusion
For electrical systems to remain safe and dependable, it is essential to comprehend the reasons and risks of capacitor explosions. Capacitor explosion risk can be considerably reduced by adhering to recommended usage recommendations, respecting voltage ratings, performing routine inspections, and using the right handling techniques.