For 12/2 wire, the recommended conduit size is 1-1/4 inches. This is determined by the dimensions of the cable, which measure 0.463 x 0.183. To determine the number of wires this size of conduit can accommodate, a fill table based on the conduit type can be used.
In this article, we will explore industry norms, and conduit fill calculations, and provide valuable guidance to help you choose the right conduit size. By adhering to conduit size guidelines, you can ensure compliance with electrical regulations and achieve a reliable wire installation.
What Size Conduit Do I Need for a 12-Gauge Wire?
Conduit size is determined by the National Electrical Code (NEC) rules. In most cases, a 1/2-inch conduit is adequate for one 12-gauge wire (12/1). However, the conduit size needs to be changed to account for various wires or cables.
Consider the wire diameter and any insulation or sheathing when determining the necessary conduit size. To guarantee that the conduit's fill capacity does not exceed 40%, the NEC offers criteria. You can ensure sufficient wire protection and avoid overheating by keeping this limit.
How Many #12 Wires Can Go in a 3/4-Inch Conduit?
To calculate the maximum number of #12 wires allowed in a 3/4-inch conduit, you must take into consideration the fill capacity restrictions outlined in the NEC. A 3/4-inch conduit with a 40% fill capacity constraint may accommodate many #12 wires.
If the insulation thickness is standard, you can often put up to nine #12 wires in a 3/4-inch conduit and still meet NEC requirements. It is crucial to keep in mind that exceeding the fill level might lead to potential safety issues such as excessive heat accumulation and weaker wire insulation.
NEC Conduit Fill Chart
The National Electrical Code (NEC) provides guidelines on conduit fill, which refers to the percentage of the space inside the conduit that is filled with wires. It is important to ensure the conduit is not overfilled as this can lead to overheating and potentially damaging the wires.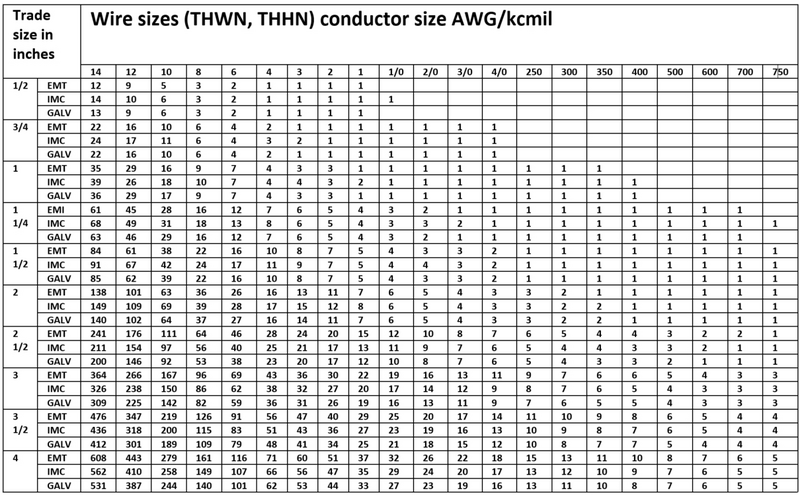 Figure 1: NEC Conduit Fill Chart
Note: This chart applies to THHN or THWN, which are types of thermoplastic insulated wires commonly used in residential wiring. The "AWG" stands for American Wire Gauge and it's a standard way of expressing wire size.
What is Romex
Romex is a popular brand of non-metallic sheathed electrical cable used for residential wiring applications. It is also commonly referred to as NM (Non-Metallic) cable. Romex consists of two or more insulated wires, typically color-coded for identification purposes, and a bare copper grounding wire, all enclosed within a protective outer sheath.
Romex cables are widely used for branch circuit wiring in residential buildings due to their ease of installation, flexibility, and cost-effectiveness. They are available in various sizes and configurations, such as Romex 12/2, and Romex 14/2, indicating the wire gauge and number of conductors.
Can you Run 12-2 Romex Through Conduit?
Although technically possible, running 12-2 Romex through conduit is not frequently recommended. Romex cables are non-metallic encased cables designed for installations without conduit. It already has a code-compliant protective covering.
However, there may be circumstances when local legislation or unique installation requirements mandate the use of conduit with Romex. It is crucial to consider the conduit's size in such situations.
A conduit that is too small might lead to wire damage, overheating, and code violations. It is crucial to examine local electrical codes and get guidance from a certified electrician in order to ensure compliance, safety, and optimal performance.
How Many 12-2 Wires Can You Put in a 1-Inch Conduit?
A 1-inch conduit's maximum capacity for 12-2 wires varies on a number of variables, including the conduit's type and any applicable electrical laws or regulations. A 1-inch conduit, however, can normally hold up to 9 or 10 12-2 wires as a general rule.
It's crucial to consult local electrical codes and adhere to manufacturer recommendations when determining the permissible wire fill for a specific conduit size because going over the recommended fill capacity can cause problems like increased heat buildup and decreased wire protection.
Conclusion
A conduit size that works well with 12/2 wire is generally 1/2 inch. The wires may be properly contained in this size of conduit, guaranteeing sufficient protection and compliance with electrical rules. For effective and secure electrical installations, selecting the suitable conduit size is essential, and choosing a 1/2 inch conduit guarantees a good fit for 12/2 wire.