An oscilloscope can measure a variety of signals, including voltage and current, as well as the frequency of a signal. The frequency determines the waveform's shape. The waveform of an AC signal depends on its amplitude and frequency, but a DC signal simply on its amplitude.
Anyone working in the fields of electrical engineering, electronics, or telecommunications needs an oscilloscope. As a result, there are a number of things to be aware of. Now I'll try to explain what an oscilloscope measure performs in more detail.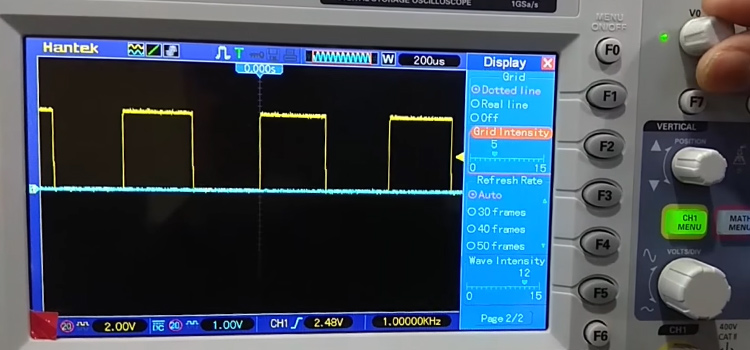 Oscilloscope
An oscilloscope is a tool that lets you see an electrical signal as it travels through a circuit. It's like looking at what's going on in real-time instead of data and charts. Oscilloscopes magnify microscopic details in huge signals so engineers may visually analyze electrical circuits for faults and fix them before they cause damage.
How does it Work
It works by collecting a small sample of voltage and estimating what's going on in a bigger circuit. On an oscilloscope, the basic controls are time (set with a knob or keypad), amplitude (set how powerful you want your signal to be), and frequency (measures how rapidly your signal oscillates).
Analog vs. Digital
An oscilloscope is a device for determining voltage, time, and frequency. While many modern oscilloscopes are digital, some are analog. It all depends on what you want to do with it. Analog and digital oscilloscopes are the two most common varieties.
Analog
People who want a visual representation of their signal should use analog oscilloscopes. It's most commonly used to investigate how voltage, current, and resistance interact with one another.
Digital
Digital oscilloscopes, on the other hand, use a computer to show signals on a screen or monitor in real time. They're very handy for determining radio frequencies. Before purchasing an oscilloscope, make sure it actually fulfills your needs.
What Does an Oscilloscope Measure
Oscilloscopes measure volts, but they can also measure other signals, such as:
Voltage
You might be perplexed as to how an oscilloscope can detect voltage. In reality, it's only measuring time. The x-axis denotes time and the y-axis shows voltage or current. On an oscilloscope, you see a waveform flowing across both axes throughout time, like something bouncing back and forth.
Amps and Watts
Oscilloscopes measure amperage rather than volts and ohms, like a multimeter does. An oscilloscope will be far more useful than a multimeter when troubleshooting wiring or monitoring voltage output (from your solar panels).
Frequency
One of the most important features of a digital oscilloscope is its bandwidth. A digital oscilloscope's bandwidth specifies how high a frequency can be measured.
Sound
An oscilloscope can be used to measure sound. A transducer (to 'convert' the audio signal to a voltage) would be required, which would be connected to a channel on the scope. You'll then plot the signal as a voltage vs. time graph.
Capacitance
The capacitance measuring part of an oscilloscope has to do with charging time. How long does it take for charge (or voltage) to build up across the component being tested. For capacitance, we need voltage and charge, so let's use a capacitor.
Inductance
Inductance, like capacitance, is an electrical property. Inductive reactance is another name for it. On the other hand, an inductor's resistance is determined by voltage or frequency. You can think of it as a resistor that varies when you increase (frequency) or reduce (voltage) the current going through it.
Can an oscilloscope measure frequency
Using the horizontal scale on your oscilloscope, you can easily measure time and frequency. To enhance accuracy while measuring frequency, enlarge the signal region on your oscilloscope display so you can read the waveform.
Can an oscilloscope measure voltage
Oscilloscopes measure voltage and current. Power and temperature are derived from these two parameters. For instance, power is measured by using a resistor with a given resistance (in ohms) and measuring the voltage across it (usually in watts) over a specified period of time.
Does an oscilloscope measure sound waves
Electrical signals, not sound waves, are measured by oscilloscopes. An oscilloscope can display changing waveforms to assist diagnose circuit faults.
Advantages
An oscilloscope is a display device for voltage signals. These show transients and do frequency analysis. Electronics engineers utilize it for diagnostics. An oscilloscope displays high- and low-frequency waveforms and signal amplitudes from electrical circuitry.
Conclusion
Finally, an oscilloscope is a device that measures amplitude variations in electrical signals. This signal is represented by a moving horizontal axis while time is represented by a vertical axis. An oscilloscope can measure an electrical signal's frequency by measuring its amplitude. Hence, before purchasing an oscilloscope, I would advise you to ensure you fully understand what it measures.