Oscilloscope input resistance is a part of a complicated impedance, which includes both resistive and capacitive components, can interfere with the performance of circuits being tested and restricts oscilloscopes' high-frequency performance.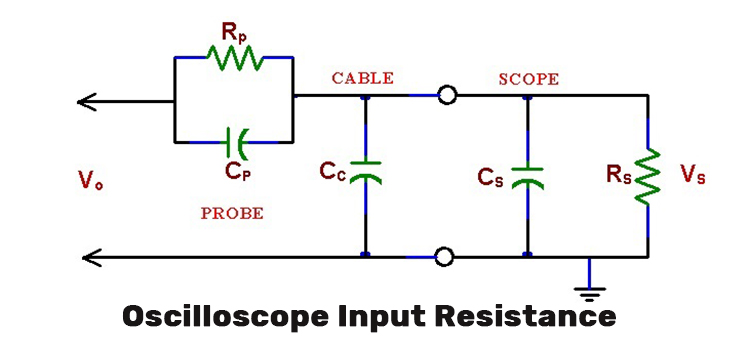 Oscilloscope Input Resistance
When an oscilloscope is connected to a circuit, it becomes a part of the circuit and alters its properties to some extent. The goal is to use an oscilloscope with a high input impedance to reduce the impact.
More precisely, when you contact the scope probe to the test point, a reduced input impedance appears as a load on the circuit being tested, affecting the signal level. To avoid this loading effect, a high input impedance is used.
Does an Oscilloscope Have Resistance
Of course. To investigate the input resistance specification acknowledge that the probe and scope input resistance will reduce the amplitude of the signal under test. The loaded signal resembles the source signal, but with a different amplitude.
As most passive devices are passive, the reduction of the amplitude of the source signal is dependent on the source resistance. The probes that come with an oscilloscope have a 10 MΩ input resistance. The probe's input resistance paired with the scope's input resistance leads the measurement system to behave like a voltage divider.
Do Oscilloscopes Have High Resistance
It is usually preferable to have high resistance in an oscilloscope. Probes normally have a high input resistance to reduce resistive loading, and since most 10X passive probes that go with an oscilloscope have a 10 MΩ input resistance, the input resistance of a probe is less likely to produce substantial probe loading for most applications.
Bogden oscilloscopes, voltmeters, and other devices with very high input are excellent since they do not disturb the measurements. Low resistance/impedance devices will require some current to read, however, this will affect the reading, making it incorrect.
How Do You Calculate the Resistance of an Oscilloscope
Form a voltage divider. If the voltage of the source, resistor, and measured voltage, then you can easily calculate the input impedance of the oscilloscope. Input resistance is simply the DC resistance, which is usually 1 MΩ in most scopes.
When we talk about resistance, we leave out anything that isn't or doesn't act like a resistor. As capacitors and inductors are reactive elements, they are neglected. Resistance is for DC behavior, therefore the signal frequency is zero.
Conclusion
You can pick between 50 Ω and 1 MΩ input resistance on most current scopes. A 1 MΩ input is widely used for general-purpose testing. For high-speed signals, propagation delays in logic circuits, and circuit-board impedance testing, a 50 MΩ input resistance is used.