Can I Replace a 45/5 Capacitor With a 40/5 [Everything You Need to Know]
Replacing a 45/5 microfarad (uF) dual-run capacitor with a 40/5 uF capacitor is generally not recommended.
Usually, a capacitor is utilized in a motor's compressor. And if we replace a capacitor with a tiny uf capacitor, the compressor will very certainly fail to start.
Lowering the uf of a capacitor might cause a variety of issues with a circuit's operation. Because different capacitor values in a circuit serve different purposes. As a result, replacing a higher uf capacitor with a lower uf capacitor is not suggested.
How Can I Replace a 45/5 Capacitor with a 40/5
Replacing a 45/5 microfarad (uF) capacitor with a 40/5 uF capacitor in an HVAC system is generally not recommended due to the potential issues it may cause, particularly in terms of compressor startup reliability. However, if you find yourself in a situation where a 45/5 capacitor is not available and you must use a 40/5 capacitor, here's how you can proceed:
Voltage Rating: First, ensure that the replacement capacitor has the same or higher voltage rating as the original capacitor. This is crucial to prevent electrical breakdown and damage to the capacitor.
Wiring: Carefully note the wiring connections on the existing capacitor and replicate them on the replacement capacitor. Typically, a dual-run capacitor like this will have three terminals: one common (C), one for the fan (FAN), and one for the compressor (HERM). Make sure to connect the wires correctly to their corresponding terminals on the replacement capacitor.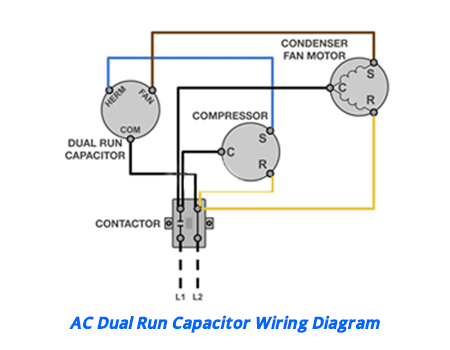 Test the System: After the replacement, turn on your HVAC system and observe its operation. If the compressor starts reliably, and the system cools or heats your space effectively, it may work without issues. However, be vigilant for any signs of irregular operation, such as the compressor struggling to start or overheating.
Professional Assistance: It's strongly recommended to consult with an HVAC technician or electrician if you have any doubts or concerns about the replacement. They can provide expertise and ensure that the system operates safely and efficiently.
Effects Lowering the UF of a Capacitor
In this section, we'll explore the effects of lowering the microfarads (uF) rating of a capacitor, diving into how it impacts different circuits, including timer circuits, motor circuits, and amplifier circuits.
Timer Circuit
In timer circuits, capacitors are used to control the timing of events. Lowering the capacitance value can affect the timing intervals. It's crucial to recalculate the timing parameters to ensure that the circuit still performs as intended. Altering the capacitance may result in shorter or longer time intervals, depending on the specific circuit design.
Motor Circuit
In motor circuits, capacitors are frequently used to kick-start the motor and ensure it runs smoothly. Reducing the uF rating from 45/5 to 40/5 may lead to a less robust starting performance. The motor might struggle to start or face an increased risk of overheating. This change can potentially diminish the motor's operational efficiency and lifespan.
It's advisable to consult with an expert if you're contemplating such a shift in motor circuit capacitance.
Amplifier Circuit
Lowering the uf of the capacitors in amplifier circuits has a significant impact. A change in capacitance from 45/5 to 40/5 might affect the circuit's filtering capabilities, potentially leading to unwanted noise or distortion in the amplified signal. Depending on the amplifier's specific design and requirements, this alteration can have varying effects on audio or signal quality.
Always consider the implications of this change when working with amplifier circuits.
Is It OK to Use a Larger Capacitor?
No, just as using a lower capacitor is not recommended, using a bigger uf capacitor is not recommended. Because the energy consumption of a bigger capacitor is higher. And the circuit's overheating problem will occur. As a result, using a bigger or smaller capacitor is not acceptable.
There is a specified capacitor for each circuit. To ensure that the circuit functions properly, it is advised that a correct value capacitor be used.
Can You Oversize a Run Capacitor?
A run capacitor is an electrical capacitor that creates a spinning magnetic field by altering the current to one or more windings of a single-phase alternating-current induction motor.
A run capacitor can be oversized. Because it will have no impact at all. Oversizing the run capacitor can change the motor's efficiency marginally. Oversizing the run capacitor, on the other hand, will not be a big deal.
Can You Replace a Capacitor With a Higher UF?
It all relies on the purpose of the capacitor in the circuit, much like replacing a capacitor with a lower uf. The increased capacitance may alter the circuit's functioning if the capacitor value is set expressly for timing or tuning purposes. The consequences might be minimal in some cases or extremely substantial in others.
Can I Replace a Capacitor With a Higher UF in a Power Supply?
Yes, it is possible to replace a capacitor in a power supply with one with a greater UF. Because power supply electrolytic capacitors have a tolerance of up to 100% greater, you can replace them with another capacitor of equal or higher uFs and voltage.
What happens if you put a bigger capacitor on a compressor?
The larger the capacitor's MFD, the more energy it stores and the higher the start winding amperage. This is why putting a big capacitor may quickly destroy a compressor. The compressor that starts winding will be significantly more prone to early failure if the current on the start winding is increased.
Conclusion
Replacing a 45/5 microfarad (uF) capacitor with a 40/5 uF capacitor is generally not recommended, primarily due to the potential complications it may introduce in various electrical circuits. When dealing with capacitors, precision is key to ensuring that electrical systems operate as intended. As we've explored, reducing the capacitance value can have different effects on circuits, whether they're timer circuits, motor circuits, or amplifier circuits.
It's important to recognize that capacitors serve distinct purposes in different applications, and changing their values can disrupt their intended functions.
Subscribe

to our newsletter

& plug into

the world of circuits