Analog vs Digital Oscilloscope | The Major Difference
Both analog and digital oscilloscopes are used for the same work. But there are some extra features in a digital oscilloscope. The oscilloscope is an electronic measurement instrument. It is also known as an oscillograph, scope, CRO (cathode ray oscilloscope), and DSO (digital store oscilloscope).
The oscilloscope graphically displays the electrical signal in the form of an X-Y division. The X scale represents the wave frequency and the Y scale represents the magnitude of voltage. A probe (equipment of oscilloscope) is used to measure the voltage difference between two points. There are two types of an oscilloscope:
Analog oscilloscope
Digital oscilloscope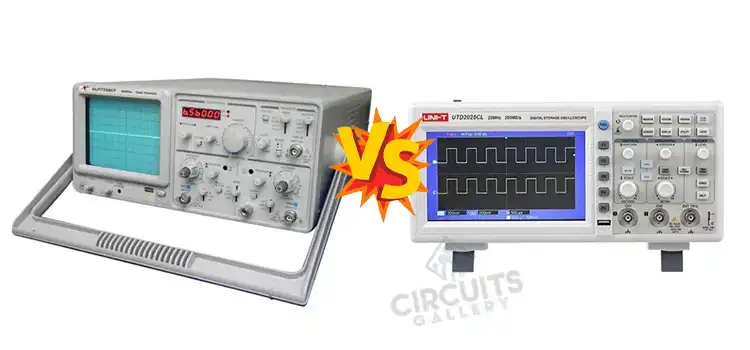 Analog Oscilloscope
It is the oldest type of oscilloscope. The working principle of an analog oscilloscope is the deflection of the electron beam in a cathode ray tube on the screen. The input signal is applied to the horizontal and vertical deflector coil.
It displays the signal in the X-axis and Y-axis. The X-axis represents the wave frequency and the Y-axis represents the magnitude of voltage. When the voltage increases, the trace moves across to the horizontal direction on the screen.
Important Parts of the Analog Oscilloscope Are:
Cathode Ray Tube
Vertical Deflector System
Horizontal Deflector System
High Voltage and Low Voltage Power Supply
LCD Display
Time Base Generator
Timing Circuit
External Intensity Overlay.
Digital Oscilloscope
The working principle of the digital and analog oscilloscope is almost the same. But it provides some extra manipulation capacity. The digital oscilloscope is a complex electronic measurement device, it consists of electronic hardware and various software.
At first, it captures, process, and store analog data. Then it is converted to digital data with a high resolution ADC (analog digital converter). A microcontroller that controls the display function, displays the data with the button.
Important Parts of the Analog Oscilloscope Are:
ADC (Analog Digital Convertor)
Analog Vertical Input Amplifier
A Digital Wave Memory
A Time Base With a Trigger and Clock Drive
Circuit for Waveform Displaying and Restricting
Led or LCD Screen
Power Source
Classification of Digital Oscilloscopes According to Requirement:
Digital Storage Oscilloscopes (DSO)
Mixed Signal Oscilloscope (MSO)
Digital Phosphor Oscilloscope (DPO)
Mixed Domain Oscilloscope (MDO)
Digital Sampling Oscilloscope
Some features of a digital oscilloscope are automatic measurement, frequency analysis, FFT, image memory, etc.
What Is the Difference Between Digital and Analog Oscilloscopes?
An analog oscilloscope shows the primary form of a wave, while a digital oscilloscope converts the analog waveform to digital information with the help of ADC (analog digital converter).
An analog Oscilloscope only shows voltage difference ( along the X axis) and frequency (along the Y axis). Whereas a digital oscilloscope shows other necessary information that we don't need to calculate.
Digital oscilloscope has a memory, it can store digital data signals and process data. The digital oscilloscope has a better display than the analog oscilloscope. So more information is visible in the digital oscilloscope.
Should I Get an Analog or Digital Oscilloscope?
It depends according to your needs. If you want an oscilloscope for basic needs like voltage or wave frequency then an analog oscilloscope is enough for you. When you have a low budget or you need an oscilloscope for continuous usage then an analog oscilloscope is a better choice for you.
But if require better performance, high bandwidth, high waveform capture rate, rise time, sample rate, better channel density, large record length, better connectivity, and expandability, and it is an important instrument for your work or you need extra information, then I will recommend you to buy a digital oscilloscope.
Why Digital Oscilloscope Has Advantage Over Analog Oscilloscope?
Because you can measure all values using a digital oscilloscope you can't use an analog oscilloscope. ADC (analog digital converter) and a microcontroller create a huge difference between them. So, the signal from the input is fast and provides high resolution.
A digital oscilloscope can operate a digital signal and has memory to store any data and operate them later. It also can calculate any complex data that can't be calculated with an analog oscilloscope.
The values that can be measured using a digital oscilloscope are:
Phase Difference
Wave Frequency
Charge and Discharge Carve
Changing Magnitudes of wave frequency while current passes
Characteristics of elements etc.
But using an analog oscilloscope you only can measure:
Voltage difference
Wave frequency.
Because of these causes, digital oscilloscope has an advantage over analog oscilloscope.
What Are Analog Oscilloscopes Used For?
An analog oscilloscope work with the principle of the deflection of the electron beam in a cathode ray tube on the screen. It is used for measuring the voltage difference between two points. It also shows the frequency. It is used for the maintenance of electrical parts in laboratories, companies, and other places.
Advantages of using an analog oscilloscope:
An analog oscilloscope is easy to use because of its simplicity. They have minimal control and the display is quite to understand. So, you have to spend enough time on the user manual.
An analog oscilloscope is chipper than any other oscilloscope. It is because of their fewer future and they are the oldest of all oscilloscopes.
You can understand the screen easily for its simplicity.
As they are cheaper they are available all around the world.
Conclusion
In this article, we learned about analog and digital oscilloscopes, their main components, working principles, applications, the difference between them, their preferences, and the values they can measure. But, there are many things need to know about them and their categories.
Subscribe

to our newsletter

& plug into

the world of circuits