There are several types of oscilloscopes available, both digital and analog, for a range of prices. Analog oscilloscopes have still been in general use for past decades. However, in the 21st century, digital oscilloscopes have started to replace analog oscilloscopes among younger students.
But as digital oscilloscopes can miss some transient signals, analog oscilloscopes are still prized for transient troubleshooting applications. Despite all of these, high-end digital phosphor oscilloscopes can provide similar capabilities.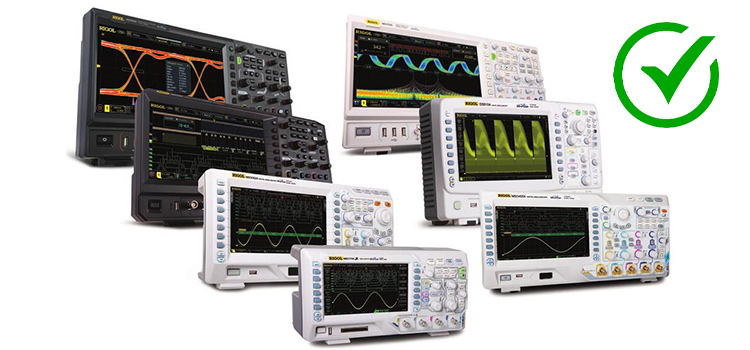 Different Types of Oscilloscopes
An oscilloscope is a type of electric test instrument that captures a representation of a live signal from a test circuit and displays it on a screen. The graphical representation basically depicts the voltage of the signals changes with them.
This is a very important tool in the section of electrical engineering. This device enables waveforms to be seen on the display so that one can easily detect any problems and perform the testing of an electrical circuit. There are various types of oscilloscopes available in the market.
Analog Oscilloscope/ Cathode Ray Oscilloscopes (CRO)
An analog oscilloscope display the signal that is picked up by a probe and pins it on the screen. Storage capabilities allow the waveform to be displayed for an extended period of time, rather than being faded away almost immediately. Analog oscilloscopes employ cathode ray tubes to display a waveform. The screen's photoluminescent phosphor illuminates every time the electron hits it.
Phosphors on the CRT monitor glow for a period of time before going dark, allowing high-speed signals to build up a more intense glow. This process allows transients to stand out as well. So, an analog oscilloscope offers a better dynamic range than digital oscilloscopes. They can also handle low-speed digital signals, especially for audio and analog video work.
Digital Oscilloscopes
Digital oscilloscopes are available in many types. Sampling rate and bandwidth– are the two factors that determine the performance of a digital oscilloscope. Waveforms are taken as a series of samples. These samples are stored and accumulated until enough are taken in order to describe the waveform for displaying purposes.
Digital oscilloscopes allow the information to be displayed with brightness, clarity, and stability. The use of this oscilloscope has been on the rise since the 80's. Digital oscilloscopes can be classified into two primary categories: Digital storage oscilloscopes and digital sampling oscilloscopes.
Digital Storage Oscilloscopes (DSO)
Generally, digital storage oscilloscopes are regarded as digital oscilloscopes for wider industrial applications. These oscilloscopes can capture transient events and store these events for analysis, archival, printing, and other processing purposes. Recording signals are stored here permanently and offloaded to other media for storage and analysis.
Digital storage even allows complex processing of the signal by high-speed digital signal processing circuits. Some of the subsystems in digital storage oscilloscopes (DSO) are similar to analog oscilloscopes.
However, DSOs contain additional data-processing subsystems that are used to collect and display data for the entire waveform. Digital storage oscilloscopes are the workhorses of real-world digital design. In it, four or more signals are analyzed simultaneously.
Single-shot events can be captured through the use of triggers, which can be set manually or automatically depending on the device.
Digital Phosphor Oscilloscopes (DPO)
Digital phosphor oscilloscopes allow for faster signal capture and analysis than standard digital storage oscilloscopes. Digital phosphor oscilloscopes use a parallel processing ADC solution that delivers higher sampling rates, enabling a signal visualization performance level that has the appearance of real-time.
Moreover, digital phosphor oscilloscopes are similar to analog oscilloscopes in displaying the intensity of a signal. These oscilloscopes duplicate the effect of phosphorus by storing a database of the values of the repeating waveforms and increasing the intensity on the display where the waveforms overlap.
Three Basic Oscilloscope Functions
An oscilloscope, quite regardless of its type, executes the following basic functions-
1. Sampling
Sampling is the process of converting a portion of an input signal into a number of discrete electrical values for the purpose of storage, processing and display. The magnitude of each sampled point is equal to the amplitude of the input signal at the time the signal is sampled.
The input waveform appears as a series of dots on the oscilloscope display. If the dots are widely spaced and difficult to interpret as a waveform, they can be connected using a process called interpolation, which connects the dots with lines, or vectors.
2. Trigger Action
The trigger is a fundamental function of any oscilloscope. A trigger is defined by a full set of configurations that we use to prepare the oscilloscope to be able to recognize the waveform that we want to examine. Trigger controls allow you to stabilize and display a repetitive waveform.
Edge triggering is the most common form of triggering. In this mode, the trigger level and slope controls provide the basic trigger point definition. The slope control determines whether the trigger point is on the rising or the falling edge of a signal, and the level control determines where on the edge the trigger point occurs.
When working with complex signals like a series of pulses, pulse-width triggering may be required. With this technique, both the trigger-level setting, and the next falling edge of the signal must occur within a specified time span. Once these two conditions are met, the oscilloscope triggers.
3. Decoding
A more advanced, but common, feature of modern digital oscilloscopes is the ability to decode a signal that contains information. When two devices communicate, they use a specific protocol so that data can travel between them. For example, in microcontroller and microcomputer applications, common protocols are serial UART, I2C, SPI, and CAN.
The protocol describes how a value, like a number or a character, is encoded into a waveform with a specific shape. The waveform, with this shape, contains information.
At the receipt end, a device reverses the translation to extract the information contained in the waveform. Oscilloscopes with decoding capability can eavesdrop in the communication between two devices, and extract the information that is contained in the waveform, as it travels through the wire.
Comparison Between DSO and CRO
CRO is an analog oscilloscope and DSO is a digital oscilloscope. CRO cannot store signals whilst DSO stores and analyzes the signal within a little period of time. So, a CRO doesn't contain a memory whereas a DSO contains one.
CSO uses a normal triggering circuit while DSO uses an advanced triggering circuit. CRO never contains a USB port while DSO contains one. CRO measures but never display the properties while DSO does both works.
CRO has a higher writing speed and higher bandwidth. On the other hand, DSO has a limited speed and lower bandwidth. CRO is less stable and accurate because the time base is generated by the ramp circuit. DSO is more stable and accurate because the time base is generated by a crystal clock.
CROs are not suitable for analyzing high-frequency sharp-rise-time transient's purposes in electronic circuits. On the contrary, DSOs are suitable for such actions. CROs are cheaper than DSOs.
Frequently Asked Questions
What is a mixed domain oscilloscope?
Mixed domain oscilloscope is a type of a digital oscilloscope, where it functions along with an RF spectrum analyzer, and a logic analyzer into one device. The main benefit of a mixed domain oscilloscope is seeing signals from each domain time-correlated to each other, which helps with troubleshooting, debugging, and design testing.
Conclusion
An oscilloscope essentially displays a waveform of the input signal(s) on its screen. It also comes with a plethora of analyzable parameters including frequency, amplitude, and variably for different types of it, more advanced factors like rising and falling times, the interval of time, and distortion to some extent.
Thus oscilloscopes come in different types primarily depending on the way it functions or process and the superfluous scrutinizing abilities that modern technology has equipped them with.