How Many 12/2 Wires in 3/4 Hole "A Practical Guide"
Understanding the capacity of electrical conduit and the amounts of wires it can hold is crucial for safe and legal installations, whether you're a DIY enthusiast or an electrician.
"How many 12/2 wires can fit in a 3/4-inch hole?" is one often asked question. In order to assist you in determining the solution, we'll examine the conduit fill calculation elements, electrical codes, and practical concerns in this article.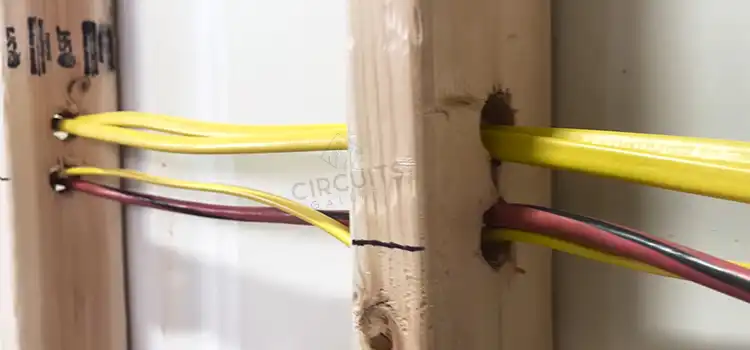 What is Conduit Fill?
The term "conduit fill" describes the largest and safest conductors or wires that may be inserted within an electrical conduit. Ensuring the cables are not congested is crucial since this might result in overheating, greater resistance, and potential fire risks. To preserve functioning and safety, the National Electrical Code (NEC) establishes precise criteria for conduit fill estimates.
Factors Affecting Conduit Fill
Several factors influence conduit fill calculations:
1. Conduit Size
The conduit's capacity is significantly impacted by its interior diameter. More cables can fit into a bigger conduit.
2. Wire Size
A key factor is the size of the wires or conductors being pushed into the conduit. There are many fill specifications for various wire diameters.
3. Conductor Insulation Type
The fill estimate may be impacted by the kind of insulation used on the wires. Different insulations may have different outside diameters.
4. Conduit Type
The kind of conduit (such as rigid metal, rigid PVC, or EMT) also has an impact on fill estimations.
5. Bends and Turns
The amount of space the conduit can hold wires is reduced by bends and turns. Increased twisting and sharp bends can also reduce the amounts of wires.
6. Voltage Drop and Heat Generation
The performance of the electrical system may suffer from an increase in resistance, voltage loss, and heat generation in a conduit that has been overfilled.
Calculating Conduit Fill
The NEC provides rules and methods for calculating conduit fill that take wire diameter, insulation type, and conduit size into account. Electricians frequently use the NEC's streamlined tables for rapid reference, nevertheless. The permissible conduit fill is described in these tables for various wire diameters and conduit types.
The NEC provides particular fill tables for 12/2 NM (non-metallic encased cable) wires that make calculations simple. The following guidelines can normally be followed while utilizing 12/2 NM cables:
In a 3/4-inch PVC conduit: You can safely install up to nine 12/2 NM cables.
In a 3/4-inch EMT conduit: You can safely install up to six 12/2 NM cables.
In a 3/4-inch rigid metal conduit: You can safely install up to five 12/2 NM cables.
Practical Considerations
While the NEC has precise criteria for conduit fill, it's important to keep in mind the following:
When constructing conduit, adding additional wires may increase the pulling tension, making it more difficult to draw the wires through.
Think about your needs for future growth. It's always a good idea to utilize a bigger conduit up front if additional cables may be required in the future.
In contrast to the NEC, local electrical regulations may have unique requirements. For any extra rules or regulations, always check with your local authority having jurisdiction (AHJ).
Despite the fact that you can theoretically put a specific number of wires in a conduit, bundling wires too closely together might cause heat to build up. To avoid overheating, make sure the wires are properly spaced and separated.
FAQs – Frequently Asked Questions and Answers
Can I run more than one 12/2 cable through a 3/4-inch conduit?
The National Electrical Code advises against running multiple 12/2 NM cables through a 3/4-inch conduit due to potential safety hazards and overcrowding. Consult your local electrical code for specific conduit fill requirements to ensure safe and efficient wire installation.
What if I need to run multiple 12/2 cables through a 3/4-inch hole?
To guarantee compliance with electrical rules, it is advised to upgrade to a bigger conduit size if you need to run numerous 12/2 wires via a 3/4-inch hole or conduit. In order to determine the required conduit size depending on the quantity and size of wires you want to install, you can consult the NEC or your local electrical authority.
Are there any exceptions to the rule for running multiple 12/2 cables through a 3/4-inch hole or conduit?
Local codes may allow certain exclusions, such as 12/2 cables in 3/4-inch conduits for short distances or low-voltage applications. Validating these exclusions with local electrical authorities is crucial for safety and code compliance.
To Conclude
To determine the number of 12/2 wires that fit in a 3/4-inch hole or conduit, consider conduit fill calculations, factors like conduit size, wire size, insulation type, and conduit type, and follow NEC guidelines. Practical factors like pulling tension and future expansion should also be considered. Stay informed about local codes and follow guidelines for electrical safety and compliance. This guide is suitable for both professional and DIY electricians.
Subscribe

to our newsletter

& plug into

the world of circuits