You can connect two by using crimping connectors or twisting the bare wires together. Also, there is an option of using the butt connectors which shrink upon heating.
Soldering is tricky and more often than not, the soldering iron is inaccessible. Therefore, you will need quick and strong ways to connect two wires that do not involve soldering.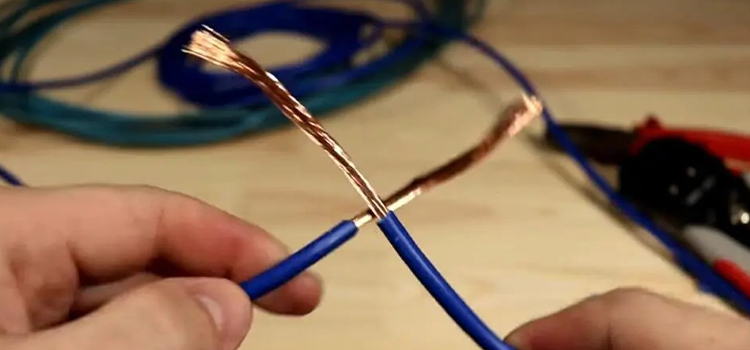 How to Connect Two Wires Without Soldering
Although soldering is the most common method to join two wires together, you won't have access to a soldering iron all the time. There are some specific methods to address such an issue depending on what type of fix you need.
Method 1: Twisting
You can effortlessly connect two wires by simply twisting them tight together to the top. Make the twist really tight and bend that twisted portion into half.
Now complete the skeletal framework by laying the twisted portion over the sides of the joined wires. Seal the portion by using an electrical tape and you will be done.
This method provides a temporary fix and works best for stationary projects. Moreover, it is an economical method as there are no tools required apart from electrical tape.
Method 2: Crimping Wires
To get started, you have to remove the insulation covering from the copper wires and lay it bare. The exposed portion of each wire should be around 6 mm or ¼ inch.
Now get yourself some crimp connectors and put the wires into each side of the connector. The last step is to squeeze the crimping pliers once on each side of the connector. This method provides a well-tightened and protected joint.
Method 3: Heat Shrink Butt Connector
This one is an easy and clean way to join two wires without soldering. However, you will need a heat source such as a heat gun to implement this method.
At first, you have to slip the tube onto one end of your splice. Then twist the wires while joining them together. Place the connector over the twisted pair and apply sufficient heat. As a result, the solder joint will melt and combine the wires.
However, the downside of this method is the cost of the connectors. Despite being a quick solution, this method requires a heat gun as well as costly connectors equivalent to solder.
Conclusion
Crimping connectors and twisting bare wires together provide a temporary yet effective fix to the problem of joining two wires. Not to mention, the methods addressed above are pretty simple and quick to implement. Therefore, anyone with some basic experience can do such a job easily.