Siemens Motor Starter Wiring Diagram (A Complete Guide)
Siemens motor starters are essential for controlling the operation of electric motors. They ensure that motors start, stop, and run smoothly, protecting both the equipment and the personnel involved. Understanding how to wire them is crucial for various applications, including industrial machinery, pumps, and HVAC systems.
In this article, we will delve into the intricacies of Siemens motor starter wiring diagrams. We'll provide a step-by-step guide, covering everything from the basics to advanced wiring configurations.
Understanding the Components
Let's break down the starter diagram.
Main Contactor
The main contactor in a Siemens motor starter is responsible for closing and opening the electrical circuit to the motor. It plays a pivotal role in ensuring the motor's operation.
Overload Relay
Overload relays safeguard the motor from overheating by monitoring the current it draws. If the current exceeds safe limits, the relay will trip, preventing motor damage.
Auxiliary Contactors
Auxiliary contactors are used for auxiliary functions, such as indicating the motor's status, interlocking, and controlling other devices in the circuit.
Safety Precautions
Safety should always be a priority when working with electrical components. We'll discuss the safety measures you need to follow to prevent accidents during installation and maintenance.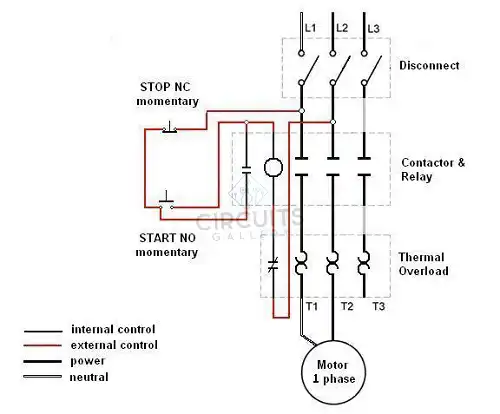 Figure 1: 3 Phase Starter Diagram
Power Supply Connection
Connecting the power supply to your Siemens motor starter is a fundamental step in ensuring the reliable and safe operation of your motor. This section will guide you through this process in simple, comprehensible terms, avoiding technical jargon.
Safety First
Before anything else, prioritize your safety. Ensure that the power supply is disconnected and locked out to prevent any accidental electrical contact. Use personal protective equipment, including gloves and safety glasses.
Inspect the Power Supply
Examine the power supply source. Make sure the voltage and current ratings match the requirements of your Siemens motor starter and motor. This information is typically found on the nameplate of the motor and the starter.
Gather Necessary Tools
You'll need a screwdriver, wire strippers, and appropriate wire connectors for the task.
Identify the Terminals
Your Siemens motor starter will have marked terminals. Look for labels such as "L1," "L2," and "L3" for the power supply phase connections. Additionally, locate the ground (earth) terminal.
Connect the Phases
Start by connecting the power supply phases to the appropriate terminals. Typically, L1 connects to one phase, L2 to another, and L3 to the third phase. Ensure that the connections are secure and well-insulated.
Ground Connection
Connect the ground wire to the designated terminal. Grounding is essential for safety and can prevent electrical hazards.
Secure Terminal Connections
Tighten the screws on the terminal connections properly to ensure a firm and reliable electrical connection. Loose connections can lead to overheating and equipment malfunction.
Inspect for Loose Wires
After connecting all the wires, inspect the terminals to make sure there are no loose wires or exposed conductors. Any loose wires should be secured and insulated.
Double-Check Connections
Double-check your connections to ensure that they are correct, and no wires are crossed or improperly connected. Mistakes in power supply connections can result in motor damage and safety hazards.
Reconnect and Test
Once the power supply connections are secure, you can safely restore power. Ensure that the motor starter operates as intended and that the motor starts smoothly. If everything functions as expected, your power supply connection is successful.
Motor Connection
Now that your power supply is correctly connected, let's move on to connecting your motor to the Siemens motor starter. Proper motor connection is crucial for the efficient and safe operation of your equipment.
Review Motor Nameplate
Before proceeding, review the motor's nameplate to confirm its voltage and current requirements. Make sure they match the specifications of your Siemens motor starter.
Identify Motor Terminals
Locate the motor's terminal box or connection points. You'll typically find terminals labeled "U," "V," and "W" for the motor phases and "PE" for the protective earth (ground).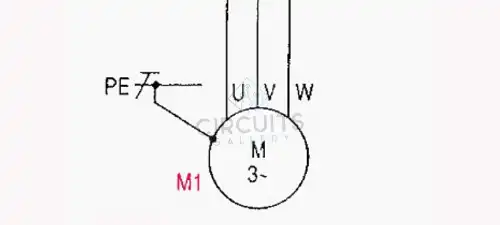 Select the Appropriate Wires
Choose wires of the correct gauge and insulation that can handle the motor's current. Consult the motor's manual or nameplate for guidance.
Connect Motor Phases
Connect the U, V, and W terminals on the motor to the corresponding phases on the Siemens motor starter. Ensure that the connections are tight and well-insulated.
Grounding the Motor
Connect the protective earth (PE) wire from the motor to the designated ground terminal on the Siemens motor starter. Grounding is essential for safety and can prevent electrical faults.
Inspect for Loose Wires
Once all connections are made, inspect for loose wires or exposed conductors. Secure any loose wires and ensure that all connections are properly insulated.
Double-Check Connections
Double-check your motor connections to confirm that they are accurate and free from any errors.
Testing the Motor
After completing the motor connection, power up the system and test the motor starter. Verify that the motor operates smoothly and without any issues.
Troubleshooting Common Issues
Identifying and addressing common problems during motor starter operation is essential:
Frequent Tripping – If the motor starter frequently trips, check for loose connections, excessive motor load, or incorrect overload relay settings. Address these issues to prevent unwanted shutdowns.
Motor Malfunctions – Motor not starting or running erratically may result from incorrect phase connections, damaged components, or motor issues. Carefully inspect and diagnose to find the root cause.
Maintenance and Inspection
Regular maintenance and inspection are essential to ensure the longevity and reliability of your Siemens motor starter. We'll provide tips and schedules for these crucial tasks.
Frequently Asked Questions
What is a Siemens motor starter?
A Siemens motor starter is an electrical device used to control the operation of electric motors, ensuring their smooth start, stop, and operation.
Why is it essential to choose the right motor starter?
Selecting the correct motor starter ensures optimal motor performance and prevents damage to the equipment.
What are the safety precautions for working with motor starters?
Safety measures include disconnecting power, using appropriate personal protective equipment, and following proper lockout/tagout procedures.
How do I troubleshoot a frequently tripping motor starter?
Check for loose connections, examine the overload relay settings, and ensure the motor load is within the starter's rated capacity.
What is the purpose of auxiliary contactors in a motor starter?
Auxiliary contactors are used for various functions like indicating motor status, interlocking, and controlling other devices within the circuit.
What is the difference between a reversing and two-speed motor starter?
A reversing motor starter allows bidirectional motor control, while a two-speed motor starter enables the motor to operate at two different speeds.
How often should I perform maintenance on my motor starter?
Regular maintenance should be conducted based on the manufacturer's recommendations and the specific operating conditions of the motor starter.
Can I use a Siemens motor starter for residential applications?
Siemens motor starters are typically used in industrial and commercial settings. For residential applications, other types of motor starters may be more suitable.
Are Siemens motor starters compatible with various motor types?
Siemens motor starters are compatible with many motor types, including single-phase and three-phase motors.
Where can I find Siemens motor starter wiring diagrams for specific models?
You can often find wiring diagrams in the product manual provided by Siemens or on their official website.
Conclusion
In conclusion, mastering the art of Siemens motor starter wiring diagrams is vital for anyone dealing with electric motors. Whether it's basic wiring or intricate configurations, this knowledge empowers you to keep your equipment running smoothly while maintaining safety.
Subscribe

to our newsletter

& plug into

the world of circuits