[Answered] What Size Wire for 125 Amp Service?
Selecting the right wire size for a 125-amp electrical service could be a critical task, both for functionality and safety. The wire size plays a fundamental part in transmitting electricity effectively from the service panel to your home's different circuits.
It must be robust enough to carry the electrical load without overheating, in this manner avoiding potential fire hazards. This article will dive into the National Electrical Code (NEC) guidelines, touching on fundamental parameters like wire gauge, insulation, type.
Whether you are a homeowner looking to understand the nuts and bolts or an electrician seeking to brush up on best practices, this guide points to equip you with the specialized information required for choosing the suitable wire size for a 125-amp service.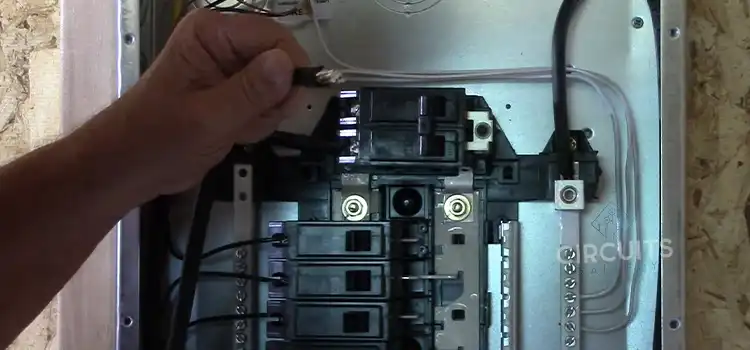 Understanding 125 Amp Service
A 125-amp service denotes the electrical capacity to deliver up to 125 amperes of current. Governed by Ohm's Law (V = IR), this service often corresponds to a 120/240V split-phase system in residential settings. The main circuit breaker acts as a fail-safe to disconnect circuits during overload.
The electrical panel, or distribution board, is tailored to handle this capacity. Overcurrent protection devices (OCPDs), including fuses and circuit breakers, must be rated to match the conductors' ampacity. Adherence to the National Electrical Code (NEC) ensures that wire gauge, insulation, and installation methods meet safety and efficiency standards.
National Electrical Code (NEC) Guidelines on 125 Amp Service
The National Electrical Code (NEC), governed by the National Fire Protection Association (NFPA), is the prevailing standard for electrical installations in the United States. It encompasses a myriad of rules and recommendations designed to ensure that electrical systems, including 125-amp services, are both safe and efficient.
Conductor Sizing and Ampacity
In a 125-amp service, the wire gauge is crucial for safety and performance. According to NEC Table 310.16, #2 AWG copper conductors or #1/0 AWG aluminum conductors are generally recommended, provided they have an insulation rating of 75°C (167°F) or higher.
It's essential to consider the temperature correction factors and voltage drop in extended runs to maintain optimal performance.
Insulation Types
The NEC specifies the use of different types of insulating materials depending on the environment and application. For residential settings, Type THHN (Thermoplastic High-Heat Resistant Nylon-Coated) or THWN (Thermoplastic Heat- and Water-Resistant Nylon-Coated) are commonly deployed.
These insulation types are lauded for their resistance to heat, moisture, and oil.
Overcurrent Protection Devices (OCPDs)
NEC mandates the deployment of OCPDs, like circuit breakers or fuses, designed to match or exceed the ampacity of the circuit conductors. In a 125-amp service, the main circuit breaker should be rated at 125 amps, complying with NEC Article 240, which covers overcurrent protection.
Grounding and Bonding
Grounding and bonding are vital for safeguarding against electrical shocks and ensuring system integrity. NEC Article 250 details comprehensive guidelines on grounding electrodes, grounding electrode conductors, and bonding jumpers.
The code specifies the use of copper or copper-clad grounding electrodes for effective fault current dissipation.
Conduit and Installation Methods
NEC provides a range of conduit types and installation methods to meet safety standards. These include Polyvinyl Chloride (PVC), Electrical Metallic Tubing (EMT), and rigid metal conduit (RMC), each with specific attributes and applications. NEC Article 358, for instance, covers the use and installation of EMT conduits.
Adherence to NEC guidelines is not merely a best practice; it's a legal requirement in many jurisdictions. By meticulously following these standards, one ensures that a 125-amp service installation is not just efficient, but also in compliance with nationally recognized safety norms.
Calculating Wire Size
To calculate the wire size for a 125-amp service, refer to NEC Table 310.16. For a typical residential installation using copper wire with 75°C insulation, a #2 AWG wire is generally sufficient.
To validate, use the formula Ampacity = Conductor Area in Circular MilsK×√R, where K is a constant (12.9 for copper), and R is resistance. For #2 AWG copper, the area is 33,100 circular miles. Plug these into the formula to confirm that the wire can safely carry 125 amps.
Frequently Asked Questions and Answers (FAQs)
What is ampacity?
Ampacity is the maximum amount of electric current a conductor can carry before sustaining immediate or progressive deterioration.
Are copper wires better than aluminum wires?
Copper wires are generally more conductive and have a higher tensile strength, but they are also more expensive. Aluminum is lighter and more cost-effective but has a lower ampacity for the same gauge.
What are OCPDs?
Overcurrent Protection Devices (OCPDs) are safety mechanisms like fuses and circuit breakers that protect electrical circuits from excessive current, which could lead to overheating and fire hazards.
Conclusion
In summary, selecting the correct wire size for a 125-amp service is crucial for both safety and efficiency. Adhering to NEC guidelines ensures you make an informed choice, mitigating risks and optimizing your electrical system's performance.
Subscribe

to our newsletter

& plug into

the world of circuits