Our homes are safer and more comfortable because of electricity, even though it is not without faults. You've probably seen a spark when plugging something into a socket. Knowing what you're up against will give you the best opportunity to resolve the problem and protect your home from more serious consequences.
Sparking is one of the most obvious symptoms that something is wrong with an electrical connection, and if you don't act promptly, it might result in a home fire or an electrical shock. To ensure the safety of your home and family, investigate the reasons why your electrical connections may be sparking.
Reasons for Electrical Sparks
Several reasons can create electrical sparks on both electrical installations and electrical devices, including:
Loose Electrical Socket
When plugging electrical equipment into an electrical socket, you may have noticed a spark. This occurred as a result of the power source's connection to the electrical equipment in use.
If the socket is loose, the spark will be stronger and occur more frequently. Of course, this generates a lot of heat, which can cause the socket or cable to catch fire.
Loose Cable Terminal
Cable terminals in the form of bolts or screws are found in every electrical item. This includes sockets, plugs, water pumps, MCBs, ELCBs, KWH meters, and a variety of other electrical appliances. If the cable tie bolts are loose, when they are electrified, they will give rise to sparks.
Water or Fluid
When water comes into contact with or enters an electrical socket, it might spark, resulting in a fire. Any sort of water or fluid coming in contact with an electrical socket is a potentially dangerous condition. Such a situation must be addressed as soon as possible.
Cable Size
An electrical system in which the wires are overly thin or do not match the electrical load is prone to sparks. This can also cause the cable to overheat, ultimately resulting in a fire.
Improper Installation
The improper or incorrect electrical installation can also result in abnormal sparks. This can result in electrical fires or serious failures. As a result, experienced electricians should always be used for electrical installations and repairs.
Overloading
Sparking can occur when a circuit becomes overloaded due to too many appliances connected to it. Excessive sparking can also be caused by plugging too many appliances into a single socket, either directly or through an extension cable.
Overloading can be avoided by distributing a load of devices across multiple connections and circuits.
Leakage Cable
Sparks, short circuits, and fire can all be caused by electrical cables that are cracked or leaking, among other things. Because of the age of the use of a long cable, such as being bitten by a mouse, crushed by another object, etc. cables get uncoated. Make sure the cable you use is not peeled or leaked.
Poor Cable Insulation
A short circuit and a fire can also be caused by poor cable insulation. Ensure that the cable insulation is correctly wrapped.
Short Circuit
A short circuit is the most common reason for sparks and fires. A short circuit is a connection between the phase and neutral cables that results in extremely high electrical currents, heat, and sparks.
Make sure your electrical system is properly installed, and that it has a safety device in case of a short circuit, such as an MCB or a fuse.
Damaged Electrical Equipment
Damaged electrical equipment can lead to electric current leakage, which can result in sparks and fires. Furthermore, we may be electrocuted if we use electrical equipment that has been interfered with.
Wear and Tear with Time
Electrical connections in your home deteriorate as they grow older. With them, they loosen and wear out. They may spark and overheat as a result of this.
Plugging a Powerful Device in Quickly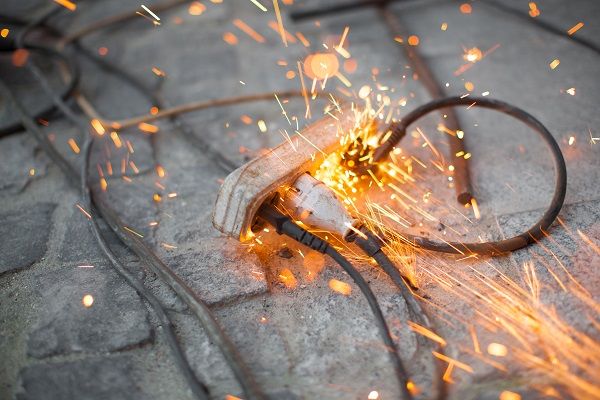 Electrical current flows via wires and into open circuits. They continue to circle back to the main panel without stopping. The wiring in a device becomes part of the circuit when it is plugged into the wall. As a result, the gadget now has power, and quick insertion of the appliance into the wall can result in a 'mini-surge,' which can result in a spark.
Last Words
Electricity can be beneficial or dangerous. However, sparks can be caused by a variety of factors. To keep your home secure, make sure it is well protected, and if you notice a spark, look into it further. As a result, there's no need to be concerned about severe damage or risk to your family.