Shut off the power to the main system and connect the subpanel to your main panel using a feeder cable, capable to handle 100 Amps load to the sub-panel and breaker.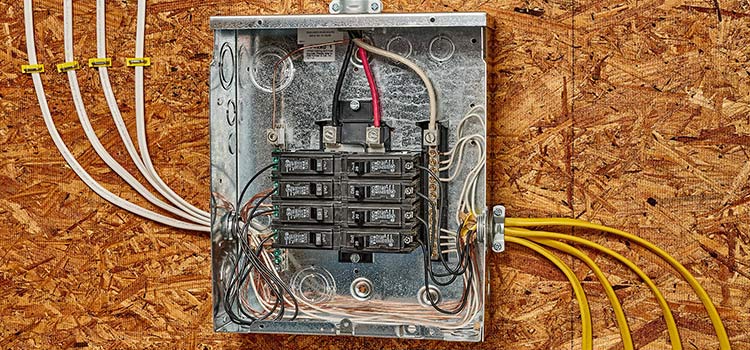 How to Wire a 100 Amp Sub Panel From a 200 Amp Main Panel
Adding an electrical subpanel is a simple way to extend your circuitry, in case you're trying to power an additional room or you just need more circuits. Installing a subpanel can power additional rooms and devices, however, the task is quite risky and needs professional experience.
Pre-Measures
Before you go start working on installing a sub-panel consult with an inspector so you don't overload your system or if the system can handle the strain. Safety should be the prime concern before any electrical work. Get a permit to add a subpanel if your area requires one. Also, make sure to check your local building codes and submit special paperwork or if you need to acquire a permit to add a subpanel.
Tools and Materials
Screwdriver
Multimeter
Hammer
Voltage tester
Flashlight
Strippers
Lineman's pliers
Long-nose pliers
Gloves
Subpanel
Mounting screws
Approved feeder cable
Staples or cable clamps
Approved feeder breaker
Mount Subpanel
First, measure the length of the wires to travel in the subpanel and pull wires or add cable and strip sheathing accordingly. Keep the subpanel at least a foot away from the main service panel. Then, remove a knockout slug and slide the wires through. Clamp the cable properly.
Setup and Connect the Route
While wiring the cables route in a neat orderly paths around the perimeter so it's easy to tell which wire goes to which breaker. Wires with an ordered pattern are less likely to make contact with hot bus bars, which would create a serious fire hazard.
You will need all the three wires i.e. hot wire, as the line from the pole breaker, neutral from the neutral busbar, and ground from the ground terminal. Connect the hot wire, which is generally a black wire, to both hot lugs in the subpanel through the jumper wire for 120V supply voltage.
To Conclude
This goes without saying that installing a subpanel can be highly dangerous if you do not have the proper experience. Misconnected cables can lead to a terrible injury or even lead to fire accidents. If you're confused, don't hesitate to contact a qualified, certified professional electrician to do the job for you.