Can 12 Gauge Wire Handle 25 Amps [2 Factors Explained]
A 12-gauge wire's capacity to carry 25 amps is influenced by several variables, including the type of insulation used, the distance traveled by the wire, and the particular application. Assuming it's copper wire with insulation adequate for common indoor use, a 12-gauge wire is typically rated for roughly 20 amps for standard domestic wiring.
25 amps can be carried by 12 gauge wire, but only under limited circumstances. If the insulation is rated for 75 degrees Celsius, the National Electrical Code (NEC) permits the use of 12 gauge wire for 25 amps. This is so that the wire can carry greater current without overheating due to the increased temperature rating. The next sections go over the thorough discussion.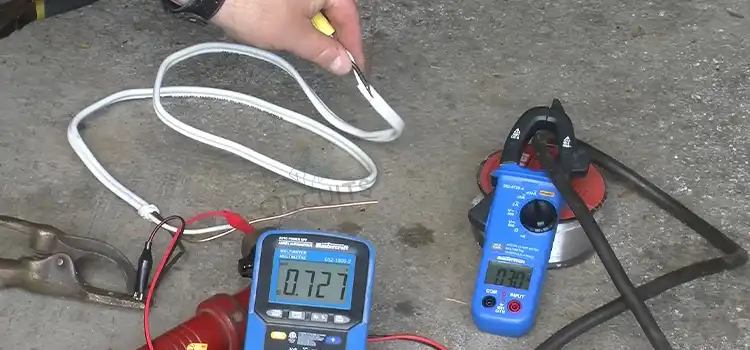 Suitability of 12-Gauge Wire for 25 Amps
To ensure both efficiency and safety when it comes to electrical wiring, selecting the right wire gauge for a certain current load is essential. The issue at hand is whether the 12-gauge wire is capable of transporting a 25-amp continuous current. Let's explore the variables that affect this choice and analyze the consequences from a technical and safety perspective.
1. Wire Ampacity and Gauge
The AWG grade shows that a 12-gauge wire can withstand a sizable amount of current. However, several variables can affect a wire's real ampacity including its material (copper or aluminum), insulation type, and environmental circumstances. The ampacity of various wire diameters is summarized in the following table.
| | | |
| --- | --- | --- |
| Wire Size | Ampacity at 60-degree celsius | Ampacity at 75-degree celsius |
| 10 AWG | 30 | 35 |
| 12 AWG | 20 | 25 |
| 14 AWG | 15 | 20 |
| 16 AWG | 10 | 15 |
2. Current Rating and Heating
The resistance of a wire causes heat to be produced when current flows through it. Excessive heat may build up if the current is greater than the wire's ampacity, which could result in insulation damage or even a fire.
Even though a 12-gauge wire may be capable of carrying 20 amps under normal circumstances, carrying 25 amps through it needs to be carefully considered. If the wire run is long or the environment is already heated, the additional current could cause the wire to heat up too much. Thus temperature consideration is very important.
The following equation can be used to determine a wire's ampacity,
Ampacity = (Cross-sectional area of the wire) / (Resistivity of the wire) * (Constant)
The wire's cross-sectional area is expressed as a square millimeter (mm2). The wire's resistance is a characteristic of the substance from which it is produced. The constant's value changes depending on the wire insulation's temperature rating.
For instance, the following formula is used to determine the ampacity of a 12 gauge copper wire with insulation that is 75 degrees Celsius,
Ampacity = (5.3 mm²) / (1.724 µΩ/m) * (106.2 A/mm²) = 25 A
In other words, a 12 gauge copper wire with insulation that is 75 degrees Celsius can securely transport 25 amps of current.
Frequently Asked Questions and Answers (FAQs)
Is It Possible to Estimate the Ampacity of a Wire Only From Its Gauge?
While a wire's gauge gives a broad sense of its capacity, other elements like the insulation's kind, composition, and environmental considerations also matter a lot. All these factors should be taken into account when computing ampacity.
Will a Voltage Drop Occur if a 12-Gauge Wire Is Used for 25 Amps?
Yes, transporting higher currents over a wire may result in a voltage decrease. The wire length and current are two parameters that affect the drop's size. It's crucial to think about how a voltage drop would affect linked devices.
Is It Always Safe to Supply 25 Amps Using 12-gauge Wire?
The safety of utilizing a 12-gauge wire for 25 amps depends on several variables, including the length of the wire, the caliber of the insulation, and the surrounding environment. To ensure safety, it's crucial to review electrical codes and even seek professional guidance.
Conclusion
At 60 degrees Celsius and 75 degrees Celsius, 12 gauge copper wire can carry 20 amps and 25 amps, respectively. However, additional elements like the surrounding temperature, the quantity of current-carrying wires, and the installation style may cause a wire's true ampacity to be lower. To ensure safety, it is best to consult an electrician.
Subscribe

to our newsletter

& plug into

the world of circuits