Absolutely, knob-and-tube wiring can technically be used with circuit breakers. It is important to note that even though this compatibility exists, knob-and-tube wiring poses inherent safety issues and may violate local building codes.
Knob-and-tube wiring was the norm in the early to mid-20th century, but contemporary electrical systems have since developed to provide safer, more effective options. Knob-and-tube wiring is seen as unsafe and out-of-date nowadays.
We shall explore the dangers and potential repercussions of such arrangements as we dive more into the compatibility of knob-and-tube wiring and circuit breakers in this article.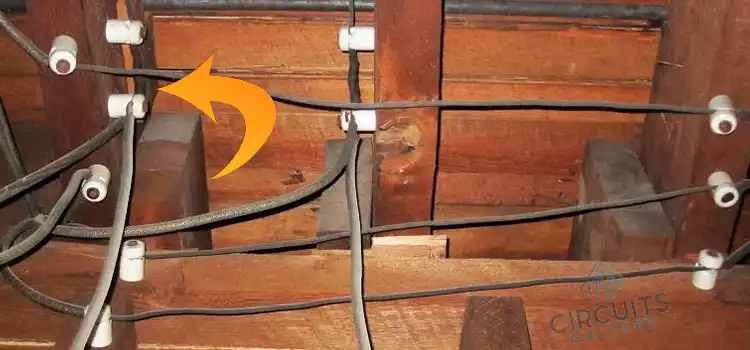 Technical Aspects: How Knob-and-Tube Wiring Interacts with Circuit Breakers
Circuit breakers and knob-and-tube (K&T) wiring work together to provide overcurrent protection. Circuit breakers prevent the risk of a circuit overheating or catching fire by cutting off current flow when a short circuit (a low resistance channel between live and neutral) or overcurrent (a current that exceeds the authorized amperage) is detected.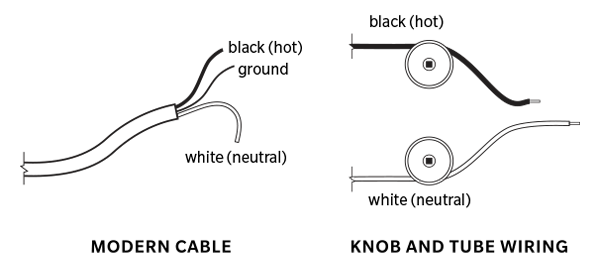 Figure 1: Modern Cable and Knob and Tube Wiring
The grounding conductor, a component of contemporary electrical systems that provides a safe channel for stray current and lowers the risk of electrical shock, is absent from K&T systems. Circuit breakers can therefore provide the bare minimum of protection for K&T systems, but the safety requirement is compromised by the lack of grounding.
Can You Use a GFCI Breaker with Knob and Tube Wiring?
No, using a GFCI (Ground Fault Circuit Interrupter) breaker with a knob and tube wiring is not advised. An older electrical technology called knob and tube wiring was not intended to function with GFCIs.
In order to avoid electric shocks, GFCI breakers are designed to instantly cut power when they notice electrical current imbalances. The design and implementation of knob and tube wiring, however, do not offer the grounding and protection necessary for GFCI devices to operate correctly and offer dependable safety.
In most cases, it would be necessary to rewire the circuit using contemporary wiring techniques that incorporate grounding conductors in order to use GFCI protection in a knob and tube wiring system securely. In order to do this, the knob and tube wiring would need to be replaced with more modern wiring types, including grounded Romex or conduit wiring.
Will Arc Fault Breakers Work on Knob and Tube Wiring?
No, Arc Fault Breakers will not work on knob and tube wiring. Electrical safety devices known as arc fault circuit interrupters (AFCIs) are used to identify and reduce the risk of electrical arcs, which can result in fires.
However, in order for AFCIs to function correctly, the electrical system must be grounded. Knob and tube wiring are incompatible with AFCIs because it lacks a grounding connection.
It is advised to replace knob and tube wiring with contemporary wire systems that feature grounding conductors, enabling the efficient use of arc fault breakers, to provide sufficient safety precautions.
How Many Amps Can Knob and Tube Wiring Handle?
When compared to modern dwellings, which frequently need at least 150 amps, knob, and tube wiring generally have a maximum capacity of about 60 amps. The capacity is influenced by things like wire gauge, insulation quality, and system health.
Knob and tube wiring's capacity to transmit electricity safely might decrease over time. It is crucial to follow current safety laws and upgrade the system to match the greater amperage requirements of contemporary appliances and technologies in order to ensure a safe electrical installation.
Can Knob and Tube Wiring Handle 200 Amp Service?
No, wiring with knobs and tubes is not intended to provide 200-amp service. An older electrical system called knob and tube wiring was often installed when electricity demands were significantly lower. For knob and tube wiring, the maximum amperage rating is often 15 or 20 amps.
In order to meet the electrical demands of numerous appliances, gadgets, and systems, 200-amp services, which have a higher capacity electrical system, are frequently employed in modern homes. Modern wiring techniques, such as grounded Romex or conduit wiring, that are rated for higher amperages are required to offer a 200-amp service.
Conclusion
Circuit breakers should not be used with knob and tube (K&T) wiring owing to safety reasons. K&T wire cannot be used with current circuit breaker systems because it lacks protection and grounding. It is advised that K&T wire be replaced with contemporary wiring types that contain grounding conductors to ensure compatibility and safety.