Pure nitriles are 100% insulating material, making them an excellent non-conductive raw material for gloves. Over the top, it is safe for allergic people since nitrile is actually synthetic latex.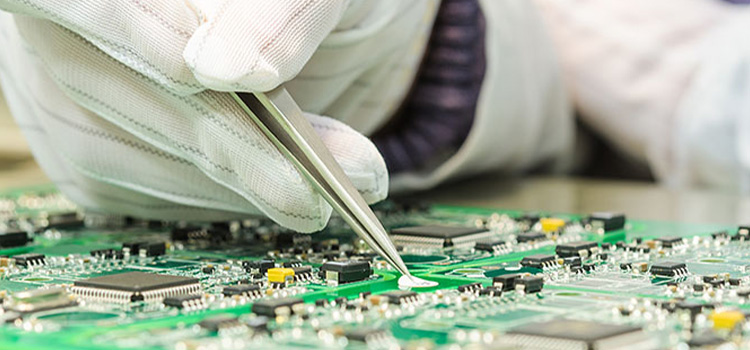 Is Nitrile Conductive?
Nitrile gloves are heavy-duty, intrinsically anti-static. Extra foam coating can be added to the nitrile gloves to add a soft texture. You might wonder if it's a good option as an insulator. Is it better than latex, vinyl, and other rubber materials?
Nitrile rubber has to undergo a few chemical processing to be a synthetically modified latex. The main goal is to make a latex-free nonconductive material. Other than being applied as insulating hand gloves, nitrile is used to coat electrical wires as well.
Will Nitrile Gloves Conduct Electricity?
Nitrile gloves do not conduct any electricity while making contact with any metallic conductor. However, the presence of carbon can increase the conductivity. But pure nitrile gloves are 100% insulating material. That's why for many years nitrile gloves are one of the most favored synthetic rubber gloves over latex or natural rubber ones.
The reason behind nitrile being an electric insulator is simply its molecular structure. As we know, electrons roam freely inside a conductor. If contacts are made between two conductors, these electrons can pass through each other. This phenomenon produces an electric current. But free electrons are absent in the molecular structure of nitrile.
Also, if connected to any metal, there's no sign of free electron movement. Thus it shows strong resistance against the current flow. This electric resistance makes nitrile a perfect insulating material. So nitrile has been a reliable raw material for gloves. It prevents electricians from getting zapped. In a sense, nitrile gloves act as a blockade between two conductors (human flesh & electric wire).
Are Nitrile Gloves Shockproof?
Nitrile gloves will provide shock protection based on some criteria. Nitrile gloves can withhold electrical contact up to 400V. That's why don't stay close to any defibrillator wearing nitrile gloves. Nitrile gloves prevent electrostatic formation on the surface as well.
Another thing, some nitrile gloves are more prone to get punctured which will expose the wearer to the electron flow easily. So make sure your nitrile gloves are puncture-resistant.
Are Nitrile Gloves Anti-Static?
Technically, most nitrile gloves are considered anti-static. So, it is safe to say 'No'. Nitrile gloves with lower surface resistance (enough to nullify the surface electrostatic energy) are completely anti-static.
Natural rubber latex is 100% insulating material. So, the deposited static charges on the surface might create sparks which may lead to other accidents. On the contrary, nitrile gloves are the less static insulators compared to the latex ones. As a result, nitrile gloves are preferable in places where electrostatic discharge is strictly prohibited.
Anti-static nitrile gloves will keep the hands free of static shock and dissipate charge build-ups on the material surface.
Do Rubber Gloves Conduct Electricity?
No, rubber is a 100% non-conducting material and a natural insulator. So, it's an impressive defense against electric shock. Rubber gloves hinder the contact between your skin and electrons. Thus, no electricity flow occurs.
However, shock resisting rubber gloves need to be made of 100% rubber material. Any additives in the raw ingredients will fail to serve the actual protection. Eventually, electrical accidents might happen anyway. For example, kitchen hand rubber gloves are not efficient to create a shield against the current flow.
In addition, insulating rubber gloves will have a range of maximum withstanding voltage written on their figure. Ensure your working environment's range is within the gloves' limit.
What Kind of Gloves Should an Electrician Wear?
As an electrician, you must pick your gloves based on nonconducting materials. So, it is safe to choose gloves made of rubber, nitrile, spandex, neoprene, insulating fabric, and polyethylene or polypropylene-coated gloves.
Also, you must avoid protein-based fabrics, e.g., silk and silk-blend fabrics, nylon; wet clothes; steel, iron, or any metallic gloves, animal skin-based wear like leather gloves, and many more.
To Conclude
Nitrile gloves are poorly resistant to ketones, alcohols, aromatic hydrocarbons, ethers, and strong acids in some cases. So avoid making contact with these compounds after putting on nitrile gloves. Also, don't use disposable nitrile gloves to operate electrical works, as they are prone to punctures. In conclusion, nitrile gloves are non-conductive as a safeguard against electric shock.