Simply put, a spectrum analyzer measures frequency information on a signal, whereas oscilloscopes measure time information around a signal. However, in real life, the nature of signals is unknown in advance, therefore having both devices facilitates effective signal categorization.
So the oscilloscope plots the signal's amplitude vs. time, but the Spectrum Analyzer plots the signal's amplitude vs. frequency. Both oscilloscopes and spectrum analyzers are required and have many uses in various fields.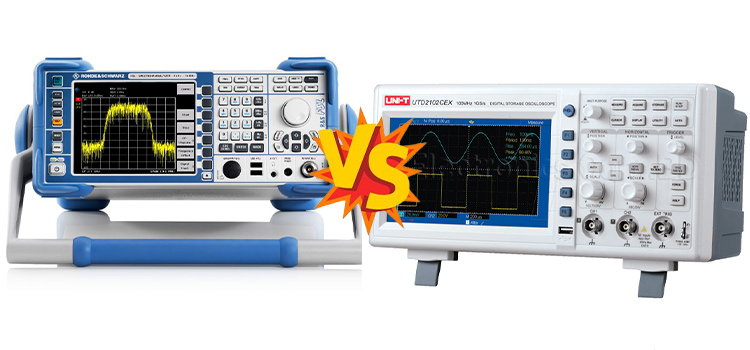 Difference Between Spectrum Analyzer and Oscilloscope
Oscilloscopes are frequently used to obtain comprehensive timing information for a signal or to determine the timing correlations between many signals. A spectrum analyzer, on the other hand, is required to observe the frequency aspects of a signal.
To determine the relative time delay between two signals, we may use an oscilloscope. And we could use a spectrum analyzer to look at a signal's harmonics. The differences between the oscilloscope and spectrum analyzer are illustrated below:
Real-time Bandwidth
The device's performance with ultra-wide signal analysis is determined by its real-time bandwidth.
The spectrum analyzer talks about immediate and resolution bandwidths, with the final analog instantaneous frequency serving as the real-time bandwidth for that analysis. When it comes to real-time bandwidth, oscilloscopes outperform spectrum analyzers because they measure the bandwidth from its frequency.
Fig.1: 5 MHz sine wave on an oscilloscope.
Fig.2: 5 MHz sine wave on a spectrum analyzer.
Dynamic Range
The dynamic range would indicate the differences between the maximum and minimum signal measured by the devices, and in this situation, their level difference is affected by the measurement setting.
The spectrum analyzer has an optimal dynamic range of about 90 dB, while the oscilloscope has a dynamic range of roughly 50 decibels, making the spectrum superior in terms of dynamic range.
Sensitivity
Sensitivity is defined as the least signal level that the spectrum analyzer and oscilloscope can take. The oscilloscope is superior in this scenario because it can test minimal signals at 1mV/div.
Power Measurement Accuracy
The precision of power measurement may be the most important component of all because the influence is tremendous for both types of equipment. Both devices detect power at around 1GHz frequency signals, with only a minor difference.
True Nature of a Signal
Usually, the nature of signals is unknown. Assume the signal is a radio station's FM transmission with a 5 MHz carrier frequency modulated by a 10 kHz sine wave. At first appearance, the oscilloscope and spectrum analyzer would both produce identical results.
However, by zooming in on the signal peak at 5 MHz with the spectrum analyzer, we can determine the true nature of the signal, as seen in figure 4.
Fig.3: FM signal on an oscilloscope.
Fig. 4: FM signal on a spectrum analyzer.
Can I Use an Oscilloscope as a Spectrum Analyzer
A spectrum analyzer-like capability is available to simplify the setup and use of the oscilloscope for analyzing frequency-dependent effects. It allows users who are familiar with RF spectrum analyzers to start using the FFT(Fast Fourier Transform) with little or no concern about the details of setting up an FFT.
FFT turns time domain oscilloscope waveforms into frequency domain spectra. This enables the oscilloscope to display information similar to that provided by an RF spectrum analyzer.
What Are Advantages of Spectrum Analyzer Over Oscilloscope
The advantages of spectrum analyzers over oscilloscopes are illustrated below:
Spectrum analyzers are useful for comparing device amplitude to frequency whereas oscilloscopes compare the amplitude against timing.
Spectrum analyzers aren't over-sensitive to signal noise but oscilloscopes are.
Spectrum analyzers are cheaper than oscilloscopes.
Spectrum analyzers can analyze high frequencies but oscilloscopes can't.
Spectrum analyzers have higher sensitivity than oscilloscopes.
Spectrum analyzers measure long-term and short-term frequency stability. But the oscilloscopes are better for bandwidth measurement.
Applications of Oscilloscopes and Spectrum Analyzers
Two of the most crucial devices in any electrical laboratory are oscilloscopes and spectrum analyzers. They serve a variety of functions in signal analysis, including audio, video, telecommunication, radar, and many more designs.
Conclusion
Spectrum analyzers are more sensitive than oscilloscopes, however, oscilloscopes are ideal when you need a device with a larger real-time bandwidth. Furthermore, the spectrum analyzer may not be able to measure some transient signals as well as the oscilloscope.