To get the appropriate testing data while dealing with electricity, we need the right tools. If you are out to buy one electric tool and want to know about oscilloscope and multimeter, how they differ, when you need one, and which one is best for you, then you are in the right place.
Oscilloscope vs multimeter is simply "pictures vs. numbers." If possible, having both of them is the best option. Get an oscilloscope if you can afford and need it for complex works. If you are a student, you better get a multimeter.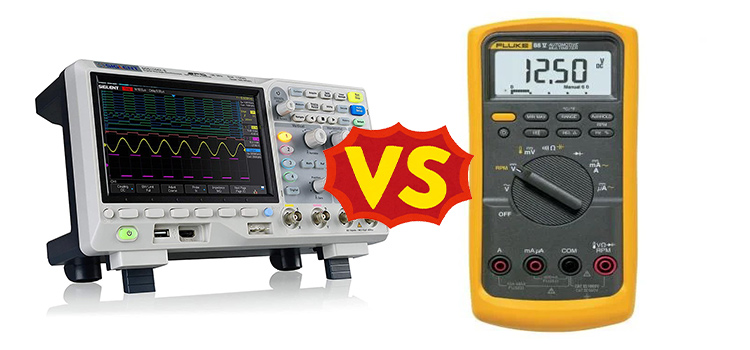 The Major Distinction Between Oscilloscope and Multimeter
A multimeter is a tool for making precise measurements of discrete signals of voltage, current, or resistance. An oscilloscope is a device that visually depicts waveforms to show signal strength, wave shape, and signal value.
Display
Both devices include a display that allows you to interpret data. However, their displays display information in different ways. The multimeter can only display numbers for the electrical parameters you are measuring which can vary in the number of digits depending on the manufacturer.
On the other hand, oscilloscopes have more complex displays because they show more information that requires more interpretation and analysis.
Portability
Testing, diagnosis, and analysis applications are not limited to a workshop benchtop. You could be an electrician inspecting the wiring in a home or an engineer designing a new manufacturing plant at a client's site. So, having a portable measurement tool is essential.
The multimeter is small in size and can easily fit into any tool bag, making it very easy to carry to places. Oscilloscopes had been limited to a workshop bench about 10-15 years ago as they were quite large and cumbersome to transport. However, now there are portable oscilloscopes that can be taken with you on the go.
Ease of Use
Although the multimeter has numerous functions, using them is quite simple. You simply need to be aware of maximum voltage and current ratings, as well as how to connect the probes to a circuit when testing voltage (parallel) or current (series).
But it takes some time to get your head around the oscilloscope because you need to learn things like interpreting different waveforms, setting voltage divisions, understanding triggering, capture rate, duty cycle, rise time, and so on.
Cost and Availability
When it comes to multimeters, you can easily obtain a low-cost multimeter starting at 15 dollars. More than likely, your local hardware store will have one multimeter.
However, cheap multimeters come with poor quality like any other stuff. Although they do a good job, they use cheap materials that don't last long. How much you pay for a multimeter is ultimately determined by your circumstances and how frequently you use it.
Oscilloscopes, on the other hand, are slightly more expensive than multimeters because of their overall complexity of design and components used. Also, you are unlikely to find oscilloscopes at your local hardware store easily.
Measurements
Multimeters typically use the direct current (DC) voltage measurement technique, whereas oscilloscopes use the alternating current (AC) voltage measurement technique. Because of this distinction, multimeters are better for measuring steady voltages, whereas oscilloscopes are better for measuring waveforms.
Oscilloscopes can also measure frequency, or how many times a waveform repeats per second. This measurement is critical for analyzing signal properties. Also, oscilloscopes can measure inductance and capacitance, whereas multimeters can only measure voltage, current, and resistance.
Why Use an Oscilloscope Instead of a Multimeter?
Oscilloscopes are intended for engineering work or troubleshooting systems that may contain complex signals that send at speeds much faster than a digital multimeter can capture.
Scopes have much faster measurement engines and much wider measurement bandwidths than digital multimeters, but they typically do not have the same accuracy and resolution strength as a multimeter.
Oscilloscopes can visually display complex signals allowing a transient signal that may pose a threat to a system to be displayed, measured, and isolated. It will also display any distortion or noise in the signal graphically.
What Is the Main Difference Between Oscilloscope and Voltmeter?
The primary difference between an oscilloscope and a voltmeter is that oscilloscopes measures both voltage and current, whereas voltmeters only measure voltage.
What Can an Oscilloscope Do That a Multimeter Cannot?
If you want to make both quantitative and qualitative measurements, use an oscilloscope. A multimeter is adequate for general-purpose maintenance or general electronic testing, but an oscilloscope is required when testing or troubleshooting machine controls or other complex systems, or when doing electronic design work.
Final Statement
Oscilloscopes vs multimeter, obviously the first one is the winner. However, having both can be advantageous at times. Because you can use the multimeter to quickly identify problems on the surface and then use the oscilloscope to dive deeper for more in-depth analysis.