Oscilloscope Probe X1 X10 Difference | Detection and Compensation of Probes
Passive voltage scope probes are classified into two types. They are usually labeled X1 and X10, while 1X and 10X are occasionally observed. The term relates to the factor by which the probe multiplies the impedance of the scope itself.
An X1 probe does not diminish or attenuate the input signal, whereas an X10 probe reduces the signal's amplitude at the scope input to 1/10th of the signal's amplitude.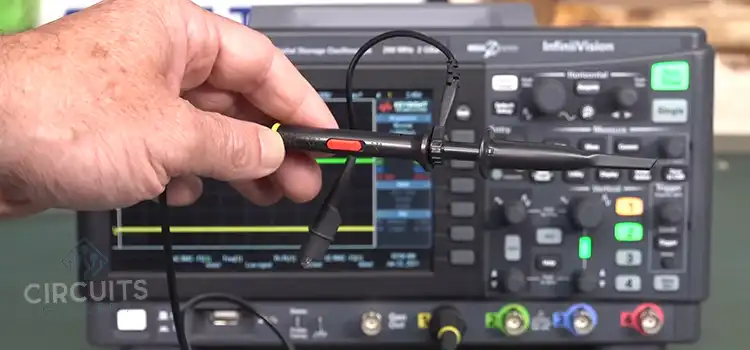 What Are the Basic Differences Between X1 and X10 Probes
The basic differences between X1 and X10 probes are listed below:
| | | |
| --- | --- | --- |
| | X1 | X10 |
| Attenuation | A 1x probe links the scope to the test point directly, with no further attenuation. | The "standard" probes that come with most scopes are ten – X probes. They lower the amplitude of the signal by a factor of ten. |
| Sensitivity | 1x probes are more sensitive and can detect little signals more easily (±30 V). | Less sensitive than X1 probes due to the attenuation caused by X10 probes. It can measure up to ±300 V. |
| Maximum Amplitude | When the signal level is low, less than 40V peak to peak, a 1x probe is useful. | Because of the additional attenuation, 10x probes are suitable for high-voltage measurements (400Vpp). |
| Bandwidth | The scope's input capacitance works as a low pass filter, 1x probes have a limited bandwidth (6MHz). | 10x probes have a significantly larger bandwidth than 1x probes (10MHz). |
| Loading effect | High | Less |
| Impedance | 1 MΩ // 100pF | 10 MΩ // 20pF |
How Does Oscilloscope Detect Probes
In some circumstances, a scope can determine whether a probe is 1x or 10x and automatically modify its settings. This is feasible because many 10x probes contain a metal pin on the scope side, and if this hits a sensor ring on the scope input, the scope detects the usage of a 10x probe.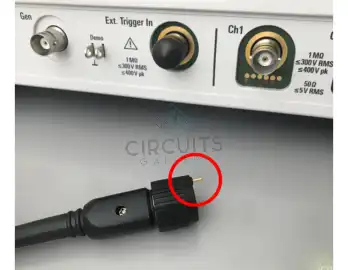 Figure 1: X10 probes with a metal tip
Also, the internal circuit of X10 probes is different than that of X1 probes.

Figure-2: X10 probe circuit(left one) and X1 probe circuit (right one)
Frequently Asked Questions and Answers (FAQs)
Can I Switch Between X1 and X10 on the Same Probe
By adjusting a switch on the side, some probes can be used as 1x or 10x probes. Switchable probes are what they're called. If the probe attenuation isn't detected automatically when using a switchable probe, make sure you update the scope settings properly.
Do X1 and X10 Probes Have Different Input Resistances?
Yes, the input resistance to both probes is different. An X10 probe has an input resistance equal to 10MΩ, as it has to attenuate the input signal to 1/10th of its original input. Whereas, X1 probes have an input resistance of 1 MΩ as no attenuations are required in this case.
What Is Probe Compensation in X10 Probes
Probe compensation is used to match the capacitance in the probe tip to the capacitance in the oscilloscope's inherent input capacitance. Before using passive probes, it's a good idea to adjust them to reduce amplitude and pulse shape inaccuracies in the measured signal.
Conclusion
Oscilloscope probes are a must-have accessory for any oscilloscope. Most of the time, 10X passive scope probes are utilized, although various types of test probes must be considered depending on the applications.
Subscribe

to our newsletter

& plug into

the world of circuits