In short yes it is, but not as much as more traditional materials used for making electrical circuits, at least for now. To make ink conductive, graphite or other conductive elements are frequently infused into ink.
Conductive materials allow an electric current to flow through them by the movement of electrons. Therefore, ink containing silver or carbon particles forms conductive ink. These particles are responsible for the conductive nature of this ink or paint.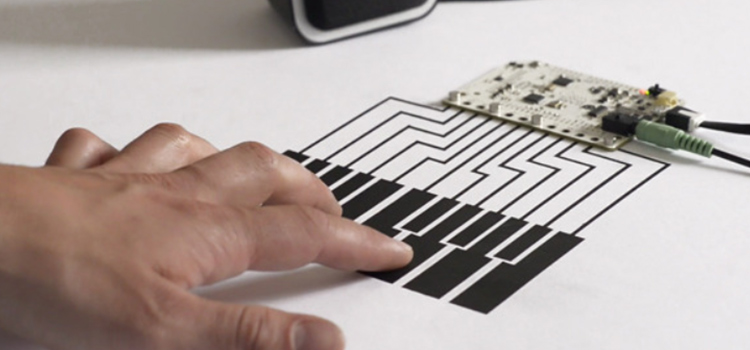 Is Ink Conductive
Ink is conductive under such conditions of having conductive materials like carbon, silver, or graphite particles infused in it. Conductive ink is a type of ink that produces printed objects that conduct electricity.
Conductive metal nanoparticles are entrained within a liquid medium to form conductive ink. Every nanoparticle can conduct electricity, and when strings of nanoparticles develop, electrons can pass from one to the next.
The chain of interconnecting nanoparticles is secured when the ink dries. This creates a permanent conductive path through the dried ink for electricity to move.
How and Why Does Conductive Ink Conduct
Conducting ink usually contains two main components: metal nanoparticles and liquid to carry the nanoparticles. When you put the liquid-nanoparticle mixture on paper, it dries, and the random networks of nanoparticles that come into contact with each other are held in place.
These networks of metal allow the ink to conduct electricity. You just laid down a path of silver for the electrons to follow.
The conductive ink is composed of silver, or carbon, particles linked to each other by solving agents. These solvents evaporate after drying and are no longer present. A conductivity of around 105 S/m is common for inks based on silver particles.
How Do You Make Conductive Ink
A spot of conductive ink is exactly a colored liquid that transmits electricity. However, conductive ink is unlikely to be dipped from an inkwell. The conductive particles must be transported within a non-conductive medium that dries or reduces after application.
Follow these steps in this regard-
Step 1: In a glass container, combine three parts carbon graphite powder, two parts liquid tape, and six parts Tuloul (Toluene) solvent.
Step 2: Paint the conductive ink you've made onto your target surface using a paintbrush or sponge brush.
Step 3: Wait until the ink is totally dry to the touch, which should only take about half an hour.
This process should be done in a very well-ventilated area–outdoors if possible. It is obvious to wear gloves and safety goggles to protect your hands and eyes during the making period.
What Is Conductive Ink Used For
Conductive inks can be used in a variety of ways. Silver-infused conductive inks, for example, are commonly used to print RFID tags, such as those used on current transit tickets. They can also be used to modify or repair printed circuit boards.
These inks can also be utilized in computer keyboards with membranes that contain printed circuits that detect when a key is pushed. Windshield defrosters consisting of resistive traces applied to the glass can also include conductive inks. Conductive traces are also printed on the back glass of many contemporary autos.
Is Paint Electrically Conductive
The conductivity of paints depends on the element of coating. Lead is now used as a primary component in paints so that it can conduct electricity. Again if the paint is made of non-metal, it will undoubtedly work as a suitable insulating agent and will never conduct electricity.
So it relies on the method of application and the coating thickness. Electric Paint has a sheet resistance of 55 Ohm/square at a thickness of 50 microns. Carbon-based inks, such as Electric Paint, have a better resilience than silver paint or copper-based inks in general.
Is Toner Ink Conductive
Laser printer toner is non-conductive – it has to be because the drum picks up the toner via electrostatic attraction, and conductive particles would dissipate the charge. Include conductive inks in your design.
Frequently Asked Questions
Is it possible that this conductive ink will replace copper, gold, or silver on board circuits?
Conductive ink works because it contains conductive components. This substance is frequently spread as flakes or powder throughout the ink.
However, the resistance of conductive ink circuits is a disadvantage. Solid, pure metal will always be more conductive than flakes or powder in conductive ink, so solid copper circuits will use less energy and produce less heat.
Conclusion
Ink is electrically conductive because of having conductive metals infused in it. Conductive ink, therefore, results in a printed object that allows the electron to flow through it. It is conductive due to its construction which is made of conductive elements like silver, graphite, or carbon particles.