63/37 solder is composed of 63% tin and 37% lead. Its melting point is 183°C, which is somewhat lower than that of the more typical 60/40 blend. The fundamental advantage of this solder is its eutectic feature, not its lower melting temperature.
Lead-based solder is available in a variety of alloys. The most frequent alloys you'll come across are 60/40 and 63/47. These figures indicate the percentages of tin (Sn) and lead (Pb) in the alloy. So, 60/40 is composed of 60% tin and 40% lead.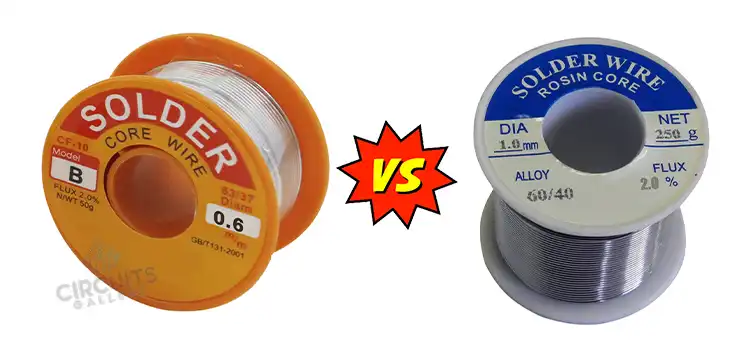 Comparison between 63/37 and 60/40 Solder
Although 63/37 is the eutectic alloy, 60/40 is more commonly used in practice because the slightly larger 5°C freezing range of 60/40 is insignificant in practice and 60/40 is slightly cheaper than 63/37. Under slow cooling circumstances, 60/40 may produce duller joints than 63/37, but this is merely aesthetic.
Non-eutectic solders, such as the 60/40 solder, exist in a semi-solid condition halfway between solid and liquid. Lead-free solder, lead-based solder, and flux-core solders are the three basic forms of solder. Another variety is known as silver alloy solder. These categories are based on alloy composition.
What Is the Difference Between 60 40 and 63 37 Solder
The plastic portion is greater in 60/40. Neither is particularly important, and both are enough for most tasks. The melting temperature of 63 percent tin and 37 percent lead solder is the lowest of any tin and lead composition. However, because tin is more expensive than lead, 60/40 is less expensive than 63/37.
In wave soldering, tin is deposited at a little faster rate than lead, so a solder pot that begins with 63/37 moves toward 60/40. However, as long as the makeup solder is 63/37, the combination in the pot will remain close to 63/37.
What Is So Special About 60 40 Solder
60/40 solder has a perfect combination of tin and lead, lower melting point, smooth soldering, and much-shining soldering point and it's easier to be handled. The melting point of 60-40 solder varies widely depending on temperature. However, it is around 56 MPa at 19°C.
On the engineering stress-strain curve, the ultimate tensile strength of 60 40 solders is maximum. This refers to the maximum stress that a tensioned structure can withstand. 60/40 is a general-purpose soft solder used for soldering copper and copper alloys and/or ferrous base alloys.
What Temp Does 63 37 Solder Melt
Sn63/Pb37 is a eutectic alloy with a melting point of 183°C (361°F). Soft solder is extensively used in electronics, plumbing, and sheet metal work and has a melting point range of 90 to 450 °C (190 to 840 °F; 360 to 720 K). The most common alloys are those that melt between 180 and 190 °C (360 and 370 °F; 450 and 460 K).
What Is the Melting Point of 60 40 Solder
There will be a varied melting temperature range when employing a 60/40 percent tin lead wire soldering. At 361.4°F, it begins to melt and reaches a full liquid temperature of 375.8°F. Tin lead wire solder is suited for applications requiring precise soldering temperatures.
What Is the Difference Between 50/50 Solder and 60 40 Solder
The temperature difference between melting and freezing temperatures for most solders is known as the pasty range. The pasty range of 60/40 solder is less than that of 50/50 solder, resulting in a smoother bead for the user.
50/50 melts at 421 degrees and solidifies at 361 degrees, giving it a working range of 60 degrees. This solder will yield a flatter bead than 60/40. 50/50 is frequently used on the rear (or inside) of a stained glass installation to guard against "melt through" when soldering the front due to its greater melting point.
Frequently Asked Questions
How do I know what type of solder to use?
Lead and lead-free solder are the two most common varieties. Both can be used for electronics, but lead-based solders may be easier to deal with. Avoid using acid core solder, which is designed for plumbing rather than electronics.
Conclusion
Lead solder wire is typically manufactured from a lead-tin alloy. Tin is typically used with lead because it has a lower melting point. It features a 63/37 or 60/40 alloy ratio. When working with electrical components, the ideal ratio is 63/37.
Subscribe

to our newsletter

& plug into

the world of circuits