In an electrical circuit, the energy is supplied by a device called a power source or an energy source. The most common power source used in everyday electrical circuits is a battery or an electrical generator.
Batteries convert chemical energy into electrical energy. And generators convert mechanical energy into electrical energy through electromagnetic induction. Other sources like solar cells and fuel cells can also supply energy in specific circuits.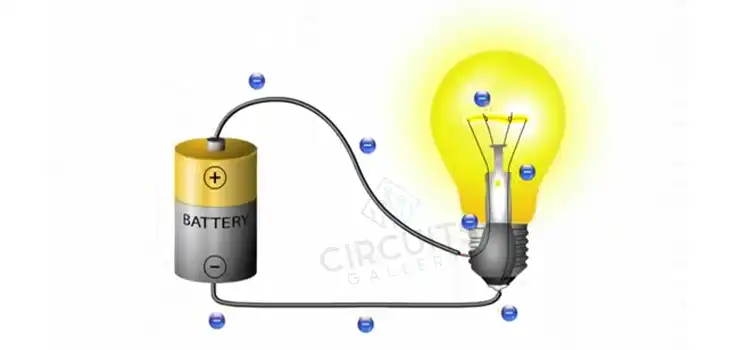 What Are the Different Types of Power Sources Used in Electrical Circuits?
The power sources used in electrical circuits are illustrated below.
1. Battery 
A battery is a portable device that converts chemical energy into electrical energy. It consists of one or more electrochemical cells connected. Each cell contains two electrodes, a cathode, and an anode. Chemical reactions occur within the battery. Thus, electrons flow from the anode to the cathode, creating an electric current.
2. Generator
A generator converts mechanical energy into electrical energy. It consists of a coil of wire called an armature. It rotates within a magnetic field. The rotation generates an electric current through electromagnetic induction. Generators are commonly used in power plants.
3. Solar Cells
Solar cells are also known as photovoltaic cells. They convert sunlight directly into electrical energy. Also, these are made of semiconductor materials that generate electricity when exposed to light. Solar cells are commonly used in solar panels to generate electricity from the Sun's energy.
4. Fuel Cells
Fuel cells produce electrical energy through an electrochemical reaction between hydrogen and oxygen (or another oxidant). Hydrogen is typically obtained from sources like natural gas or hydrogen gas. And the oxygen is usually obtained from the air. Fuel cells are known for their high efficiency.
How Do Power Sources Vary Depending on the Specific Requirements of a Circuit?
Power sources can vary depending on the specific requirements of a circuit in terms of factors. Such as voltage, current, capacity, portability, and environmental considerations. Here are some ways in which power sources can differ based on circuit requirements:
1. Voltage
Different circuits may require different voltage levels. Power sources can be selected based on their ability to provide the required voltage.
2. Current
The amount of current required by a circuit can vary. Power sources need to be capable of supplying the necessary current.
3. Capacity
The capacity or energy storage capability of a power source is crucial for circuits that need a sustained power supply. Batteries with larger capacities can provide energy for longer durations before needing recharging or replacement.
4. Portability
Depending on the application, portability of the power source might be a requirement. Batteries are commonly used in portable devices due to their compact size and ability to store energy.
How Do Power Sources Impact the Overall Efficiency of an Electrical Circuit?
Power sources can have a significant impact on the overall efficiency of an electrical circuit. The conversion efficiency of a power source plays a crucial role in minimizing energy losses during the conversion process. Higher conversion efficiency means less wasted energy, leading to improved overall efficiency.
Additionally, losses introduced by power sources, such as heat dissipation or resistance in electrical components, can affect efficiency. Power sources with efficient energy storage and delivery mechanisms help maximize stored energy efficiency. Stable output voltages from power sources prevent voltage fluctuations.
What Are the Characteristics of a Reliable Power Source for an Electric Circuit?
A reliable power source for continuous operation should possess certain characteristics to ensure an uninterrupted and consistent power supply. Here are some key characteristics:
Stability
Resilience
Redundancy
Fault Monitoring and Protection
Longevity
Documentation and Support
How Do the Physical Size and Weight of a Power Source Affect Its Usability in Different Circuits?
The physical size and weight of a power source impact its usability in different circuits. Smaller power sources are preferred for portable applications with space constraints. And larger systems can accommodate larger power sources. Weight considerations also play a role in applications.
Conclusion
Advancements in battery technology have a significant impact on the selection of power sources for electrical circuits. Improved energy density, longer lifespan, and faster charging capabilities make batteries a more attractive option. These advancements enable a more efficient and reliable power supply.