Dielectric grease works more like an insulator. So there is no chance that it would conduct electricity. And with that being said, the dielectric grease helps you maintain a solid electrical connection even if the wiring or the connection is old or loose.
Besides, this waterproof grease helps you prevent dirt and corrosion. To know more about is dielectric grease conductive or not, keep reading further.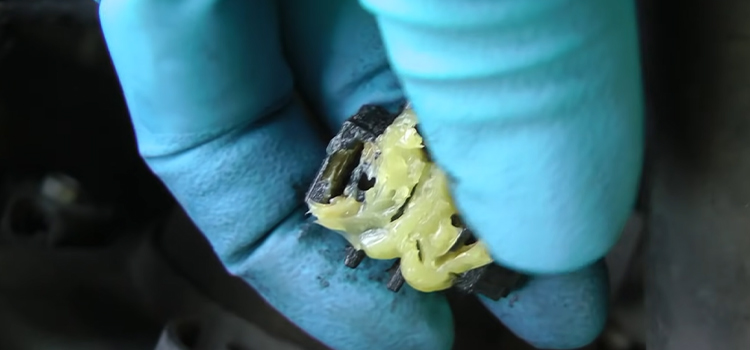 Does Dielectric Grease have Conductive Properties?
Although dielectric grease might not be as necessary as oil and coolant in the automobile sector. But they play a significant role in enhancing your experience with the electric connections on your vehicle. And for maintaining the quality and extended life of your vehicle and its electric parts, dielectric grease is second to none.
Mostly dielectric greases are used in battery terminals, lightbulbs, plug wires, and fittings or electric sockets to keep out of the reach of water or moisture. And thus, your electric system remains safe from corrosion.
Your electric system, mostly the wiring or other connectors, is quite vulnerable to any dust or alkaline contamination. And as a result, the system faces corrosion and failure much earlier than it should.
But when dielectric grease is applied properly, it helps you to mitigate those contaminants and prevent the early cracking and drying of the rubber gasket. So when your electric connections get a little old and loose, applying this grease can reinstate the flow of electrons.
As long as the dielectric grease does not stand in the way of the connectors or cause any kind of barriers, the application of the dielectric grease will not make any negative impact on the electric system connection.
And this is where the question arises for many people. If the dielectric grease can enhance the electric connectivity of an electric system, then is dielectric grease conductive?
To answer that question, first, we will have to know what this dielectric grease is in the first place. Dielectric grease is a non-curing, non-conductive, silicon-based waterproof grease that can help you fight corrosion or dirt issues and protect the electric connections on your vehicle.
In most cases, dielectric grease is made of a thickener and a silicon base. However, dielectric grease works like an insulator and does not conduct electricity at all. Despite having the word 'electric' in its name, dielectric grease has nothing to do with the conductivity of electricity.
And when it comes to enhancing the overall connection, the dielectric grease just helps you to maintain a good connection when the wiring or the sockets gets old and loose. And that's it. As an insulator, dielectric grease does not improve the electric connection.
On the other hand, there is just an opposite claim that dielectric electric grease gets in between metal and as it is an insulator, it just worsens the connection and causes a failure. And this one is a myth as well.
Even though the grease is in between those metal electric connections, still the wiring can maintain a good connection to keep the flow of electricity. So if your electric connection remains solid, you do not have to worry about the dielectric grease at all.
Does Dielectric Grease Increase Conductivity
Dielectric grease is a silicon-based waterproof grease that works as an insulator. As for the electric conductivity, dielectric grease has nothing to do with it. This grease can just ensure proper connectivity, not improve it.
Is Dielectric Grease Good for Electrical Connectors
To prevent corrosion and dirt that might have taken place due to water or moisture, dielectric grease is used. As dielectric grease is silicon-based and waterproof, it helps you to prolong the life of the electric parts and connections. So it is good for electrical connectors.
What Kind of Grease Conducts Electricity
Some electric greases are used to improve the electric conductivity between electric parts and moving particles. One of them is the 846 Carbon Conductive Grease which is used to lubricate and maintain a good grounding connection.
Is Dielectric Grease the Same as Conductive Grease
Although you will see the word 'electric' on dielectric grease, it has nothing to do with the conductivity of electricity. And that goes the same for the conductive grease as well. Both of them works as an insulator.
Frequently Asked Questions
Should You Put Dielectric Grease on Ignition Coils?
Dielectric greases are used on the ignition coils to prevent moisture from getting in the way of the spark plug and its wires. Mostly the grease is applied on the inside bottom of the ignition coil where the ignition coil meets the spark plug.
Do Vaseline Work Like Dielectric Grease?
No, dielectric grease is a silicon-based grease that has got thickener in it. Whereas Vaseline is made of petroleum jelly. Also, there are no similarities in their applications as well.
Can Dielectric Grease Cause a Short Circuit?
No, there is no such possibility. If anything, dielectric grease might help you prevent short circuits on your electric connection.
Conclusion
As you have already seen, there are numerous myths, claims, and confusions related to the dielectric grease in our community. But now that you have gone through the article, you have a much clearer idea of is dielectric grease conductive or not. So, you can apply dielectric grease to prevent corrosion on your electric connection without worrying much.