Are you wondering "is carbon conductive or insulative." It depends on the type of carbon or allotrope in question. To conduct electricity, a material must have free electrons to carry the electrical current. There are no such free electrons in diamond, a carbon allotrope. As a result, diamond does not conduct electricity.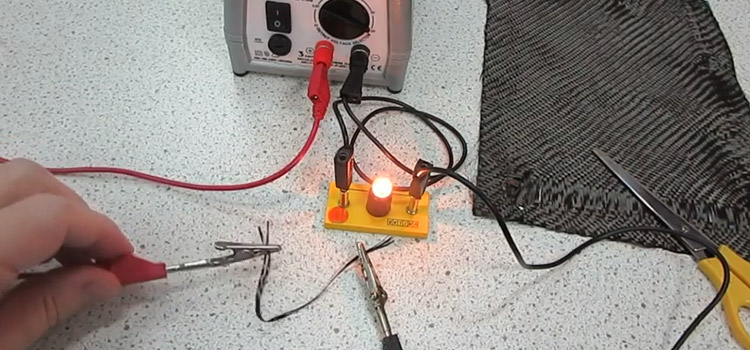 Graphite, another allotrope of carbon, on the other hand, conducts electricity very well because it contains an entire "sea" of free electrons. It possesses both metal and nonmetal properties. Again, Activated Carbon isn't conductive. Carbon fiber shows good electrical conductivity. To know more, stay with this article.
Is Carbon Conductive
Carbon is an element that is not a metal. A nonmetal cannot conduct heat or electricity, but some carbon allotropes can. Carbon is available in a variety of forms and these forms show different types of thermal or electrical conductivity.
Diamond
Most diamonds are excellent thermal conductors but poor electrical insulators. Diamond conducts heat well due to the strong covalent bonds that exist between the carbon atoms in a diamond crystal. They can conduct heat five times better than copper. But can't conduct electricity as there is no free electron.
Graphite
Graphite is an excellent electrical conductor since there are tons of free electrons in the molecules. The anisotropy of the graphite crystal has a strong influence on the thermal properties of conductivity and expansion. It occurs primarily through lattice vibration in graphite and is represented by a certain following relationship.
Graphite can be considered a good thermal conductor, thermal conductivity of graphite can reach 1180 W/m.K, nearly three times that of copper. Usually, its thermal conductivity decreases with temperature.
Graphene
Graphene is a two-dimensional layer of hexagonal carbon lattices that can stretch indefinitely in theory. The flat surface provides little resistance to electrons passing through, indicating that the material has extremely high electron mobility.
Electrons typically travel in a straight line from source to sink, encountering no obstacles. However, because of this structure, the valence and conduction bands of graphene overlap.
As a result of the overlap, the material has an effective lack of band gap, which may be responsible for semi-conductive properties. Graphene is an excellent thermal conductor.
Buckminsterfullerenes
Excellent electrical and thermal conductivity is seen by this carbon form. All fullerenes have a graphite-like structure, with each carbon atom forming single covalent bonds with three neighboring carbon atoms. This results in a hexagonal plane structure that can be bent to form various fullerenes.
Because each carbon atom has four bonding electrons, one electron in each carbon atom remains unbonded. These electrons combine to form a sea of delocalised electrons resembling that of a metal. These can move throughout the fullerene, allowing for electrical conduction.
Activated Carbon
Unlike carbon black, activated carbon is not conductive in terms of electricity.
Carbon Fiber
Carbon fiber is not overly conductive when not combined with anything else, neither thermally nor electrically. This fiber has average thermal conductivity. High-quality carbon fiber has roughly the same heat conductivity as silicon, and even top-tier carbon fiber has less conductivity than aluminum.
When it comes to electrical conduction, plain old carbon fiber performs slightly better, but it is still not as conductive as most metals. When used as an electrical conductor, carbon fiber should be modified by weaving it with other metals or creating a more electrically conductive carbon allotrope like diamond or graphite.
Is Carbon a Conductive Element
Some forms of carbon act as conductive element. Such as, graphite is electrically conductive element for having free electron for current flow but thermally not. Whereas diamond is not electric conductive, but thermally excellent conductive.
Is Carbon a Conductor or Insulator
Carbon is both a conductor and insulator, it works as a semiconductor too. The semiconductor has electrical conductivity between that of a metal, such as copper, gold, or silver, and that of an insulator, such as glass.
Unlike conductors, electrons in a semiconductor must obtain energy in order to cross the band gap and enter the conduction band.
Can Carbon Act as a Conductor
Carbon can surely act as a conductor, but you need to consider only a few allotropes for this. For example, graphite or graphene can act as a conductor.
Does Carbon Have High Conductivity
Not all carbon shows high conductivity in both thermal and electrical areas. To be precise, diamond, graphene, Buckminsterfullerenes, and amorphous carbon shows high thermal conductivity.
And high electrical conductivity can be seen in graphite, graphene, amorphous carbon, and Buckminsterfullerenes.
Ending Statement
If you read the article thoroughly, you must know the answer to the question "is carbon conductive?" is complicated and depends on various factors. So, if you want to work with carbon for a particular reason, first make sure that carbon allotrope matches the thermal or electrical properties you need.