How to make a simple wire loop alarm? It's just a matter of only four components. Namely, transistor, resistor, buzzer, and battery. Place this system as a front door alarm. And observe the magic when anyone opens the door. It helps make our home secure.

In this wire loop alarm circuit, we used a simple wire as a door alarm sensor. When anyone opens the door it will break and generate a beep sound. The wire loop alarm for door security can be used as a window alarm too.
Circuit Schematics of Wire Loop Alarm for Door Security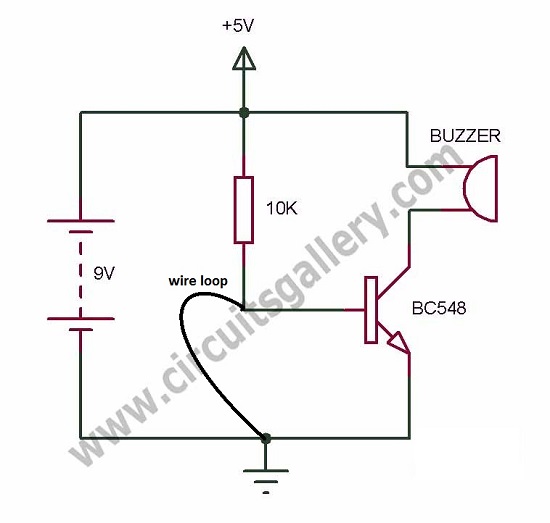 Components for Wire Loop Alarm Circuit Schematics
Transistor (BC548)
Resistor (10K)
Buzzer
Battery(9V)
Wire Loop Alarm Circuit Schematics Working Principle
The window sensor alarm consists of transistor BC548 (NPN), Buzzer, Resistor. Here loop wire is the sensing part of the door alarm system
BC548 is a NPN transistor, a positive voltage on the base will switch on the transistor
Here emitter is connected to ground and collector connected to negative terminal of buzzer
Positive terminal of buzzer is connected to battery positive, when transistor is on, then buzzer will make beep sound.
10K ohm resistor is connected between base of BC548 and positive terminal of battery, and a loop wire with connected between the base and ground.
Here loop wire has zero ohm resistance (ideally) and resistor has 10K ohm resistance so base has negative potential, then transistor is off condition and buzzer will not make beep sound.
When any one break the loop wire then positive potential will reach at the base trough 10K ohm resistor and transistor start conducting then we can hear a beep sound until reconnect the loop wire
The door and window alarms system will work on3V or 9V battery it helps to fix on door simply place the loop wire in between door and door frame to break the it when open the door.
Conclusion
Interestingly, the cost of the wire loop alarm circuit making will be only around 1$! Moreover, the integration of a reed switch for door and window security can create an interesting and creative project out of it.