A radial capacitor has leads that come out from the same ends. In contrast, the leads of an axial capacitor come out at two opposite ends.
Radial and axial, both types of capacitors have their uses. However, it is important to be able to distinguish between them as you do not want to mix them up during important projects.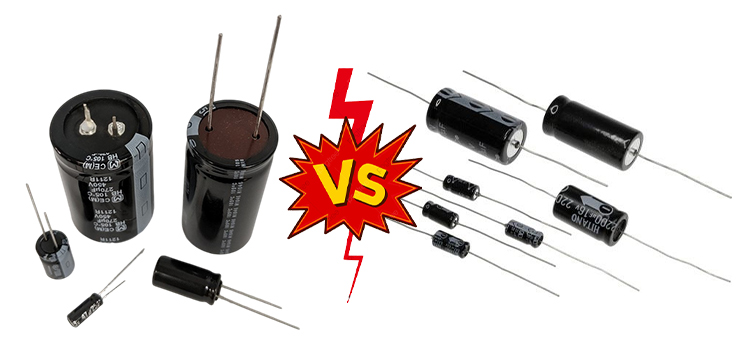 Radial vs Axial Capacitors
Radial and axial capacitors have some distinctive features that are pretty easy to sort out. We will look at them in this section.
Configuration
A radial capacitor is practically a vertical cylinder. If you look at it then you will see that both of the leads are coming out the bottom of the cylinder along the radius. These capacitors are mounted vertically to the board.
To be more precise, radial capacitors have both leads at the bottom. On the other hand, axially leaded capacitors have a single lead or multiple leads coming out of each end of the capacitor. It is practically a horizontal cylinder where one lead end is along the axis of the cylinder.
Generally, the lead lengths of the component should be minimized for the best results. If it is a high impedance node, then all the more so.
Type of Capacitor
A radial capacitor is typically electrolytic. By an electrolytic capacitor, we mean that it is a polarized capacitor that uses an electrolyte to achieve a larger capacitance than other capacitor variants.
On the other hand, an axial capacitor can be an electrolytic or a film type. Film capacitors are the most common type of capacitor available. They consist of a relatively large family of capacitors. The difference arises when it comes to their dielectric properties.
Equivalent Series Inductance (ESL)
Axial leaded capacitors have higher Equivalent Series Inductance or ESL compared to the radial leaded parts. This is why axial leaded capacitors have gradually become obsolete in this day and age.
If you want high-frequency performance, your best choice is an SMT part. A radial leaded component comes in second whereas an axial leaded part is quite far behind.
Price
Radial electrolytes are more affordable than their axial counterparts. They are also much smaller and ideal for restuffing twist lock filter cans.
One of the reasons for such a low price is because radial capacitors have commercial uses such as PC board mounting. Therefore, they are made to be more available and cheaper.
Can I Replace Axial Capacitor with Radial
In recent days, most capacitor manufacturers are favoring radial leaded capacitors. However, older hardware still contains lots of axial leaded capacitors. As High-quality axial capacitors are becoming harder to find, the options tend have become limited.
This is why even if you do happen to find a replacement axial cap, the price will supposedly be much higher than the equivalent radial cap. That is why converting an axial cap to a radial cap is a topic of interest these days.
You can extend the leads of the replacement radial capacitors and see a slight change in the performance of the capacitor. The primary difference you will see is the impedance at higher frequencies. Furthermore, the effective ESR will increase a bit.
What Are Radial Capacitors
The word "radial" refers to the lead configuration of the capacitor. It means that both leads exit the capacitor from the same side.
These days most modern capacitors are made to be radial lead to reduce the space used in a circuit board. For your convenience, both film-type and electrolytic capacitors are available in radial and axial packages.
What Is a Capacitor Axial Lead
The leads of an axial capacitor run parallel with the body of the capacitor and then come out at two opposite ends. Such capacitors are best suited for low-profile circuit board applications.
What Are the 4 Types of Capacitors
The four types of capacitors are- film-type, electrolytic, ceramic, and paper. Ceramic capacitors are the most common dielectric capacitors among these. Film-type capacitors are inexpensive and have a limitless shelf life.
As electrolytic capacitors, they are metallic anodes coated with a dielectric oxidized layer. In paper capacitors, paper is used as the dielectric material.
Conclusion
Similar to all components, axial and radial capacitors have their pros and cons. Choose your capacitor based on the schematic or the simple factor of capacitance value. This article should help you along the way.