An oscilloscope is a superior tool for seeing analog waveforms, whereas a digital analyzer can monitor and troubleshoot a digital system's output.
Selecting the right tool for the job is a must if you want to improve your performance. The oscilloscope allows us to see analog voltage and how it changes over time. Oscilloscopes are ideal for analyzing signal integrity and determining the performance of analog circuits.
The signal is represented in digital form by the logic analyzer: 0 bit or 1 bit. Logic analyzers are useful for inspecting digital waveforms and troubleshooting digital communication systems.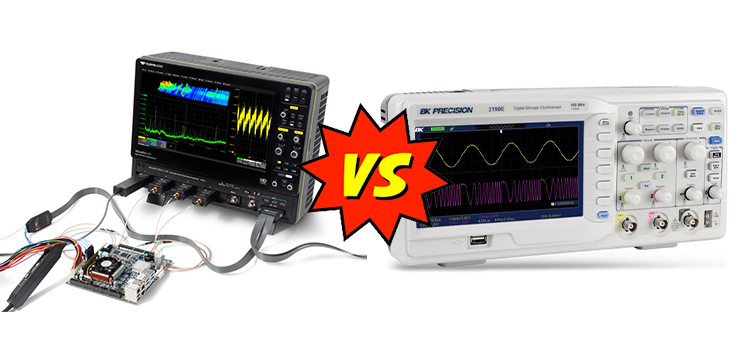 Comparing Logic Analyzer and Oscilloscope
The oscillator, as opposed to the logic analyzer, displays to us how rapidly a signal rises in time. The logic analyzer, on the other hand, informs us whether a signal is in the positive half cycle (upper threshold) or the negative half cycle (lower threshold), i.e. logic 1 or logic 0.
What is Oscilloscope
An oscilloscope is a test device that is used to measure analog electrical systems. It's meant to show periodic or temporary voltage changes that occur in electrical circuits.
It focuses on the voltages of changing signals represented on a two-dimensional grid that represents time. It monitors and depicts a signal's analog properties, such as its voltage and how it varies over time. Instead of continuously collecting data, it takes a picture of the waveform and shows it in real-time.
What Is a Logic Analyzer
A logic analyzer is a piece of customized test equipment that is used to continuously measure and analyze various digital electrical signals and show the results as timing waveforms or logic state listings.
They work as a data interpreter, collecting and presenting logic signals in various formats. It uses a protocol analyzer to understand the contents of the digital signal, based on the communication type. It allows several channels to be monitored while providing a handy way to view the state of a logic signal.
Differences Between the Oscilloscope and the Logic Analyzer
| | |
| --- | --- |
| Oscilloscope | Logic Analyzer |
| Analog signals are measured and displayed in several channels. | Analyzes and displays digital signals across many channels. |
| Record a brief snapshot of the signal based on the trigger setting on a regular basis. | A Digital signal is recorded and transferred to a computer. |
| Real-time captures are displayed. | Shows the digital signal and provides users a method to browse through a potentially lengthy recording. |
| Provide a way of determining the amplitude, timing, and other characteristics of a waveform. | Provide a technique to calculate the time difference between distinct points in the displayed signal, as well as other comparable functions. |
Is the Logic Analyzer Same as an Oscilloscope
In many ways, logic analyzers and oscilloscopes are not the same. These two are not interchangeable in terms of use.
When we need to focus on the analog aspects of a signal, we utilize an oscilloscope. If we simply care about the digital portion of a signal, such as whether it represents a one or a zero over time, we utilize a logic analyzer.
Can I Use a Logic Analyzer as an Oscilloscope
You may choose whether to trigger from the recorded channels or from a separate "trigger" input on some logic analyzers. Other test equipment, such as an oscilloscope, can be synchronized using this unique input.
Frequently Asked Questions
Should I buy an oscilloscope or a logic analyzer
In general, when we need to look at more lines than an oscilloscope can handle, we should use a logic analyzer. Logic analyzers are very effective for investigating temporal relationships or data on a bus, such as a microprocessor address, data, or control bus.
What is digital logic analyzer
A digital logic analyzer is a device that collects and displays numerous signals from a digital system or circuit. It's a fantastic tool for checking and debugging digital designs.
Conclusion
In many ways, logic analyzers and oscilloscopes are not the same. It is dependent on the sort of signal we wish to examine when deciding the instrument to utilize. The logic analyzer is used to measure digital signals, which are then shown in digital form. When it comes to seeing analog signals, though, we utilize an oscilloscope. Oscillators are less expensive than digital logic analyzers.