While BJT shines in low frequency, MOSFET works best in high-frequency amplifiers. A transistor and a MOSFET (Metal-Oxide-Semiconductor Field-Effect Transistor) both have their benefits and are appropriate for different applications.
For an amplifier, the use of BJT and MOSFET depends on several criteria, such as the application's specific requirements, level of power, efficiency, drive voltage, cost concerns, speed of switching, etc.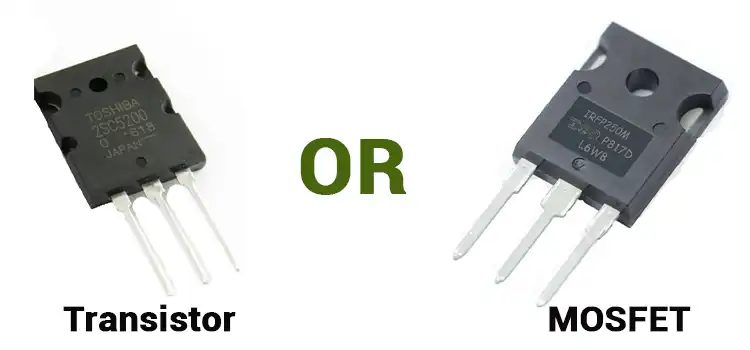 Which Is Better for the Amplifier MOSFET or BJT?
In low to medium power output (<100 RMS), BJT is comparatively better. In the mid to high frequencies, MOSFET amplifier designs are known to be more musical than Bipolar designs. As bipolar designs are known for their ability to deliver high currents into various loads, this is good for low frequencies (LF).
However, MOSFETs are useful for higher-level output primarily because they will have higher reliability at high power outputs. MOSFETs have lower input and output capacitances compared to BJTs.
This lower capacitance minimizes the effect of parasitic capacitances, such as the Miller capacitance, which can cause phase shifts and degrade the amplifier's high-frequency response. Moreover, MOSFET's higher input impedance helps a lot to perform better than BJT in high frequency.
In common base configuration, BJT is used as a voltage gain amplifier, where the gain AV is the ratio of output voltage to input voltage:

Where
α =Collector current (IC) / Emitter current (IE)
RL is the load resistance
Rin ­is the input resistance
In the case of MOSFET, The voltage gain (AV) is the ratio of input voltage and output voltage. After that simplification, the equation will become
Av = – RD/Rs=1/gm
here,
RD= Voltage drop across the drain resistor (RD)
Rs= Resistance
gm= Transconductance
In the above equation, the sign "-" comes from the fact that the MOSFET amplifier inverts the o/p signal in equivalence with the BJT CE Amplifier. So, the phase shift is 180 ° or π rad.
Why Use a MOSFET Instead of a Transistor?
1. Switching Speed and Switching Losses
MOSFETs have faster switching speeds and lower switching losses than BJTs.MOSFETs can switch devices in the MHz range easily, but BJTs have switching frequencies of up to hundreds of kHz.
As switching losses are a significant problem in high-frequency applications, high switching loss makes BJT comparatively less efficient than MOSFET. Therefore, in high-frequency applications, MOSFET is preferred.
2. Secondary Breakdown
Secondary breakdown is a failure mode in bipolar transistors when negative resistance (current concentration) occurs under high-voltage and high-current conditions.
As BJT has a negative temperature coefficient, with the decrease in resistance, the current increases. This increased current over the same area results in hot spots. Hence, secondary breakdown occurs in BJT.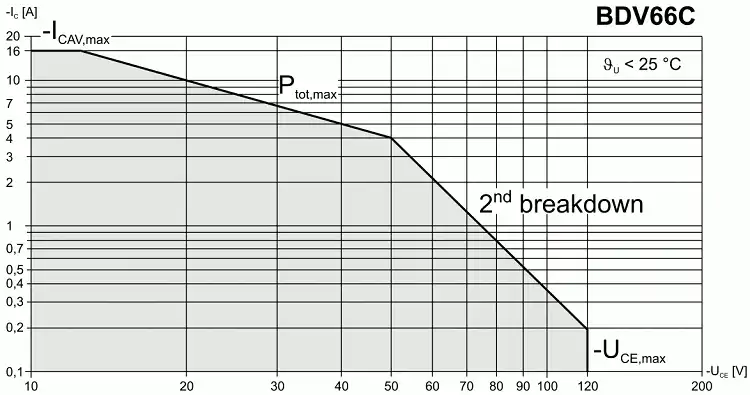 Figure 1: Secondary breakdown of BJT
The maximum collector current of a transistor is shown by line segment Icav, max in the figure. Line segment Ptot, max in the figure shows dissipation limits for DC. This limit reduces for increasing case temperature. The next line segment in the figure shows the second breakdown area.
On the other hand, MOSFET shows a positive temperature coefficient that neglects secondary breakdown. It also makes parallel operation easier for MOSFETs.
3. Gate Driver Circuits
MOSFETs are voltage-controlled devices whereas BJT is current-controlled. In electronics, it is easier to supply a constant voltage than it is to supply a constant current. Therefore, it is easier to design a MOSFET gate driver circuit than BJT.
Are MOSFETs Good for Amplifiers?
MOSFETs can handle much higher voltages than other types of amplifiers, making them ideal for use in high-voltage applications. They require less power to operate as they have a low input capacitance. They generate less heat and are more efficient.
MOSFET devices are very fast and can switch several amps in nanoseconds. This speed makes them thirty to one hundred times faster than equivalent Bipolar devices. MOSFET can amplify signals more effectively making it a good amplifier.
Why Might a MOSFET Not Be Best as an Amplifier?
MOSFETs are used for amplifiers all over the world. However, there might be some specific cases where it is best not to use MOSFET. For the following reasons, some amplifiers might prefer BJT.
When operated near their saturation or cutoff regions, MOSFETs can exhibit non-linear characteristics. While MOSFETs can be operated in their linear region, it requires careful biasing and circuit design to ensure good linearity.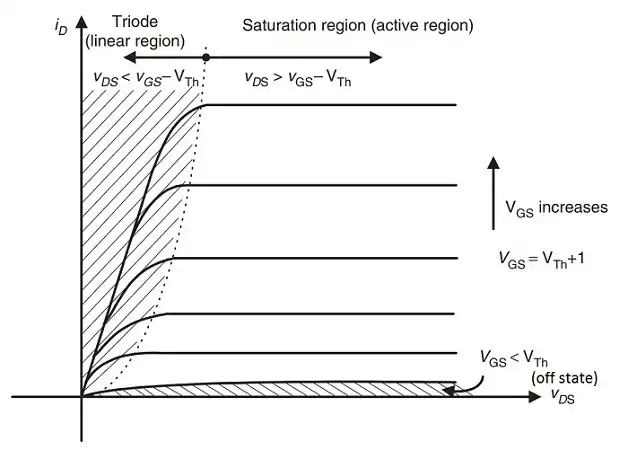 Figure 2: I-V characteristics of MOSFET
From the graph, there are three regions of operation, namely cut-off, saturation, and ohmic region. If VDS voltage is increased, the current IDS first increases, and then it becomes almost constant. The drain current increases exponentially as the VGS voltage increases and then becomes constant.
MOSFET can be easily damaged by static electricity.
MOSFET is pretty hard to bias. If not biased properly, it may not work as a good amplifier.
MOSFET is way more expensive than BJT. MOSFET requires more elements and a complex design for amplifiers.
FAQs – Frequently Asked Questions and Answers
Why Is MOSFET Better as an Amplifier?
MOSFET is more efficient in high frequency as it wastes less energy. It has a better gate drive and is easy to use in parallel operation. Hence MOSFET is better in high-frequency applications. Unlike BJT, MOSFET requires almost no input current to control the load current.
Do MOSFETs Sound Better?
In the case of MOSFETs, they have very low distortion levels. It makes them well-suited for use in high-fidelity audio applications.
MOSFET amplifiers can have wide bandwidth and low phase shift, enabling them to accurately reproduce audio signals. Moreover, MOSFET amplifiers can have low inherent noise levels, contributing to a high SNR and improved sound quality.
Conclusion
Even though MOSFET amplifiers are way more expensive and complex to design, they tend to have the edge over BJT for their numerous advantages. However, there may be particular applications where BJT will be preferable so it's essential to carefully consider which one to use.