DC Motor Carbon Brush Size Chart | Everything You Need to Know
In the present day, electric motors are a vital component of a wide variety of technologies. They supply power for both commercial and household appliances. Among the many varieties of electric motors, direct current (DC) motors stand out for their flexibility, constancy, and life span.
These motors rotate by sending an electrical current to the rotor through carbon brushes. To ensure that these motors work smoothly and have a long service life, the suitable carbon brush size must be specified.
In this article, we're going to talk about the significance of DC motor carbon brush size.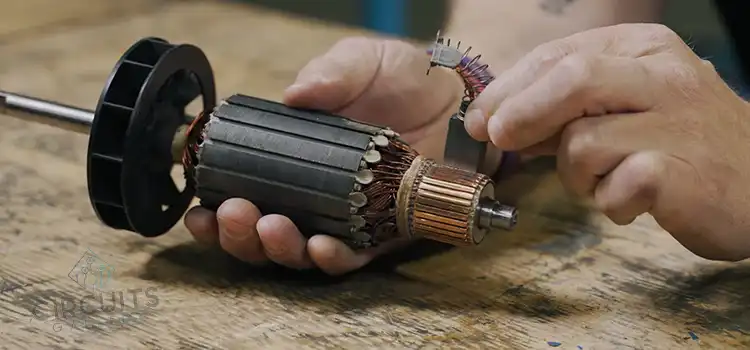 Understanding DC Motor Carbon Brushes
Carbon brushes are essential for DC motors to run. They are responsible for moving electricity from the power source to the commutator on the rotor, which produces the magnetic field vital for the motor to rotate. Carbon brushes offer great electrical conductivity and life span because they are made by combining carbon with other components.
DC Motor Carbon Brush Chart
| | |
| --- | --- |
| Dimension/Specification | Common Value (in millimeters) |
| Brush Length(L) | 10-50 mm (varies by motor) |
| Brush Width(W) | 4-12 mm (varies by motor) |
| Brush Thickness(T) | 3-6 mm (varies by motor) |
| Carbon Material | Graphite or Carbon Composite |
| Spring Force | 0.5-5 Newton (N) |
| Resistance | Typically less than 0.1 ohms |
| Voltage Rating | Varies by motor application |
| Current Rating | Varies by motor application |
| Temperature Rating | Varies by motor application |
| Wear Rate | Dependent on usage and material |
| Compatible Motor Types | Universal, PMDC, Series-Wound, Shunt-Wound, etc. |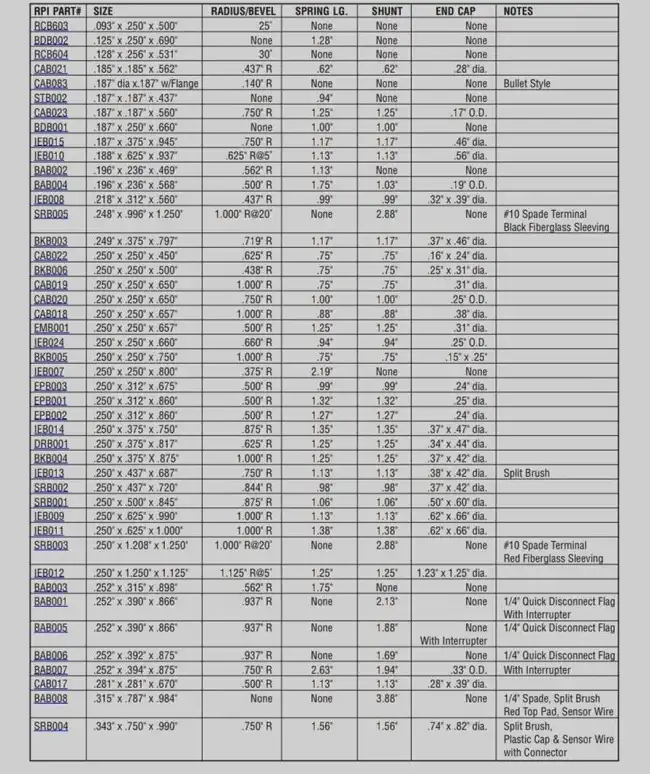 Why Size Matters
For a variety of reasons, it's vital to select the correct carbon brush size for your DC motor:
1. Optimal Current Transfer
The amount of the commutator that the brush contacts depends on its size. A bigger brush frequently gives way to better current transfer, reducing resistance and improving motor performance.
2. Reduced Heat Generation
The proper-sized brush will work more reliably without overheating. Overheating can affect the commutator and brushes equally.
3. Extended Service Life
Properly fitting brushes require less maintenance and replacement since they last longer and gradually fall apart.
4. Minimized Arcing
Arcing occurs when the brush splits from the commutator. As a result, there could be damage to the brush and commutator surface. Having the right brush size reduces the possibility of arcing.
Factors Affecting Brush Size
The size of the carbon brushes is a significant design element that can have a significant impact on the performance and lifespan of a DC motor. The size of the carbon brushes in a DC motor depends on the following factors:
1. Current Rating
The capacity of the carbon brushes to conduct electricity is a crucial factor. More often than not, larger brushes are required for greater current ratings to resist the additional electrical load without overheating or unneeded wear.
2. Voltage Rating
The voltage applied across the brushes may affect their size. At higher voltages, larger brushes can be required to provide suitable electrical contact and avoid arcing.
3. Motor Speed
The motor's rotating speed has an impact on brush size. At faster speeds, larger brushes can be required to way better remove the heat from friction.
4. Duty Cycle.
The duty cycle of the motor, or how frequently it runs, is very critical. While continuous-duty motors may be able to utilize larger brushes to support extended use without unnecessarily wearing them out, intermittent-duty motors may be able to use smaller brushes.
5. Brush Material
Depending on the type of carbon utilized, the brushes' sizes may change. The wear characteristics and electrical conductivity of diverse carbon compositions may have an impact on the requirement for brush size.
Frequently Asked Questions and Answers – FAQs
How many carbon brushes does a DC motor have?
We need 4 brushes (2 brush pairs) to supply a 4-pole lap wound DC motor. Regardless of the parallel routes, if it is a wave-wound DC motor, the number of poles is always 2. Two brushes (one brush pair) are needed to supply this. The "wave wound" machine will have two brushes.
What is the grade of carbon brush?
There are four basic grade types of carbon brushes: carbon graphite, electrographitic graphite, graphite, and metal graphite. The demands of the motor or generator and the operational environment are taken into account while selecting the material types.
What role does motor speed play in selecting the right carbon brushes?
Motor speed affects brush wear and performance. Low-speed motors require brushes designed for low wear rates, while high-speed motors require brushes able to manage the higher friction and heat produced.
Conclusion
In the context of DC motors, the size of the carbon brush might seem insignificant, yet it is essential for both performance and security. With the help of a size chart, you can select the right brush, ensuring efficiency and a longer motor lifespan while saving time and assets.
Subscribe

to our newsletter

& plug into

the world of circuits