The transistor is a semiconductor device used for the switching and amplification of weak signals. This article explains how does a transistor acts as a switch and the working of a transistor as a switch.
At present, transistors are applied in most electronic equipment for switching purposes. Here we are discussing the NPN transistor switching circuit.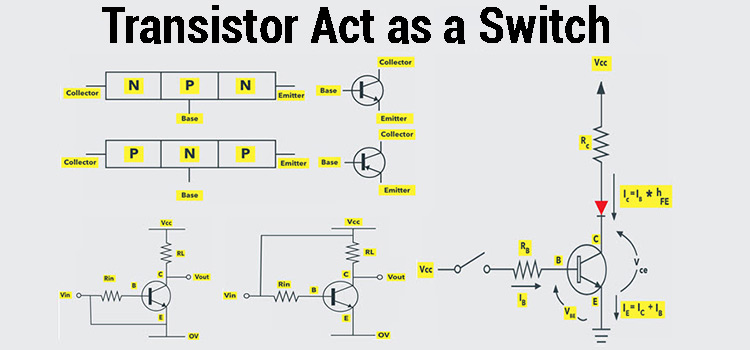 Circuit Diagram Depicting Transistor as a Switch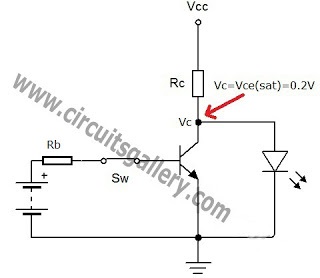 Working Principle of a Transistor Switch
Consider the first figure in which base terminal of the npn transistor is closed. Then the transistor is said to be in ON state. This is similar to a short circuit between Vcc and Ground. So, the collector voltage is very low (0.02V approx)
Whole current from Vcc will flows through the transistor, no current flow through the LED because current chooses low resistance path.
Therefor LED connected at the Collector is in OFF state since the voltage at the anode of LED is 0.02V.
Consider the second figure. When the voltage at the base terminal removed (open circuit), the transistor become OFF. This means an open circuit between Vcc and Ground. Then its collector voltage will be Vcc (the supply voltage).
Since the transistor is in OFF state, the whole current will flows trough the LED. Then the LED glows.
Conclusion
Thousands of projects and more ideas in electronics circulate circumambulating transistors or BJTs. Among them, the most important and utilized application is perhaps the use of a transistor as a switch. It was just an endeavor to realize how does a transistor act as a switch.