What Size Wire for 50 Amp RV Service? A Complete Guide
Installing proper electrical service is critical for powering a recreational vehicle safely and efficiently. Based on the National Electrical Code and standard industry practice, for 50 amps-120/240 volts RV service, the recommended minimum wire size is 6 AWG (American Wire Gauge) copper wire.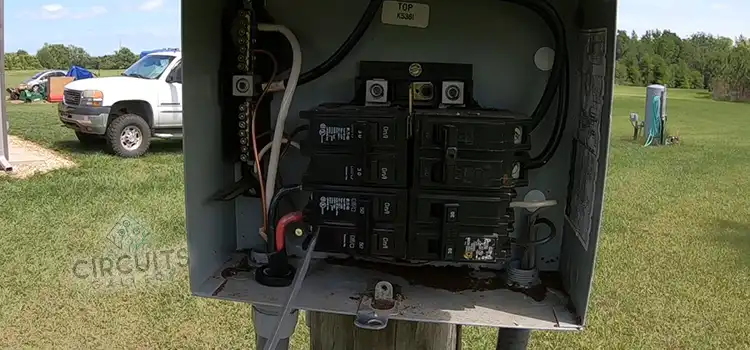 What are Gauge and AWG
When working with electrical wiring, it is important to use a proper wire gauge. Wire gauge refers to the physical size or diameter of the conductor metal. The American Wire Gauge (AWG) system is the standard used to specify wire diameters, with higher numbers indicating thinner wires and lower numbers for thicker wires.
For example, a 14 AWG wire is thinner than a 12 AWG wire. Wire sizing is important because it determines the wire's current carrying capacity, resistance, and durability. An accurate gauge must be used to ensure wires can handle the expected electrical load safely.
Wire Gauge Chart
Here's a table that includes wire gauge (AWG), maximum ampacity (in amperes), and the corresponding wattage capacity for both 120V and 240V circuits:
| | | | |
| --- | --- | --- | --- |
| Wire Gauge (AWG) | Maximum Ampacity (in Amperes) | Wattage Capacity (for 120V) | Wattage Capacity (for 240V) |
| 14 AWG | 15 A | Up to 1440 watts | Up to 2880 watts |
| 12 AWG | 20 A | Up to 1920 watts | Up to 3840 watts |
| 1O AWG | 30 A | Up to 3120 watts | Up to 6240 watts |
| 8 AWG | 40 A | Up to 4800 watts | Up to 9600 watts |
| 6 AWG | 55 A | Up to 6600 watts | Up to 13200 watts |
| 4 AWG | 70 A | Up to 8400 watts | Up to 16800 watts |
| 3 AWG | 85 A | Up to 10200 watts | Up to 20400 watts |
| 2 AWG | 95 A | Up to 11400 watts | Up to 22800 watts |
| 1 AWG | 110 A | Up to 13200 watts | Up to 26400 watts |
Tips

Please note that these values represent the maximum ampacity and wattage capacity for typical applications. Your specific circumstances may require consultation with a professional electrician to ensure safe and compliant wiring.
6 Gauge Wire Specification
The 6 AWG copper wire has a current carrying capacity of 55 amps per the National Electrical Code (NEC), exceeding the required 50 amps for an RV service. This provides a safety margin for high electrical loads. The cross-linked polyethylene (XHHW) insulation resists heat, abrasion, and chemicals for durability in RVs. 6 AWG's copper construction maximizes conductivity and flexibility compared to aluminum wire. It meets UL standards with fine, twisted copper strands for redundancy if some are damaged.
| | |
| --- | --- |
| Parameter | Details |
| Size | 6 AWG |
| Number of Strands | 19 |
| Cross Section Area | 13.3 mm2 |
| PVC Insulation Thickness | 0.760 mm / 0.030 inches |
| Nylon Jacket Thickness | 0.130 mm / 0.005 inches |
| Outside Diameter | 6.30 mm / 0.248 inches |
| Weight | 0.109 Lbs. per ft |
| Allowable Ampacity | 55 amps at 60ºC / 65 amps at 75ºC / 75 amps at 90ºC |
Electrical Load Calculation
RVs usually use 120 volts for lighting and small appliances and 240 volts for large loads like A/C units. The Amperage is 50 amps. This is the total amount available from the RV service pedestal.
The formula for load calculation is
Watts(W) = Volts (V) x Amps (A)
For the 120 Volt loads:
Watts = Volts x Amps
Watts = 120 x 50 = 6,000 watts
For the 240-Volt loads:
Watts = Volts x Amps
Watts = 240 x 50 = 12,000 watts
Total watts at 50 Amps = 6,000 (120V) + 12,000 (240V)
= 18,000 watts
According to the National Electrical Code (NEC), 6-gauge copper wire is rated to carry 55 amps safely. This exceeds the 50 amps RV service requirement. At 50 amps, a 6-gauge wire will limit voltage drop over long runs and prevent excessive heating. A voltage drop can cause damage and poor appliance performance.
So, based on the electrical load calculations and NEC Ampacity ratings, a 6-gauge wire is the recommended minimum size to supply 50 amps, 120/240 volts service to an RV. Using properly rated 6-gauge wiring ensures safe and efficient power delivery.
Safety Considerations
When wiring an RV service following factors should be considered for safety purposes.
1. Fire Risks
Undersized wires can overheat, especially when powering multiple high-draw appliances. Overheated wires greatly increase the risk of catastrophic fires.
2. Equipment Damage
Improper wire gauges cause voltage drops which can damage electronics, appliances, and components sensitive to lower voltages. Air conditioners may not function properly.
3. Loose Connections
Thinner wires are more likely to come loose from vibrations. This creates arcing/sparking risks, which can ignite fires.
4. Shocks and Electrocutions
Loose, undersized wires also increase the chances of electrical shocks and electrocutions for those working on or using the RV.
5. Following Electrical Code
The NEC provides wire sizing guidelines for safety. Using the recommended 6 AWG wire for 50 amps RV service avoids all of these risks.
Frequently Asked Questions (FAQs)
1. Can 8-gauge wire handle 50 amps?
Answer: NO, the 8-gauge wire can only handle 40 amps. So, it is not suitable for 50 amps RV service.
2. Can Aluminum Wire Be Used Instead of Copper for a 50 amps RV Connection?
Answer: No, copper wire is strongly recommended. Aluminum is more prone to oxidation and loosening at connections. It also gets work hard, becoming less flexible over time.
3. What Are the Signs of Undersized Wiring??
Answer: Frequent tripped breakers, burnt wire insulation, outlets feeling hot, and devices not working properly can indicate undersized wires.
To conclude
While a 50-amp RV service may seem straightforward, there are complex technical considerations involved in ensuring safe and efficient operation. It is essential to consult a qualified, licensed electrician for proper installation that adheres to all electrical codes.
Don't take chances with improper wiring. Following the established guidelines to use 6 AWG wire for a 50 amps RV connection will provide reliable power delivery and peace of mind in keeping your family safe.
Subscribe

to our newsletter

& plug into

the world of circuits