The suitable wire gauge to use with a 50-amp breaker is a 6-gauge wire according to the American Wire Gauge standard. The 6-gauge copper conductor wire has a maximum current rating of 55 amps, making it ideal for this circuit.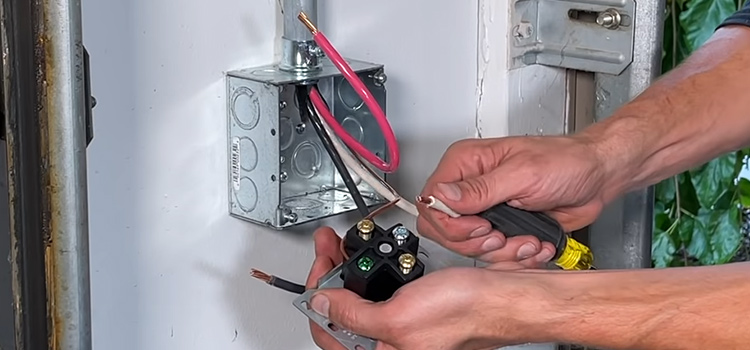 What Size Wire for 50 Amp Breaker
One of the most typical amperages for which we require a gauge, breaker, or wire is 50 amp. It is critical to select the correct conductor when constructing a new circuit or rewiring an existing circuit in your home. To decide which wire sizes are safe and suitable for various current sizes, standards have been established.
Using NEC 80% Rule
You can't make a 50 amp electric circuit with 50A ampacity wire. You will most likely fry the circuit if you do so. The 80 percent rule is a precautionary measure. You should have at least an extra 20% ampacity on top of the 50A ampacity. The figure out the needed ampacity this method is followed:
Wire Ampacity For 50 Amps = 50A / 0.8 = 62.5A
As a result, you should use a wire rated for 62.5 amps as a 50 amps wire. We don't have any 62.5A wire right now. We have a 6 AWG wire with a 65A ampacity that is the closest match. It's important to remember that you may always use a larger wire but never a smaller one.
You could use 4 AWG wire with an 85A ampacity for 50 amps, but you can't use 8 AWG wire with a 50A ampacity. In most circumstances, 6 AWG wire is nearly perfect for a 50 amp breaker. You'll probably have to use a larger 4 AWG wire in case you're transferring current over a long distance.
Account For Voltage Drop
Even if you're supplying energy over a great distance, say, 100 feet to a 50 amp sub panel, voltage loss must be considered. A useful rule of thumb for voltage drop is the voltage lowers by 20% for every 100 feet. You'll need to boost the amps by 20% to get the same wattage at the sub-panel 100 feet distant.
That means you'll have to use a larger wire because you'll be dealing with a higher current. For instance, 50 amp wire is commonly 6 AWG. If you need to power an electric item from a distance of 100 feet, you'll require 20% more amps. You're looking at 62.5A x 1.2 = 75A instead of 62.5A.
The 6 AWG gauge wire with 65A will not be enough in this scenario. At the very least, 75A is required. The 4 AWG gauge wire is the next wire size that can handle more than 75A. This one can carry 85A and is typically used as a 50 amp wire size for sub-panels located 100 feet distant.
Wire Size For 50 Amp at 110-240V
A widespread misunderstanding about 50 amp wire is that various wire diameters are required for different voltages. For example, we don't require a larger or smaller wire size for 50 amps at 240V than we do for 50 amps at 110V.
We utilize 6 AWG wire for 50 amps in all circumstances except when we need to account for voltage loss. The wire size and amps could now be the same. We don't get different amps with different voltages, we get different power.
8-Gauge Wire For 50 Amp
The conductivity of a copper conductor is altered by temperature. The higher the temperature, the greater the current the wire can tolerate up to a point. At 90 degrees Celsius, an 8-gauge wire can handle a current of 50 amps. However, for normal conditions, it's not recommended.
The insulation around the conductive core would melt or be compromised at this temperature, which is why the AWG operates at 60 degrees Celsius. The 8-gauge wire can handle 40 amps up to this temperature. In the household electrical wiring context, a restriction of 40 amps on an 8-gauge wire is based on this temperature consideration.
The melting point of PVC insulation, which is commonly used to insulate residential electrical wiring, is 70 degrees Celsius. For the 8-gauge wire, the melting point of the insulation provides a 10-degree temperature window on the rated current at 60 degrees Celsius.
10-Gauge Wire For 50 Amp
The current load that a bare copper wire can carry differs from that of an insulated copper wire of the same gauge. A 50-amp load can be carried by a 10-gauge bare copper wire, but the resistance in the cable will cause it to overheat. Insulated wires have an issue because of the heat generated by the current.
The heat melts the insulation, resulting in short circuits and the risk of shock and fire. All electrical wiring used for home purposes must be insulated, according to the NEC. As a result, insulated 10-gauge wire has a maximum current rating of 30 amps.
Conclusion
The NEC's regulations and the AWG's standards are the product of extensive experimentation, considering various parameters. These restrictions are primarily intended to increase the safety of electrical wiring systems in both residential and commercial settings. Using a 6-gauge wire on a circuit with a 50-amp breaker installed is the requirement to keep within code.