Electricians and specialists recommend utilizing wire gauges ranging from 6 AWG to 4 AWG for 60-ampere breakers. As all household wires are rated at least 600 volts, the sole factor that determines the wire gauge is amperage. As a result, the wire size for a 60 amp 220v circuit is still 6 to 4 AWG.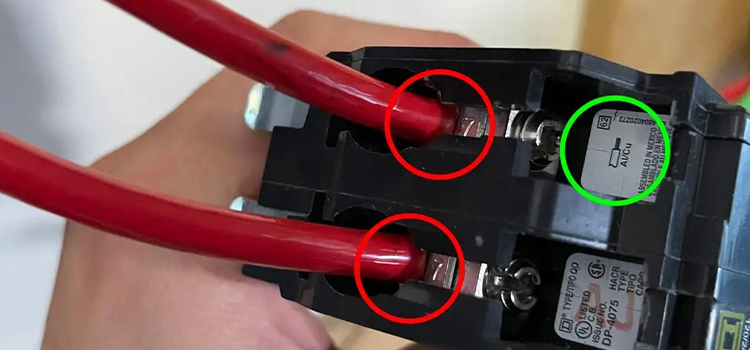 What Size Wire for 60 Amp Breaker
For a 60-amp breaker, using a 4 AWG wire is safe. The wire gauge is crucial. If you try to utilize wire that is too little in amperage, resistance will cause the wire to become too hot when the optimal current level for which the breaker is rated passes through it.
If that happens, a fire could ignite, which is something you really don't want to happen. A heavy-gauge wire, on the other hand, is difficult to work with, difficult to link/connect, and has a high cost. Make sure you don't use too much of a big wire. Many homeowners make the following common error.
They use 6 AWG wire for a 60 amp breaker since 6 AWG gauge wire has a 65A ampacity. On the surface, that appears to be a logical assumption, and it's an honest error to make. The issue is that if we utilize the 6 AWG wire, we risk burning our 60 amp breaker. However, for overload protection 6 AWG is preferable.
What Is Ampacity
Ampacity can be thought of as the maximum amount of current that can flow through a particular wire size at a given temperature and voltage drop. The length of a wire should not be used to determine its size. The larger the gap between your panel and subpanel, or load location to the subpanel, the greater the conductors required.
To minimize larger voltage dips, you must take ampacity seriously and choose wire size properly. The ampacity tables do not account for every possible wire, temperature, and voltage drop combination. The figures are for dry, clean conditions.
They believe the conductor is suitably supported at intervals of no more than 30 feet (9 m). They also presume that any non-CMP cable's insulation is undamaged and devoid of faults that would make it prone to failure under ultimate load conditions.
What Is Gauge
To prohibit an electric current from passing through them directly, most electrical conductors are insulated in some way. Electric current tends to heat up the conductor as it goes through, which might cause it to melt or be damaged, necessitating the usage of an insulator.
Gauge is not the conductor's diameter. Rather, it simply indicates the amount of electrical current that can safely pass through it under specific parameters, such as operating temperature, operating voltage, and insulation type.
The Determinants of Wire Size
The ampacity of a wire should not be the main consideration when choosing a wire size for a 60 amp breaker. We must also follow the guidelines in 'Chapter 3: NEC CODE Rules and Design Practice' (particularly, NEC 220-2 and NEC 310-16), which include 80% breaker rating rule and account for voltage drop.
80% Breaker Rating Rule
According to the NEC Code, the 80 percent breaker rating rule applies to be the most crucial in wire sizing. This guideline is in place to guarantee electrical safety. Assume we need to figure out the wire gauge for a 60 amp breaker. This might be anything from a 60 amp hot tub wire to a 60 amp wire service.
The wire size required for 60 amps is 80% of the wire size required. That means a wire capable of carrying at least 48 amps is required for a 60 amp breaker. Here's how to perform this calculation:
60 amps x 0.8 = 48 amps Adequate Wire Size
The 4 AWG gauge wire is the next wire size that can withstand more than 75 amps. Even allowing for the fact that 4 AWG can carry 85 amps, it's more than enough ampacity to adequately wire a 60 amp breaker.
Account For Voltage Drop
You can overlook the voltage loss if you have a short circuit. If you have a long cable connected to a 60 amp breaker, however, you must account for the voltage loss. You can make the error of utilizing a typical 4 AWG gauge wire when you should be using a larger 3 AWG wire if you ignore the voltage drop.
The voltage lowers by 20% for every 100 feet of wire. The actual percentage loss may vary depending on the wire used such as copper, aluminum, iron, steel, etc., and the amount of wires used, but this is the basic rule.
Wire Size For 60-Amp Subpanel 50, 100, or 150 Feet Away
Let's consider a subpanel 150 feet away to understand the calculation. According to the voltage loss rule of thumb, we lost 30% of the voltage in 150 feet of wire (100 feet = 20% loss, 150 feet = 30% loss). This means we'll need to boost the amps by 30%. This is how we arrive at the final amps,
75 amps × 1.3 = 97.5 amps
This indicates that a 150-foot-long wire for a 60-amp sub-panel must be capable of carrying at least 97.5 amps. Wire with a gauge of 6 AWG can withstand 65 amps, while wire with a gauge of 4 AWG can handle 85 amps.
Due to the 150-foot distance, both of these lines have insufficient amperage. The following wire size is required: 3 AWG. This wire size is capable of carrying up to 100 amps. In this situation, it's ideal.
Conclusion
For homeowners who have no experience with electrical repair, determining what size wire to use for a 60 amp breaker can be a total hassle. Hopefully, the details in this article will assist you in choosing the right size wiring for breaker sub-panel maintenance or any other work.