Changing a 15-Amp breaker to a 20-Amp breaker is a fairly straightforward procedure. However, it should only be done if the AWG wire is the appropriate gauge wire that can safely carry that kind of current.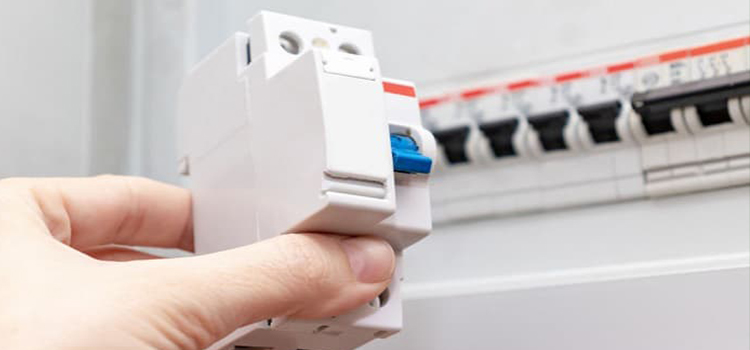 How to Change a Circuit Breaker From 15 to 20 Amp
Many homeowners are unaware of the physics behind electrical circuit installation. As a result, it leads to potentially dangerous adjustments to the electrical system. Installing a 20-Amp breaker in place of a 15-Amp breaker may appear to be a quick solution, especially if the breaker is constantly tripping. But the question remains, is it a safe alternative?
The Concern Behind Changing the Breaker
You can't simply replace a smaller circuit breaker with a larger one. You can upgrade a 15-amp circuit breaker to a 20-amp circuit breaker if your wiring is of the proper gauge.
A 14-gauge wire is used in a 15-amp circuit. A 12-gauge wire is used in a 20-amp circuit breaker. You can use a 20A breaker instead of a 15A breaker if the copper cable is 12 AWG.
Replacing a 20-Amp breaker for a 15-Amp breaker could be a solution for a variety of electrical concerns, ranging from adding a 15-amp outlet to stopping a 15-Amp breaker from tripping continuously. Upgrading a dedicated circuit breaker from 15 to 20 amps might not be a smart idea.
The Need for Changing
Circuit breakers are essential for preventing overloaded or overheated circuits by shutting down power as soon as they detect a problem. Due to a system malfunction, we occasionally need to replace our circuit breaker. All you have to do if one of your fuses trips is reset it, and you'll be OK.
If your circuit breaker trips repeatedly, it could be due to an overloaded power system or a defective circuit breaker. You should then upgrade your circuit breaker or use significantly greater devices and electrical equipment in your home. If you plan to add other devices, you should think about this as well.
If your system is in good working order, your circuit breaker shouldn't need to trip very often. A defective circuit breaker is not the cause of all faulty circuit breaker symptoms. Old and poor wiring can sometimes cause a circuit breaker to trip unexpectedly. In this instance, an electrical circuit tracer may be required.
Necessary Tools
Only a few basic tools and a replacement breaker are required to complete the task. If the branch circuit has a 14-gauge wire, you'll need to replace it with a new 12-gauge wire before installing a 20-Amp breaker in the switchboard and a 20-Amp outlet at the circuit's end. The following are the tools you'll need for the job.
Gloves that are insulated, ideally rubber, for added protection.
A screwdriver with a flathead
A multimeter or a non-contact voltage meter
Wire of 12 gauge
A headlamp to provide additional lighting
Steps of Replacing the Circuit Breaker
Here are the steps listed below to guide you in the changing process.
Step 1: Locate Your Circuit Breaker Panel
Wear your rubber gloves and unscrew the cover of your panel to access the circuit breaker you ought to replace. Remove it with your screwdriver, making sure to secure the cover panel snugly in place before removing the final screw. It will not fall to the ground and be damaged as a result of this.
Step 2: Verify the Wire Gauge
Check the size of the wires in the breaker line you choose to change. To handle a 20-amp current, change it with a size #12 if it's a #14. However, if it is already size #12, you can proceed to the following step.
Step 3: Remove the Breaker You Want to Replace and Disassemble
To be extra safe, turn off your main breaker and open your flashlight. Remove the screw from the circuit breaker you'd like to replace and draw the wire cautiously. Disassemble the panel board by pushing it to the side of your circuit breaker. Ensure that none of the wires are carrying any current with your multimeter or contactless volt-meter.
Step 4: Install a 20-Amp Circuit Breaker
You can check your 20 amp circuit breaker with your multimeter before installing it to avoid the inconvenience of installing a defective circuit breaker. If your wires are ready, you can install a 20 amp circuit breaker by pushing it sideways and applying pressure.
Step 5: Replace the Breaker and Turn On the Main
Check all of your connections and circuit breakers, then switch them on and use a voltage meter or multimeter to measure each voltage. In this manner, you can see if your circuit breaker has any irregularities. Replace the circuit breaker panel cover after you've finished changing the circuit breaker.
After you've completed all of these measures, you should check your breaker panel regularly to ensure that no problems arise.
Frequently Asked Questions
Can I use a 14-gauge wire to install a 20-amp circuit breaker?
If the actual wiring is rated for a larger circuit breaker, you can install one on the circuit. For circuits that require less current, such as light circuits, the contractor who wired the house will typically utilize a lighter gauge wire. The 14-gauge wire used in these circuits is less expensive and easier to pull.
Conclusion
It's not a good idea to change a circuit breaker without first consulting an electrician. However, if you actually need to change one, follow the basic steps and safety measures carefully to get a successful result.