There is no universal breaker size for water heaters, for they have different ratings of voltage, wattage, and, most importantly, amperage. Yet, if we had to generalize, a 30-amp double-pole breaker would be the one compatible with most water heaters featuring 240-volt circuits.
However, the better way to deal with it is by using a simple formula to calculate the heater's ampacity. In that case, all you have to do is check the wattage rating while the formula computes what size breaker for your water heater.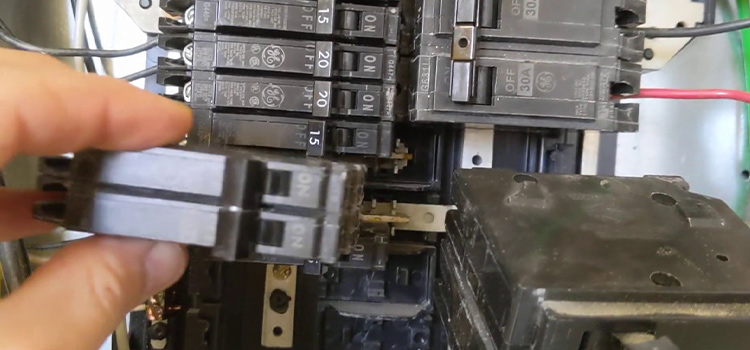 What Size Breaker for Water Heater
Generally, electric water heaters run on 220-250 volts AC lines, which means a double-pole breaker with an appropriate power rating is required. In addition, the wire gauge size also has a part in determining the breaker size. But it again is directly linked to the amperage your water heater draws.
So, to begin with, take a look at the voltage and wattage ratings of your water heater. Typically, you will find them on its thermostat panel or the base, labeled on a sticker. Commercially used water heaters can have a rating up to 5,500 watts, while residential ones stay within the 4,500-watt mark.
With that out of the way, the formula to use is the basic one used for Ampere calculations, I = P / V. Here, I, P, and V stand for current (amps), power (watts), and voltage (volts) respectively. Simply put, you need to divide the watts by volts.
But before we move on to calculations, it is essential to know about the NEC code that governs over breaker sizes. According to the National Electrical Code, the breaker size should always be 125% of the maximum continuous load.
Hence, the modified formula would be as follows.
Breaker Size = (P / V) * 1.25 amps.
For instance, let's assume you have a 2,500-watt rated heater that requires 120-volts to function. Then, the breaker size you need will be (2500 / 120) * 1.25 = 26.0417 rounded to 30 amps. Likewise, a 3,000-watt heater will require a 35-amp circuit breaker.
4500-Watt Water Heater Breaker Size
A water heater with a 4500-watt rating that runs on 240-volts will have an amperage of 4500 / 240 = 18.75 amps. Now, since there is no breaker of this exact size, a 20-amp breaker makes more sense as it is the closest to 18.75 amps.
However, because water heaters run on continuous loads, we must take 125% of 18.75, 23.4375. And the breaker size nearest to this value is 25 amps. So, you can technically use a 25-amp circuit breaker for a 4500-watt water heater. Yet, a 30-amp breaker is more universally accepted, for it will work at 220 volts too.
What Size Breaker Does a 40-Gallon Water Heater Need
Although the common notion is to relate the breaker size with the tank size, we need to consider the wattage. For example, the average wattage for a 40-gallon water heater is 4,500 watts, the voltage being 240 volts. So, the breaker size will be (4500 / 240) * 1.25 = 25 amps. You can, however, opt for a 30-amp breaker instead for more safety.
Can I Use a 40-Amp Breaker for Water Heater
You can and, in fact, must use a 40-amp breaker for water heaters with a 5,500-watt power rating. But that too is required only to ensure safety when the voltage is around 220 volts. Otherwise, a 35-amp circuit breaker is going to be enough.
On the other hand, a 40-amp breaker will be redundant for water heaters with a lower power rating. A 40-amp breaker where only a 25-amp is required will not trip and provide no such protection if an overload occurs.
Wrapping Up
Usually, the sweet spot for breaker size is somewhere between 20 and 30 amps due to NEC regulations. And that covers most consumer-grade water heaters used in residential settings, no matter the tank size. Nevertheless, a 5,500-watt rated water heater with a 240-volt circuit will require a larger 40-amp circuit breaker.