Do you want to install a new wiring system and stuck on a task as simple as splicing a 6 gauge wire? Then we're here for you.
Splicing a wire requires precision and attention to detail to ensure a safe and effective connection. In the following, we will discuss and provide the necessary tips to splice the 6 gauge wire properly.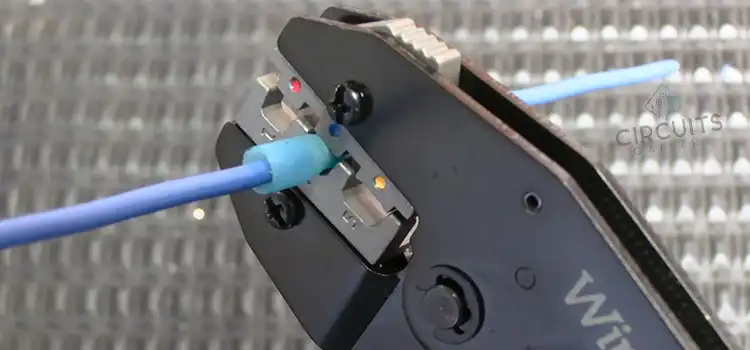 Tools Needed For Splicing 6 Gauge Wire
It is very important to pick up the right equipment for splicing a 6 gauge wire. Here the list of tool is given that is needed to perform the operation perfectly: 
Wire cutter/stripper
Crimp connectors suitable for 6-gauge wire
Crimping tool
Heat shrink tubing (large enough for the wire gauge)
Heat gun or torch
Soldering iron and solder (optional)
Splice 6 Gauge Wire Instruction
Follow these step-by-step instructions for splicing 6-gauge wire.
Safety First: Always work in a safe environment. Ensure that the power to the circuit is turned off and there's no electricity flowing through the wires you're splicing.
Prepare the Wires: Use a wire cutter/stripper to carefully remove about 1 inch (25 mm) of insulation from the ends of both 6-gauge wires you intend to splice. Ensure that the wire strands are clean, undamaged, and well-aligned.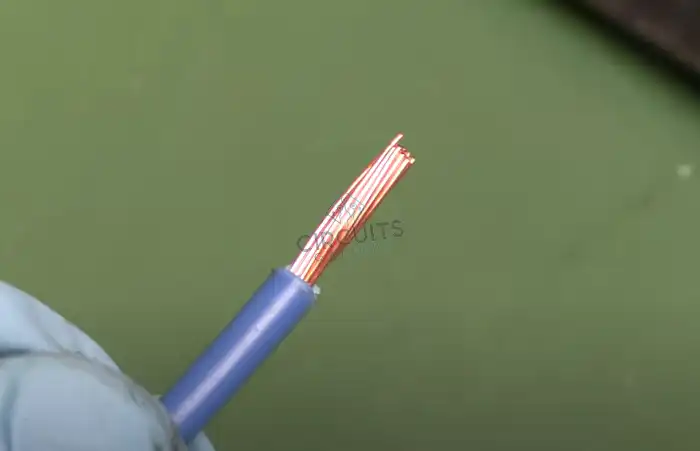 Figure: Preparing the wire.
Select Crimp Connectors: Choose appropriately sized crimp connectors for 6-gauge wire. But connectors are commonly used for joining two wires end-to-end.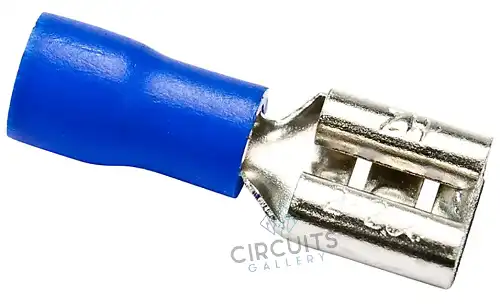 Figure: Crimp Connector.
Insert Wires into Connectors: Insert one stripped end of a wire into one end of the crimp connector. Insert the stripped end of the other wire into the opposite end of the same crimp connector. The wires should meet in the center of the connector.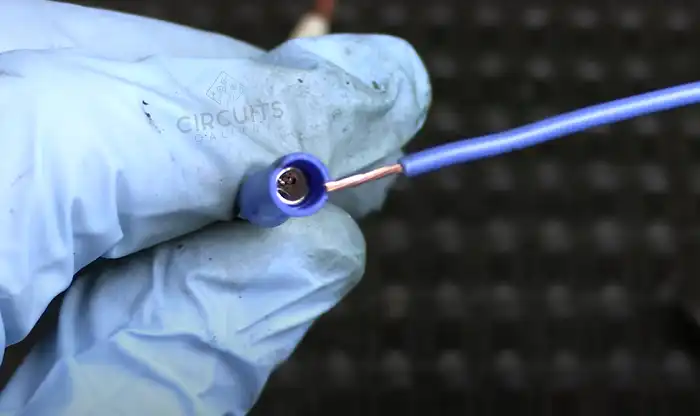 Figure: Inserting wire into the connector.
Soldering (Optional): If you choose to solder the connection for added reliability, heat the connection with a soldering iron and apply solder. Be careful not to apply excessive heat to the wire insulation.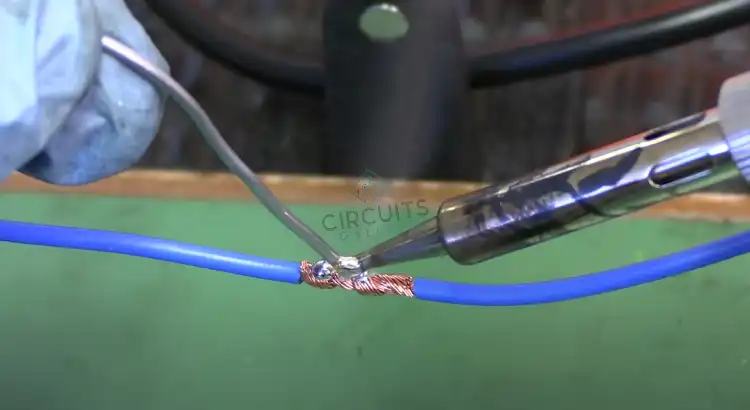 Figure: Soldering the wire.
Insulation: Slide a piece of heat shrink tubing over the crimped area. Ensure it covers the entire connection and extends slightly beyond the ends of the connector.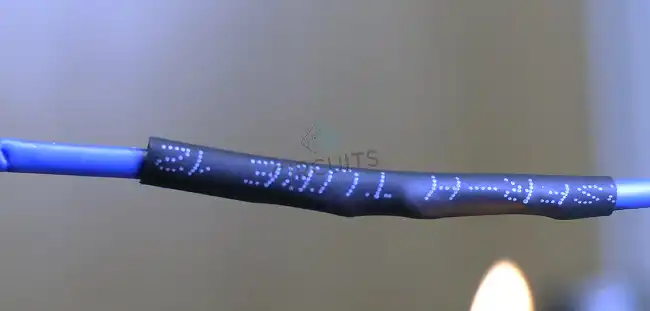 Figure: Insulating the wire.
Cooling and Solidification: Allow the solder (if used) to cool and solidify. Give the heat shrink tubing enough time to shrink completely and form a tight seal.
Test the Connection: Once the connection is complete, perform a thorough inspection. Make sure the wires are securely connected and insulated. Check for any exposed wires or signs of damage.
Safety Tips For Splicing The 6 Gauge Wire
By following these tips and exercising caution, you can effectively splice 6-gauge wire while minimizing risks.
Turn Off Power: Before starting any work, ensure the power source is turned off and the circuit is de-energized to prevent electrical shocks.
Proper Tools: Use appropriate tools such as wire cutters, strippers, crimping tools, and heat guns to ensure accurate and safe splicing.
Quality Materials: Use high-quality crimp connectors, heat shrink tubing, and other materials designed for the wire gauge to ensure a reliable and safe connection.
No Excess Current: Ensure the circuit or device you're splicing can handle the current capacity of the 6-gauge wire to prevent overheating or equipment damage.
Avoid Overheating: When using a heat gun or torch to shrink tubing, avoid overheating the insulation, as it could damage the wire's integrity.
Insulation: Ensure all connections are properly insulated using heat shrink tubing or electrical tape to prevent accidental contact and potential short circuits.
Frequently Asked Questions and Answers
How many amps is a 6 gauge wire?
A 6-gauge wire typically carries around 55 to 75 amperes of current, depending on insulation and installation conditions.
How wide is a 6 gauge wire?
A 6-gauge wire has a diameter of approximately 0.162 inches or 4.11 millimeters.
How heavy is a 6 gauge wire?
The weight of a 100-foot length of 6-gauge wire is approximately 10 pounds for copper and 7 pounds for aluminum.
Conclusion
Remember that splicing wires requires skill and attention to detail. If you're not confident in your abilities or lack experience, it's advisable to seek assistance from a professional electrician to ensure a safe and reliable connection.