What Is a Main Lug Panel? [Answered & Explained]
Electricity is an essential part of modern life, powering our homes, businesses, and industries. To ensure the safe and efficient distribution of electrical power, electrical panels play a crucial role. One type of electrical panel that you may encounter in residential and commercial settings is the "main lug panel."
In this article, we will explore what a main lug panel is, its purpose, and its significance in electrical systems.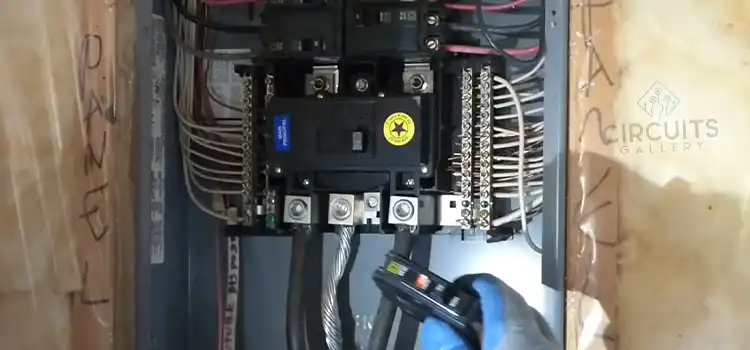 What Does Mean Main Lug Panels?
A main lug panel, short for "main lugs-only panel," is an integral component of an electrical distribution system. It is essentially a subpanel without a main circuit breaker.
Instead of a main circuit breaker, it relies on a primary disconnect located upstream in the electrical service entrance, often in the form of a main service panel or disconnect switch. Main lug panels are commonly found in residential applications and are a cost-effective solution for expanding or adding circuits to an existing electrical system.
Main lug panels are installed within a building and are typically located in areas like basements, garages, utility rooms, or other convenient locations. They allow electricity to be distributed to various branch circuits that power outlets, lights, appliances, and other electrical devices within the building.
Purpose of a Main Lug Panel
The primary purpose of a main lug panel is to provide a centralized location for electrical connections and circuit distribution. Here are some key functions and benefits of main lug panels:
1. Circuit Distribution
Main lug panels receive power from the main service panel or service entrance and distribute it to various branch circuits within a building. Each circuit can be connected to specific loads or areas of the structure.
2. Convenience
Main lug panels are particularly useful when additional circuits are needed in locations distant from the main service panel. They allow for the efficient extension of electrical power to new areas or the installation of dedicated circuits for specific equipment.
3. Space and Cost Efficiency
Unlike main circuit breaker panels, main lug panels do not have their main disconnect. This can make them more space-efficient and cost-effective, especially when it is not necessary to have a second main disconnect within the building.
4. Flexibility
Main lug panels offer flexibility in terms of circuit configuration and can accommodate a range of circuit breaker sizes and types, making them adaptable to various electrical needs.
Installation and Safety Considerations
Installing a main lug panel should be performed by a licensed electrician, as it involves working with electrical connections and wiring. Here are some safety considerations when dealing with main lug panels:
Proper Sizing
The main lug panel should be appropriately sized to accommodate the anticipated electrical load. Overloading a main lug panel can lead to overheating and other safety hazards.
Electrical Code Compliance
All electrical installations must comply with local electrical codes and regulations. These codes are in place to ensure the safety of electrical systems and those using them.
Accessibility
Main lug panels should be easily accessible for maintenance and service. They should not be obstructed, and clear working space should be maintained around them.
Labeling
Properly label each circuit within the main lug panel to indicate its purpose, and consider color-coding to make identification easier.
Regular Maintenance
Periodic inspections and maintenance of the main lug panel are crucial to ensure its continued safe and efficient operation.
Main Lug Panel Applications
Main lug panels are a fundamental component of electrical distribution systems, finding widespread applications in various settings, including residential, commercial, and industrial environments.
These panels, which lack a main circuit breaker, offer specific advantages and use cases that make them a practical choice for certain electrical installations. In this article, we will explore the diverse applications of main lug panels and the scenarios in which they are most commonly employed.
Residential Use Cases
Main lug panels play a significant role in residential electrical systems, offering versatile solutions for homeowners and electricians. Here are some common applications of main lug panels in residential settings:
1. Subpanel Installations
Main lug panels are often used as subpanels in homes. Subpanels are secondary electrical distribution points connected to the main service panel. They are employed to distribute power to specific areas or appliances, such as kitchens, bathrooms, garages, or outdoor spaces.
Main lug subpanels are a cost-effective way to expand the number of circuits available for these areas without the need for a separate main circuit breaker.
2. Garage and Workshop Wiring
Homeowners who have garages or workshops with dedicated power requirements may choose main lug panels to meet their electrical needs. These panels allow for the installation of additional circuits for power tools, lighting, and other equipment in a separate location from the main service panel, providing flexibility and convenience.
3. Electrical Renovations
During home renovations or electrical upgrades, main lug panels can be installed to accommodate new circuits for added appliances, lighting, or outlets. This makes them an ideal choice for modernizing and customizing electrical systems within existing homes.
Commercial and Industrial Applications
In commercial and industrial settings, main lug panels serve various purposes, meeting the unique demands of these environments:
1. Office Buildings
Main lug panels are used in office buildings to distribute power to different floors, offices, and cubicles. They offer a space-efficient solution when a main service panel is already present, eliminating the need for redundant main disconnects. This results in a streamlined and cost-effective electrical distribution system.
2. Retail Establishments
Retail stores often require multiple circuits for lighting, point-of-sale systems, refrigeration, and other equipment. Main lug panels are an ideal choice for meeting these electrical demands and facilitating easy circuit expansion as business needs change.
3. Manufacturing Facilities
In industrial facilities, where complex machinery and equipment are employed, main lug panels are used to distribute power to various production areas. These panels can be strategically placed to minimize downtime during maintenance or modifications and ensure reliable power distribution.
4. Outdoor Applications
Main lug panels are commonly used in outdoor settings, such as construction sites, agricultural operations, and outdoor events. They provide a central point for connecting power sources to temporary or permanent electrical loads in open-air environments, enhancing safety and efficiency.
Importance of Proper Installation
Regardless of the application, it is crucial to ensure that main lug panels are installed correctly, following local electrical codes and safety regulations. Professional electricians should be consulted to perform the installation and ensure that the panel is appropriately sized and configured for the specific application.
Sizing and Capacity of Main Lug Panel
Selecting the appropriate size and capacity for a main lug panel is a crucial aspect of electrical system design and installation. Main lug panels are essential components for distributing electricity within a building, and their size and capacity directly impact the functionality, safety, and efficiency of the electrical system.
Understanding Sizing and Capacity
Sizing in the context of main lug panels refers to the physical dimensions and configuration of the panel. It encompasses the number of breaker slots or spaces available for branch circuits. Proper sizing ensures that there is sufficient room in the panel to accommodate all required circuits without overcrowding.
Capacity, on the other hand, pertains to the electrical load-carrying capability of the main lug panel. It is vital to ensure that the panel's capacity aligns with the expected electrical demand to prevent overloading and maintain safety and operational efficiency.
Factors to Consider for Sizing
When determining the size of a main lug panel, several factors should be taken into account:
1. Number of Circuits
Begin by identifying the total number of branch circuits required for the electrical installation. Each circuit necessitates a dedicated slot or space in the panel. The panel's size must be adequate to accommodate all these circuits comfortably without congesting the panel.
2. Future Expansion
Consider the possibility of future electrical needs. It is prudent to select a panel that provides more available spaces than is currently needed. This foresight allows for easy expansion without the need to replace the panel, which can be costly and time-consuming.
3. Load Calculation
Perform a load calculation to assess the electrical demand of the connected loads. This calculation takes into account the wattage ratings of all appliances, devices, lighting fixtures, and other electrical loads to ensure that the panel's capacity will not be exceeded under normal operating conditions.
4. Adherence to Electrical Codes
Adhere to local electrical codes and regulations, which often stipulate minimum requirements for the number of circuits, panel size, and capacity based on the type of installation and the size of the structure. Complying with these codes is essential for safety and regulatory compliance.
5. Manufacturer's Guidelines
Consult the manufacturer's guidelines for the specific main lug panel model you plan to use. Manufacturers typically provide recommendations for the maximum circuit count and total capacity for each panel, offering valuable guidance for selection.
Determining Capacity
The capacity of a main lug panel is determined by its amperage rating, which signifies the maximum current the panel can safely handle. To determine the required capacity:
1. Calculate Total Load
Add up the amperage ratings of all branch circuits that will be connected to the panel. This includes lighting, appliances, outlets, and other electrical loads.
2. Consider the Main Breaker or Service Size
If the panel is a subpanel and not the main service panel, its capacity should match or exceed the amperage rating of the main service panel or the upstream disconnect switch.
3. Factor in a Safety Margin
It is advisable to include a safety margin to account for any unexpected increases in load. Common safety margins are 20% to 25% above the calculated load.
4. Select a Panel with an Appropriate Rating
Choose a main lug panel with an amperage rating that aligns with or exceeds the calculated capacity to ensure that it can safely handle the electrical load.
FAQs – Frequently Asked Questions and Answers
What are the key advantages of main lug panels?
Main lug panels offer flexibility, cost-efficiency, and space-saving solutions for electrical installations. They allow for easy expansion and customization of electrical systems while avoiding redundancy in main disconnects.
Can I upgrade my existing electrical panel to a main lug panel?
Upgrading to a main lug panel is possible, but it depends on the electrical system's design and your specific needs. Consult with a qualified electrician to determine the best solution for your situation.
Conclusion
In conclusion, a main lug panel is an essential component in electrical distribution systems, providing a central hub for circuit distribution within a building. However, proper installation and adherence to electrical safety guidelines are paramount to ensure the reliable and safe functioning of these panels in residential and commercial settings. 
Subscribe

to our newsletter

& plug into

the world of circuits