What Does a Neutralizing Circuit Do in an RF Amplifier? Working Principle Explained
Achieving ideal performance in the field of radio frequency (RF) amplifiers is a challenging task. RF signals must be amplified without distortion or feedback to preserve the signal's quality as they cover a broad range of frequencies.
Engineers use a variety of methods to create this delicate balance, one of which is the neutralizing circuit. This article explores the intriguing world of RF amplifiers and sheds insight into the critical function that neutralizing circuits provide.
The Neutralizing Circuit Explained | What's Its Job
RF power amplifiers increase the power of a radio-frequency signal, typically used as the final stage of a radio transmitter, driving the antenna. Design objectives include gain, power output, bandwidth, efficiency, linearity, impedance matching, and heat dissipation.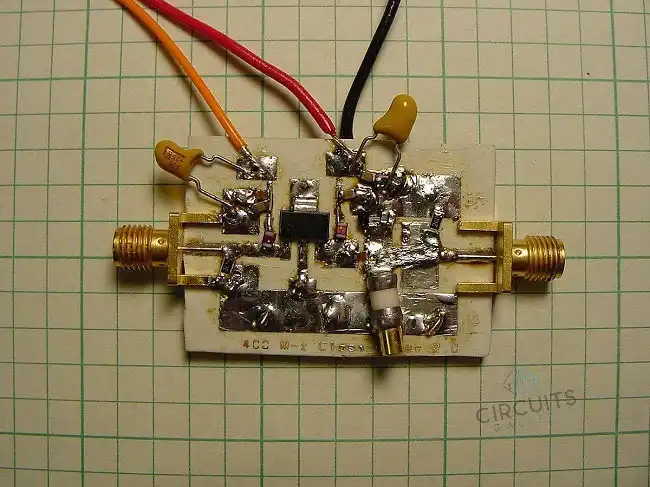 Figure 01: An RF Amplifier in PCB Board
However, due to elements like parasitic capacitance and inductance in their internal components, RF amplifiers can be inherently unstable. Self-oscillation is a phenomenon when an amplifier produces undesired, internally produced signals that interfere with the desired output as a result of instability. The neutralizing circuit is used in this situation.
A specific system of parts called a neutralizing circuit is intended to prevent self-oscillation in an RF amplifier. Its main job is to prevent amplifier feedback from occurring, which successfully eliminates undesired oscillations. The output signal from the amplifier is delivered cleanly and without distortion thanks to neutralization.
The Components of a Neutralizing Circuit in an RF Amplifier
A typical neutralizing circuit consists of several key components:
Neutralizing Capacitor (Cn)
The output RF transistor is linked in parallel with this capacitor. It gives the undesirable feedback signal a way to avoid the transistor.
Neutralizing Coil (Ln)
The output RF transistor and neutralizing coil are linked in series. It alters the RF route by adding inductive reactance, which essentially prevents the feedback signal from getting to the transistor.
Neutralizing Resistor (Rn)
A resistor is connected between the collector of the RF transistor and the neutralizing capacitor. It helps to dissipate energy and prevents the unwanted oscillations from building up.
Neutralizing Tuning Capacitor (Ct)
This capacitor enables precise control of the performance of the neutralizing circuit, enabling perfect cancellation of the feedback signal.
How a Neutralizing Circuit Works in an RF Amp
A capacitor and a coil or inductor are generally linked in parallel to create a neutralizing circuit. The parasitic capacitance in the amplifier circuit's circuit is tuned into resonance at the same frequency as this capacitor and inductor combination.
The parasitic capacitance is replaced by an equal and opposite reactance when the neutralizing circuit is set appropriately. The impact of the parasitic capacitance is thereby canceled, successfully isolating the amplifier from self-oscillation.
A crucial component of the neutralizing circuit's functionality is tuning. The parasitic capacitance's frequency must be precisely matched, which is frequently done during the amplifier's manufacturing process. Instability and performance problems in the RF amplifier might result from improper tuning.
Importance of Neutralization in Case of RF Amplifier
The inclusion of a neutralizing circuit is vital for several reasons:
Stability: The neutralizing circuit guards against self-oscillation to keep the amplifier steady. For dependable signal amplification in communication systems, this stability is essential.
Signal Integrity: The amplifier maintains the integrity of the input signal, preventing distortion, and preserving the correct waveform by canceling out parasitic capacitance.
Efficiency: A stable amplifier that experiences less self-oscillation performs more effectively, reducing power waste and improving system performance as a whole.
Reliability: High levels of dependability are required for RF amplifiers used in demanding applications like aerospace and military. Neutralizing circuits help these systems remain reliable over time.
A variety of RF amplifiers, particularly high-power transmitters, broadcast equipment, and RF amplifiers used in crucial communication networks, all benefit from the usage of neutralizing circuits. They are necessary to maintain the distortion- and interference-free RF signal after it has been amplified.
Frequently Asked Questions and Answers
What is parasitic capacitance in RF amplifiers?
Unwanted capacitance that occurs between several amplifier circuit components and has the potential to cause signal distortion and self-oscillation is referred to as parasitic capacitance.
Why is tuning the neutralizing circuit important?
To correctly match the frequency of the parasitic capacitance, provide stability, and avoid performance concerns in the RF amplifier, the neutralizing circuit must be properly tuned.
What are the key benefits of including a neutralizing circuit in an RF amplifier?
Neutralizing circuits are essential for many applications because they provide stability, protect signal integrity, boost efficiency, and contribute to the long-term durability of RF amplifiers.
To Conclude
Neutralizing circuits are essential in RF amplifier design for maintaining stability and signal integrity. These specialized circuits suppress self-oscillation and unwanted feedback, ensuring smooth communication systems. As technology advances, their evolution and refinement contribute to the seamless transmission of RF signals in the connected world.
Subscribe

to our newsletter

& plug into

the world of circuits