Is Water an Insulator or Conductor
Water is a fascinating substance because, depending on the situation, it can act as an insulator or a conductor. Water is a good conductor of electricity in most cases, but it can also behave as an insulator in certain circumstances. As a result, water is a very versatile substance that may be used in a wide range of applications.
Electricity conducts through the water. When water comes into touch with a metal, the metal becomes electrified, causing electricity to flow through it. It's the ions of salt that remain dissolved in water, however scanty it is, are the main reason for conductivity. But pure/distilled water lacks so. Hence it is an electrical insulator.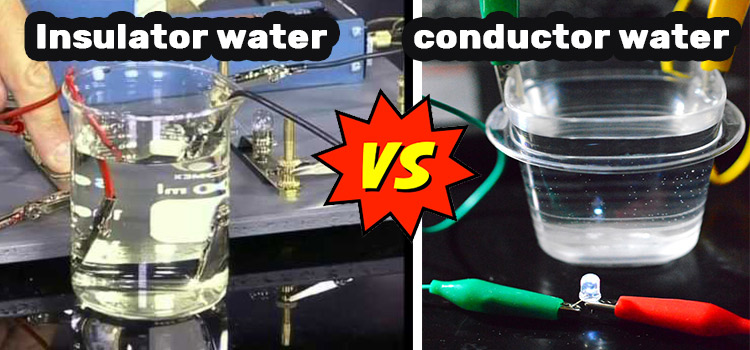 Water as a Conductor
Depending on the situation, water can be conductive or non-conductive both. Here's how it works:
Pure Water
Electricity does not conduct well via pure water. Ordinary distilled water has a conductivity of roughly 10 x 10-6 W-1*m-1 (20 ds/m) when it is in equilibrium with carbon dioxide in the air.
Because the ions in the solution transmit the electrical current, the conductivity rises as the ion concentration rises. As ionic species dissociate and dissolve in water, conductivity rises.
Normal Water
Impurities such as sodium (Na+), calcium (Ca2+), and magnesium (Mg2+) ions can be found in tap water, rainwater, and the ocean. When they are present in water, they get charged, allowing electricity to flow through the liquid.
To operate as a good conductor of electricity, water does not require a huge number of contaminants; even a little amount of ions can enable a water source to conduct electricity.
Salt Water
Pure water is less conductive than saltwater. It's obvious that when covalently bound compounds are dissolved in water, the solution conducts electricity poorly. Current flows significantly more readily if the solution contains ions like sodium and chlorine.
Water as Insulator
Although impure water is a conductor, pure water is not. Here's how water acts as an insulator in its different forms:
Pure Water
In order to become an insulator, a matter needs to have high resistivity. And water, in its purest form, has a very high resistivity. Hence, the conductivity is very low. In pure water, there are no ions or charges available to produce electric flux that creates conduction.
In fact, pure water is used as an insulator in products like batteries.
Normal water
Normal water like tap water has salts and minerals dissolved into it. Elements like these are responsible for the conduction of both heat and electricity. Therefore, normal water like tap water is a good conductor and not a good insulator.
Saltwater
Saltwater too, isn't an excellent insulator, both thermally and electrically. And salt water is a conductor for electrical current, which is one of the reasons water may be split into H2 and O2 by passing a current through it. In comparison to pure water, salt ions actually increase conductivity.
Last Words
So, when it is pure, water is an excellent insulator. It doesn't conduct electricity in any way. However, most of the time we use water that is impure, and full of salts and minerals, which makes it a conductor, not an efficient one though. That's why, you'll see far more application of water as an insulator than as a conductor. Thanks for reading.
Subscribe

to our newsletter

& plug into

the world of circuits