Mineral oil does not conduct electricity. Pure mineral oil lacks the requisite free electrons to conduct electricity.
Mineral oil is used as a non-conductive coolant or thermal fluid in electric components since it does not conduct electricity and can replace air and water. So, mineral oil is a dielectric in electrical conduction.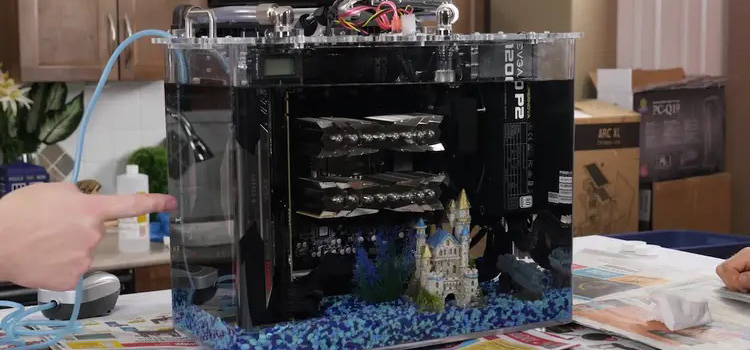 Is Mineral Oil Conductive
Mineral oil is not conductive. It does not carry electricity like water or most other liquids because of not have the required electrons. For this, soaking a computer or any PC in it will not break any of its parts or short out any of its electricals.
Mineral oils have long been utilized for liquid insulation in high voltage equipment due to their superior dielectric qualities, which include strong electric field strength, minimal dielectric losses, and long-term performance.
Why Mineral Oil Is Non-Conductive
Mineral oil is a colorless, odorless, light mixture of higher alkanes derived from a mineral source, most commonly a petroleum distillate.
The mineral oil molecule is made of carbon atoms bonded to hydrogen atoms. This hydrocarbon bond doesn't provide any polarity or contain enough free electrons to conduct electricity which makes mineral oil non-conductive.
There are more factors in this regard. Friction in an oil circulating system can cause an electrostatic charge to build up and cause a discharge. Oil conductivity is determined by its volume flow, which is regulated by the charge strength. As a result, the lower the conductivity, the greater the chance of electrostatic charging.
So, as far as the electrical conduction in mineral oil is concerned, the substance is dielectric.
Is Mineral Oil Safe for Electronics
Mineral oil is safe for electronics as it does not conduct electricity. Electronics do not experience problems from it.
Mineral oil is a common alternative to water when it comes to cooling computers or other electronics. So dipping a computer or electrical components in mineral oil instead of water is safer, there will be no harm because mineral oil does not generate electricity like water.
It will not short out any electrical wires or break parts. Furthermore, if your PC isn't running well, you can submerge it in it. The issue is that you'll have to figure out which type of oil is ideal for your computer.
However, certain computer components may be harmed by this material. Metals such as copper and the motherboard are susceptible to corrosion.
However, you should not be concerned; submerging your computer in a mineral liquid will not cause any of your circuits to fail.
What Does Mineral Oil Do to Electronics
Mineral oils are frequently used as heat transfer fluids in immersion cooling of bit miners and electronics. Because of being non-conductive, they can be utilized as coolants and thermal fluids in electric systems. Even they cannot conduct heat or air, making them useful for a variety of manufacturing processes.
On the other hand, mineral oil has also a bad impact on electronics. Any mineral oil with a sulfur content greater than 3 ppb will corrode; the extent of the damage and the pace with which the problem spreads will depend on operation temperatures, flow rates, and the amount of copper and zinc on your devices.
Because of the corrosive nature of oil, metal products including iron or copper, as well as any motherboard having iron or copper, dissolve in the oily water, as can some compounds that can degrade system components such as the motherboard's capacitors.
Is All Mineral Oil Non-Conductive
Yes, all mineral oil is non-conductive. None of them is found to have a sufficient amount of free electrons to conduct electricity.
Is Mineral Oil Flammable
Mineral oil is not flammable, although it can certainly catch fire. Mineral oil is combustible. It contains higher alkanes which have Hydrogen and Carbon. Both Hydrogen and Carbon are combustible. That is why mineral oil is combustible.
Mineral oil can light up on fire, but according to OSHA standards, it's flammable. Although it is not technically explosive, the flashpoint of mineral oil is close to 234 degrees Fahrenheit, which means it does not pose a fire threat.
Frequently Asked Questions
Is mineral oil an insulator?
Naphthenic mineral oil has long been the most popular insulating liquid for power transformer insulation because of its superior pouring point at low temperatures, good thermal cooling capacity, low cost, high efficiency, and availability on the transformers market.
Conclusion
Mineral oil is a hydrocarbon component and is derived from petroleum. Due to a lack of free electrons, it will not conduct electricity and is therefore non-conductive. It is safely used in electronics as a non-conductive coolant or thermal fluid which makes it more functional for industrial and mechanical purposes.