Can I Use 12V AC Instead of 12V DC [Answered]
In the specialized field of electronics, the selection of an appropriate power supply is paramount for ensuring both the optimal performance and durability of electronic equipment. A query frequently encountered pertains to the viability of transitioning from a 12V DC power supply to a 12V AC power source.
It is categorically unadvisable to substitute a 12V AC power source for a 12V DC without undergoing the correct conversion process. This counsel is rooted in the fundamental and distinct differences in voltage and current polarity between AC (Alternating Current) and DC (Direct Current).
The indiscriminate interchange of these power sources, without the requisite conversion, can result in substantial equipment damage, operational dysfunction, and significant safety risks.
This comprehensive discussion will describe the essential contrasts between AC and DC, and underscore the potential issues that may manifest if an inappropriate interchange is executed without the necessary conversion procedures in place.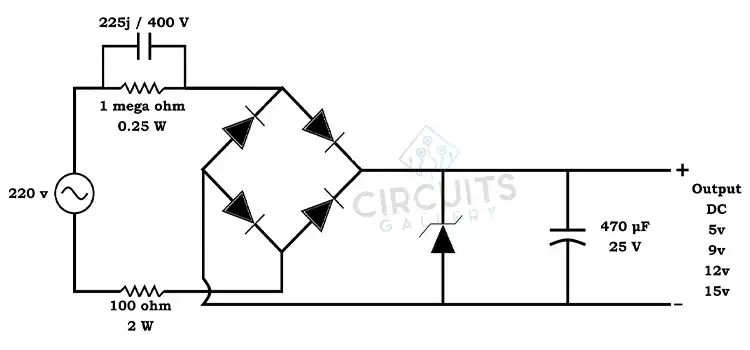 Understanding AC and DC
In the domains of electricity and electronics, the terms AC (alternating current) and DC (direct current) refer to two different types of electrical currents. Each type of current has its own set of characteristics, applications, and limitations.
The following provides comprehensive details on AC and DC, counting definitions of their characteristics and uses.
AC (Alternating Current)
The electric current that occasionally reverses direction is known as alternating current, or AC.
Characteristics
1. Current Direction: Alternates direction typically many times per second (e.g., 60 Hz in the United States).
2. Voltage Polarity: Alternates along with the current direction.
3. Power Delivery: Power level varies over time.
DC (Direct Current)
DC is an electric current flowing in one constant direction.
Characteristics
1. Current Direction: Constant.
2. Voltage Polarity: Constant.
3. Power Delivery: Delivers constant power.
Key Differences Between AC and DC
The key differences between AC and DC are-
1. Current Direction
– AC: Alternates direction.
– DC: Constant direction.
2. Voltage Polarity
– AC: Alternating polarity.
– DC: Constant polarity.
3. Power Delivery
– AC: Variable power.
– DC: Constant power.
4. Transmission
– AC: Can be transmitted over long distances efficiently.
– DC: Not suitable for long-distance transmission.
Potential Issues of Interchanging AC and DC
Interchanging AC and DC has some potential issues. It includes-
1. Device Damage
Specific components in electronic devices are either AC- or DC-designed. If the incorrect current type is utilized, these components may break down, rendering the device useless.
Motors made for AC will not operate effectively with DC, and the reverse is true. Due to this mismatch, excessive wear, and overheating, the motor could eventually halt working. Power supplies can be damaged by the wrong kind of current, leading to the failure of the system or device as a whole.
2. Safety Hazards
Fires caused by overheating from utilizing the wrong kind of current pose a significant risk to both property and human life. The hazard of electrical shock increases when equipment is powered improperly, endangering both users and technicians.
The leakage of harmful substances or the creation of sparks that could ignite flammable materials are two additional safety issues that can emerge from faulty parts.
3. Functionality
With the incorrect power, some devices will not function at all. Even if devices function, they could do so less effectively, increasing operating costs and decreasing efficiency. The lifespan of devices and components may be definitely reduced, leading to increased maintenance.
4. Transformer Issues
Transformers that step up or step down AC voltage levels cannot be utilized with DC. Using DC with it may cause overheating and transformer damage. Converting between AC (alternating current) and DC (direct current) without the proper instruments can lead to a number of issues.
5. Cost Implications
Damaged devices may require costly repairs or complete replacement. Operating costs increase over time as efficiency decays.
Frequently Asked Questions and Answers
Why is AC better than DC?
Compared to DC, AC is less expensive to produce, easier to transfer over large distances without losing much energy and has a lower power loss during transmission.
Why is DC not used in homes?
There are several reasons why direct current (DC) is not used in homes, including the fact that it is more difficult to generate than alternating current because batteries and the electrochemical reactions of photovoltaic cells primarily produce it.
How do you change DC to AC?
An inverter transforms DC to AC whereas a rectifier converts AC to DC. They are often constructed of switches, diodes, transistors, or other components that may control the flow of electricity.
Conclusion
Avoid using 12V AC instead of 12V DC or vice versa without conversion. This mismatch can cause device damage and safety hazards. Always follow the manufacturer's guidelines and consult the manual or manufacturer for any uncertainties to ensure electronic safety and performance.
Subscribe

to our newsletter

& plug into

the world of circuits