Yes, Gold is an electrical conductor. The noble metallic element sits at the third position of electrical conductivity, right after silver and copper.
Due to its high conductivity, gold is recommended as well as highly used in the construction field of electronics. But it is not used for connection purposes due to being too expensive and requiring high maintenance.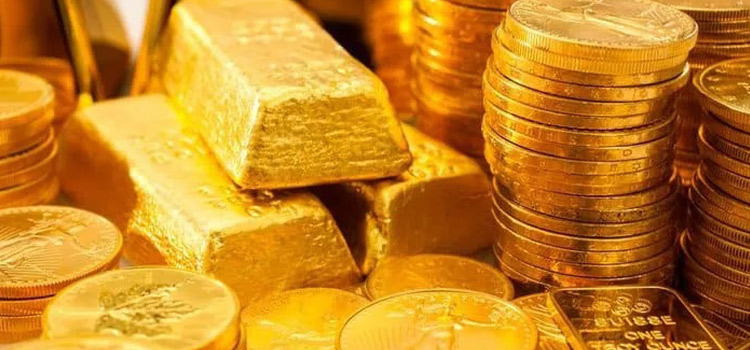 Is Gold Conductive
If we make a list of elements based on their conductivity, gold is certainly placed in the third position. This means that gold is regarded as one of the highly conductive elements.
Gold is an original metal that carries a sea of delocalized electrons, which makes it a candidate for being a conductive element. The temperature coefficient of gold is very low (3.175*10-3 α/C), compared with other metals. This makes it more conductive, as higher temperature coefficient metals have more resistance against the flow of electricity through it.
Why does Gold Conduct Electricity
Gold conducts electricity due to the existence of free electrons around the atoms. Configuration for Gold's (Au) electrons is- [Xe]4f145d106s1. We can see that the electron remaining in the 6s subshell is the furthest from the nucleus of the gold's atomic model.
Due to the furthest distance, it has a negligible attractive force towards the nucleus, thus it is bound to move around the metallic space. The ionization potential of gold is 9.22eV, which means that a small amount of general energy is enough to detach the valence electron from an atom of gold.
Due to the existence of the sea of free electrons in the metallic space, as well as the presence of positively ionized atoms due to the removal of valence electrons, we can say that gold is susceptible to electrical conduction.
Now, if a potential difference is applied at the two ends of the metal, electrons will drive themselves toward the positive end, resulting in being drifted away from the negative end as well. Thus, gold is a conductor of electricity.
Is There a Better Conductor Than Gold
Yes, two elements are better conductors than gold. These two elements are Silver (Ag) and Copper (Cu) respectively.
The value of the conductivity of Gold is 44.2*106 Ʊm-1, while the resistivity is 2.3*10-8 Ωm. The value of conductivity of Silver is 62.1*106 Ʊm-1, while the resistivity is 1.6*10-8 Ωm, while for Copper its conductivity is 58.7*106 Ʊm-1 and resistivity is 1.7*10-8 Ωm. This implies that silver is the best conductor of all, while copper is second in position, and gold is placed right after.
Comparison with Copper
Gold has been considered nobler since the beginning of time due to its usage as grand currency as well as for ornamental purposes. On the other hand, copper has been widely used as a medium of electrical conduction, due to its easier availability as well as flexibility.
However, the importance of gold has entered the field of electronics in recent eras. Gold is regarded as a chemically inactive element, so it is not susceptible to auto-reaction with other metals or elements present in the atmosphere. It is more tensile than copper, thus it can be stretched into a wire more easily.
On the other hand, copper is less ductile so sometimes it becomes too hard to work with while constructing a conduction wire. Also, a copper wire is required to be laminated so that it can be saved from being corroded or tarnished.
But this procedure is not required for gold. So, from the given reasoning, it can be said that despite copper being more conductive than gold, working with gold is much easier than with copper.
Usage of Gold in the Electronics Industry
Due to Gold being highly conductive, easier to work with, and resistant to being tarnished, it is highly used in the formation of electronic devices. Computers have a lot of gold inside them. Microwaves and camcorders carry little gold inside them as well.
In motherboards, chips, and mini complex electronic components, gold is used instead of copper, as the usage of copper makes it vulnerable to being oxidized, thus it should be replaced often and so, the device requires more maintenance. This is why gold is often used in electronic devices.
Gold is generally used in assembling electronic parts and components, especially in laptops, smartphones, television, video game consoles, and so on. Gold is used for electrical purposes as well, such as switch contacts, relay contacts, USB connectors, etc.
Frequently Asked Questions
Why is Gold not suitable for electrical wires, despite being a very good conductor of electricity?
Gold is still regarded as a very noble element. Generally, an ounce of gold is almost 2000 USD. Whereas, an ounce of copper is just 0.27 USD. This signifies that gold is still rare in the earth's atmosphere, making it one of the most expensive metallic elements for mankind.
As electrical wires are used worldwide for current conduction and connection, we can simply say that scarcity of gold results in it is not considered for such general purposes. Therefore, it is only used in manufacturing electronic devices where gold is used in a very small amount.
Conclusion
Gold is a metallic component that has a very low temperature coefficient, and every atom of it has the furthest valence electron that can be detached by applying really low energy. This creates an abundance of electrons in the metallic space of it, thus it becomes more vulnerable to being highly conductive.